You are here
Iran's Rouhani in Oman to boost ties with longtime Gulf ally
By AFP - Mar 12,2014 - Last updated at Mar 12,2014
MUSCAT — Iranian President Hassan Rouhani held talks in Muscat with Sultan Qaboos Wednesday as he kicked off a two-day Oman visit aimed at boosting economic ties between the longtime allies.
Rouhani went into the meeting with Sultan Qaboos, who has acted as an intermediary between Western countries and the Islamic republic, soon after he arrived in Muscat accompanied by a delegation of Iranian leaders.
The two leaders discussed "bilateral cooperation" and "building good relations" between their countries, Oman's official ONA news agency reported.
The sultanate is reported to have hosted secret talks between Iran and the United States ahead of the signing in Geneva last November of an accord between world powers and Iran on its nuclear programme.
A government official said Rouhani would also hold talks during his visit with senior Omani officials, the sultanate's top cleric Ahmad Al Khalil and members of the business community.
Before departing Tehran for Muscat earlier Wednesday, Rouhani hailed the "good relations" that exist between Tehran and Muscat.
"During this trip, we want to implement contracts [signed] in the field of trade and economy, especially those linked to oil and gas," as well as in finance, banking, and culture, he told reporters at the airport, as cited by IRNA, Iran's official news agency.
Tehran's ambassador in Muscat, Ali Akbar Sibeveih, said ahead of the visit that Oman and Iran are seeking to expand trade, which reached $1 billion last year, as well as bilateral investments which they expect will top $10 billion by the end of this year.
Undersea gas pipeline
Iran and Oman signed an agreement in 2009 for the construction of a 200-kilometre undersea gas pipeline linking the two countries.
Oil Minister Bijan Zanganeh, accompanying Rouhani, voiced hope that the project would be finalised "during the visit".
Iran is planning to invest $4 billion in Oman's Duqm port on the Arabian Sea, in projects that include the establishment of 100 large oil and gas tanks and an iron-smelting plant, among other projects.
It will invest a further $2 billion in two other ports — Sohar and Salalah, according to Sibeveih.
Meanwhile, Oman will invest in petrochemical, education, and oil exploitation projects in Iran worth $4 billion.
Rouhani said his visit "is of great importance to strengthen relations between Iran and Islamic countries, especially those neighbouring Iran".
"The Strait of Hormuz gives countries south of the Persian Gulf and the Arabian Sea great importance," he told reporters in Tehran.
Iran's elite Revolutionary Guards is in charge of protecting the strategic strait, at the entrance to the Gulf, a key gateway for the world's oil supplies.
Over the past year, the United States has gradually strengthened its naval forces in the Gulf region, particularly after Iran at one point threatened to block the strait.
Rouhani's visit comes against a backdrop of mounting internal tension among members of the Gulf Cooperation Council, which includes Oman, after Saudi Arabia, the United Arab Emirates and Bahrain withdrew their ambassadors from Doha, accusing it of meddling in their internal affairs and backing Islamists.
Tehran enjoys good relations with Muscat but is locked in a decades-long rivalry with Saudi Arabia while other Gulf states are wary of the ambitions of their neighbour across the water.
Rouhani is the second Iranian leader to visit Oman since the 1979 Islamic revolution. His hardline predecessor Mahmoud Ahmadinejad visited the sultanate in 2007.
Related Articles
Feb 15,2017
BEIRUT — Iranian President Hassan Rouhani said his country sought good relations with its Gulf Arab neighbours as he began a one-day trip to
Feb 14,2017
TEHRAN — Iranian President Hassan Rouhani is to visit Oman and Kuwait on Wednesday, state television reported, amid efforts by Kuwait to men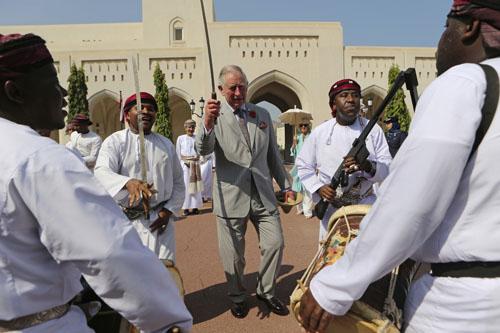 Nov 06,2016
MUSCAT — Oman's Sultan Qaboos held talks with Britain's Prince Charles and his wife Camilla, in his first announced meeting with foreign dig
Newsletter
Get top stories and blog posts emailed to you each day.