You are here
Iran's Velayati says east Syria, Idlib to be cleared 'soon'
By Reuters - Nov 09,2017 - Last updated at Nov 09,2017
A member of the Syrian civil defence, known as the white helmets, holds a hose as they extinguish flames following an air raid on the rebel-held besieged town of Harasta, in the Eastern Ghouta region on the outskirts of Damascus, on Wednesday (AFP photo)
AMMAN — The top adviser to Iran's supreme leader said he expects the Syrian army to soon recapture rebel-held Idlib province, as well as eastern Syria, an area where US-backed militias hold swathes of territory.
Iran is a close ally of Syrian President Bashar Assad and the Iranian official, Ali Akbar Velayati, was speaking in Aleppo, from which the Syrian army drove rebels after a siege last year with help from Tehran.
The military alliance backing Assad, which also includes Russia and Shiite Muslim militias, has this year focused on the war in central and eastern Syria against Daesh militants.
But Damascus is now setting its sights on territory held by Kurdish-led forces backed by a US-led coalition that has also been fighting Daesh in northern and eastern Syria.
"Soon we will see the eastern Syria cleared, and then the Idlib area in west," said Velayati, the top aide to Iranian Supreme Leader Ayatollah Ali Khamenei, in comments reported by Mehr news agency.
He also hailed the success of Iranian allies across the region, including Lebanon's Hizbollah, in remarks likely to infuriate Tehran's main regional foe Saudi Arabia, lauding a "resistance line" from Tehran to Beirut.
Assad's forces have also made some advances into rebel-held areas in northwest Syria adjacent to Idlib, a region that represents the insurgents' biggest remaining stronghold.
Visiting Aleppo, Velayati was quoted by a military news outlet run by Hizbollah as saying Tehran's involvement in the Syrian civil war had averted wider violence.
"The resistance line starts from Tehran and passes through Baghdad, Damascus and Beirut to reach Palestine," he was quoted as telling a group of Shiite militia volunteers by a military news outlet run by Hizbollah.
Iran's role, first by providing military advisers and then by training and arming Shiite militia in support of Assad, has not only helped shape the Syrian conflict, it has strengthened Tehran's own hand across the region.
Revolutionary theocracy
For the first time, Iran's revolutionary theocracy is exerting decisive authority in an arc of influence that Sunni Arab powers, particularly Saudi Arabia, have been warning about for years.
The Hizbollah news outlet said the fighters Velayati was addressing had come to defend the Sayeda Zeinab shrine in Damascus, a magnet for thousands of Iraqi and Afghan Shiite militia recruits who go there before being assigned to frontlines to fight Sunni rebel groups opposed to Assad.
Almost every Shiite militiaman bears insignia on his combat fatigues with the words "For your sake, Sayeda Zeinab".
Velayati's visit was the second by a senior Iranian official to the war-torn country in nearly two weeks, showing how Tehran is openly raising its support for the Syrian government.
Iran's military chief-of-staff paid a rare visit to Syria last month in which he warned Israel against breaching Syrian air space and territory a day before he visited a frontline position near Aleppo.
Saudi Arabia, its Arab allies and regional powerhouse Israel accuse Iran of seeking to expand its influence in the Arab world with the goal of carving out a land route through Iraq and Syria to the Mediterranean.
The Syrian opposition also say Shiite Iran's military presence in Syria stokes sectarian conflict and blames its militias for demographic changes that have uprooted Sunnis.
Related Articles
May 18,2016
ANKARA — Iran's elite Revolutionary Guards (IRGC) said on Wednesday many Iranians have volunteered to fight in Syria in support of President
May 19,2015
Insurgents in Syria captured the last military base and several small villages in the northwestern province of Idlib on Tuesday, marking the latest collapse of government troops in the region now almost entirely in opposition hands, activists said.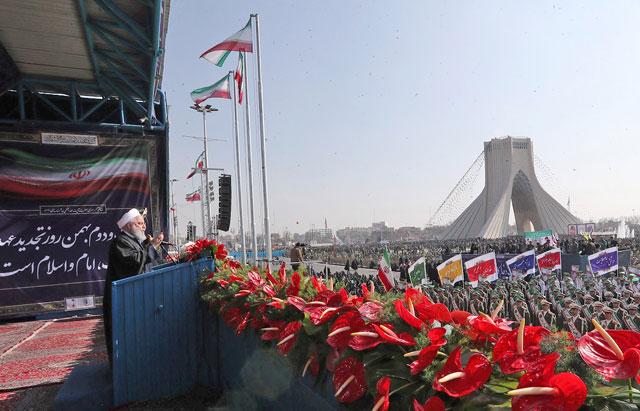 Feb 11,2018
ANKARA — Hundreds of thousands of Iranians rallied on Sunday to mark the anniversary of Iran's 1979 Islamic revolution, denouncing the Unite
Newsletter
Get top stories and blog posts emailed to you each day.