You are here
Iran protests could hurt clerics but Rouhani has most to lose — insiders
By Reuters - Jan 03,2018 - Last updated at Jan 03,2018
DUBAI — Iranian authorities are concerned that nationwide unrest will undermine the clerical establishment and want to stamp out the protests quickly, senior government officials say. But the person with the most to lose is President Hassan Rouhani.
While several senior officials said there was concern that prolonged unrest would damage the legitimacy and influence of the country's religious leaders, few insiders see the unrest as an existential threat to that leadership, which has ruled since the 1979 revolution and is now controlled by Supreme Leader Ayatollah Ali Khamenei, the ultimate authority in Iran's system of dual clerical and republican rule.
The biggest loser, they say, is likely to be Rouhani, who is much more closely tied to the country's economic policies.
"Of course Rouhani and his government will have less power afterwards, especially because his economic policy was criticised during the unrest," said political analyst Hamid Farahvashian.
"He will be a lame-duck president and Khamenei will have more power."
Much of the protesters' anger has focused on what Rouhani and his government have failed to deliver: an economic boom promised as the payoff for the 2015 deal that curbed Iran's disputed nuclear programme in return for world powers lifting sanctions.
Protesters are angry that Iran's youth unemployment rate is edging towards 30 per cent, want higher wages and an end to alleged graft. They have chanted slogans against all of Iran's leaders, including the clerical elite, and attacked police vehicles, banks and mosques as the unrest widened.
"The continuation of the protests will lead to a legitimacy crisis," said one senior official close to Rouhani, asking not to be named due to the sensitivity of the issue.
"People have economic demands ... of course these demands should be taken seriously ... of course the establishment should listen to the people, but all these can be discussed in a calm atmosphere," the official said.
Some conservatives have pushed for a hardline approach, even though bloodshed could fuel more protests in the largest wave of demonstrations since nationwide unrest in 2009.
"So far, security forces have not tried to prevent the demonstrations .... but this will change if [Khamenei] calls for an end to the street protests and demonstrators defy his call," said one former Iranian official from the reformist camp.
Even if the unrest is quelled, the demands of tens of thousands of restless working class youths who have taken to the streets are unlikely to dissipate.
Khamenei spoke publicly for the first time about the crisis on Tuesday, accusing Iran's enemies of stirring unrest but saying no more. A statement on his website said he would address the nation about the events "when the time is right".
Related Articles
Jan 30,2018
LONDON — Instead of blaming others Supreme Leader Ayatollah Ali Khamenei should take responsibility for Iran's economic and political
May 05,2018
DUBAI — Iranian President Hassan Rouhani has criticised the ban imposed on popular messaging app Telegram by the conservative-run judiciary,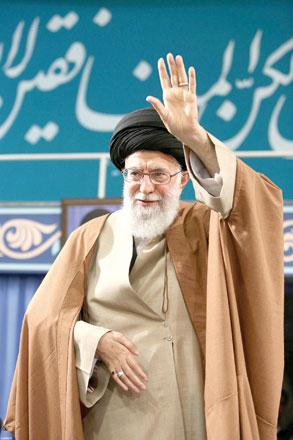 Jan 09,2018
BEIRUT — Iran has foiled attempts by its foreign enemies to turn legitimate protests into an insurgency to overthrow the Islamic Republic, S
Newsletter
Get top stories and blog posts emailed to you each day.