You are here
Iran voices tougher line on planned nuclear reactor
By Reuters - May 18,2014 - Last updated at May 18,2014
DUBAI — Iran appeared to take a harder line in its nuclear dispute with world powers on Sunday by dismissing as "ridiculous" one idea that could allay Western concerns about a planned atomic research reactor.
The fate of the heavy-water reactor at Arak, which has not yet been completed, is one of several thorny issues in talks between Iran and six powers aimed at reaching a long-term deal on Tehran's nuclear programme by an agreed July 20 deadline.
"It is ridiculous that the power of the [Arak] reactor would be cut from 40 megawatts to 10 megawatts," nuclear negotiator Abbas Araghchi said, the official IRNA news agency reported.
Western powers fear the Arak plant — 250km southwest of Tehran — could provide a supply of plutonium — one of two materials, along with highly enriched uranium, that can trigger a nuclear explosion — once operational.
Iran says it would produce isotopes for medical treatments, and denies any of its nuclear work is aimed at making a bomb.
If operating optimally, Arak could produce about nine kilogrammes of plutonium annually, enough for about two atom bombs, the US Institute for Science and International Security says.
Araghchi made no other reference to the idea in the remarks carried by IRNA, and it was not clear whether such a reduction in electrical power at the planned facility had been formally proposed at the latest round of talks last week.
But possible options that could allow Iran to keep the reactor at Arak while satisfying the West that it would not be used for military purposes include reducing its megawatt capacity and altering the way it will be fuelled, experts say.
Iran's atomic energy organisation chief said in February Tehran was prepared to modify Arak, while insisting that Western concerns over Arak were a ploy to apply pressure on Tehran.
The fate of Arak was a big hurdle in talks last year that led to a landmark agreement to curb sensitive aspects of Iran's nuclear programme in exchange for some easing of sanctions.
Araghchi said Iran's negotiating team would do its utmost to get an accord by July 20 based on the country's "red lines", but it would not be a "tragedy" if no deal was reached by then.
Iran's red lines include preserving the Arak reactor and maintaining the enrichment capabilities.
He said the talks would resume in Vienna on June 16-20.
Iranian Foreign Minister Mohammad Javad Zarif said on his Twitter account that a deal was "possible".
"Back from Vienna after tough discussions. Agreement is possible. But illusions need to go. Opportunity shouldn't be missed again like in 2005," Zarif tweeted.
Zarif was referring to a 2005 proposal for Iran to convert all of its enriched uranium to fuel rods, making it impossible to use it for nuclear weapons. The proposal was rejected as the United States was not prepared to accept any level of Iranian nuclear enrichment.
Today, Western diplomats privately acknowledge that forcing Iran to halt all uranium enrichment, as stipulated in UN Security Council resolutions, is unrealistic given the scale of the work and resistance from Tehran.
In a related development, the International Atomic Energy Agency said a team from the UN nuclear watchdog would hold one-day talks with officials in Tehran on Tuesday.
The IAEA-Iran talks are separate from those between Tehran and six world powers — the United States, France, Germany, Britain, China and Russia — but are complementary, as both focus on fears that Iran may covertly be seeking weapons capability.
The six powers want Iran to scale back uranium enrichment and other sensitive nuclear activity and accept more rigorous UN inspections to deny it any capability of quickly producing atomic bombs, in exchange for an end to sanctions.
Related Articles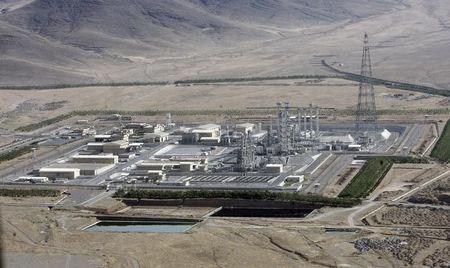 Jun 12,2014
Iran is "busy redesigning" a planned research reactor to sharply cut its potential output of plutonium, a senior Iranian official said in comments that seemed to address a thorny issue in negotiations with big powers.
Mar 16,2014
Foreign Minister Mohammad Javad Zarif said on Sunday talks with world powers this week are unlikely to result in a comprehensive accord on Iran's controversial nuclear drive.
Apr 09,2014
Iran will never slow down its nuclear research programme, its supreme leader said on Wednesday as negotiators from Tehran and six world powers struggled to narrow "significant gaps" that the United States warned might be insurmountable.
Newsletter
Get top stories and blog posts emailed to you each day.