You are here
Iranian president hails 'new relationship' with France
By AFP - Jan 28,2016 - Last updated at Jan 28,2016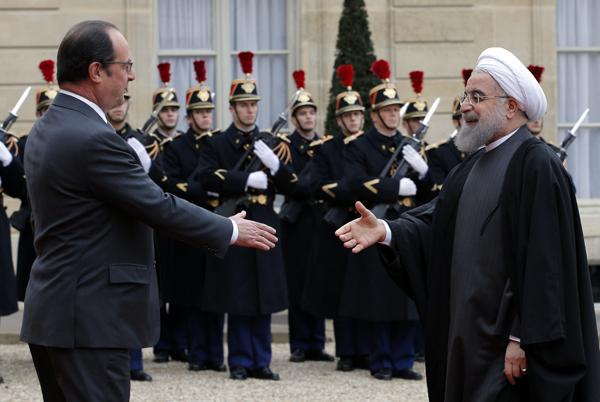 French President Francois Hollande (left) greets Iranian President Hassan Rouhani before a meeting at the Elysee Palace, in Paris, on Thursday (AP photo)
PARIS — President Hassan Rouhani hailed a "new relationship" between Iran and France during a visit Thursday that saw the signing of a host of post-sanctions business deals.
"Let us forget the resentment," Rouhani said, calling for both countries to take advantage of the "positive atmosphere" following the removal of sanctions over the Islamic Republic's nuclear programme.
"We are ready to turn the page" and establish a "new relationship between our countries", Rouhani told a meeting of business leaders.
French Prime Minister Manuel Valls responded that "Iran can count on France".
"France is ready to use its companies, its engineers, its technicians and its many resources to help to modernise your country," Valls said.
Rouhani was welcomed to Paris with military honours and national anthems on the second leg of a trip signalling Iran's rapprochement with Europe since sanctions were lifted.
The real business of the visit will come when Rouhani officially signals Iran's intention to buy more than 100 passenger planes from European aircraft maker Airbus.
French carmaker Peugeot said it will return to the Iranian market in a five-year deal worth 400 million euros ($436 million) that was announced Thursday.
Peugeot will produce 200,000 cars a year in a joint venture with local manufacturer Iran Khodro, according to a statement.
The French carmaker was forced to pull out of Iran in 2012 as sanctions began to bite.
In another potential bonanza for France, the head of French oil giant Total said his firm would sign a deal to buy Iranian crude.
Although the French state is rolling out the red carpet for Rouhani, the Iranian opposition was to hold a human rights demonstration and Jewish groups also intended to protest in Paris.
Rouhani was to hold talks with President Francois Hollande which were expected to include discussions on Iran's role in Syria, where it is backing President Bashar Assad in a war that has killed 260,000 people.
Talks are due to begin Friday in Geneva to take tentative steps towards ending the conflict.
After arriving from Italy, where he sealed deals for steel and pipelines worth between 15 and 17 billion euros, Rouhani began his Paris visit on Wednesday by unveiling a scheme to guarantee investment by French firms in Iran.
'A hand grenade'
A source involved in the deal to buy Airbus planes said that only letters of intention will be signed at this stage, because some sanctions are still in place.
However, Iran is keen to bring its ageing fleet of mid- and long-haul aircraft up to date, so the deal is widely expected to go ahead soon, giving a huge boost to the European aviation industry.
Rouhani's meeting with Hollande was also expected to touch on Iran's bitter feud with regional rival Saudi Arabia.
In a reference to Saudi Arabia, the Iranian president told an audience in Paris that "some countries had wanted to use terrorism for their own means".
"But this is a hand grenade with the pin removed," he added.
During his visit to Rome, Rouhani dismissed suggestions that Iran should apologise to the Saudis for an attack on its embassy by demonstrators furious over Riyadh's execution of a prominent Shiite cleric, Nimr Al Nimr.
In the Italian capital, Rouhani and Italian Prime Minister Matteo Renzi met at the Capitoline Museum where nude statues were covered up out of respect for the Islamic Republic's strict laws governing propriety.
But Rouhani denied he had asked his Italian hosts to cover up the statues and Italian Culture Minister Dario Franceschini, who accompanied Rouhani on the museum trip, called the move "incomprehensible".
Rouhani also visited the Vatican for the first time and met Pope Francis.
Rouhani, a 67-year-old former academic and diplomat who is seen as a pragmatist, was elected in 2013 on a pledge to end sanctions and improve relations with the West.
Related Articles
Feb 03,2016
DUBAI — Iran has no problem with US companies investing in its economy and creating joint ventures, President Hassan Rouhani said on Tuesday
Nov 10,2015
PARIS — France and Iran will sign several agreements, including in the air transport, during a visit by President Hassan Rouhani to Paris ne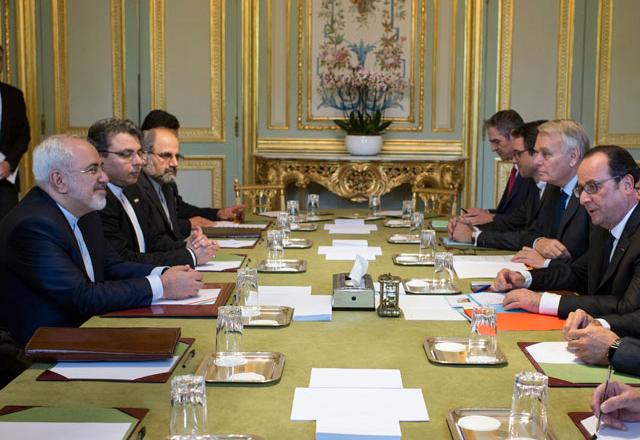 Jun 22,2016
PARIS — Iran's foreign minister, making the rounds of European capitals to seek benefits from a nuclear accord, is holding a string of meeti
Newsletter
Get top stories and blog posts emailed to you each day.