You are here
Iraq's war children face void without world's help — UNICEF
By Thomson Reuters Foundation - Jul 09,2016 - Last updated at Jul 09,2016
Iraqi girls light candles on Saturday at the site of a suicide-bombing attack which took place on July 3 in Baghdad's Karrada neighbourhood. The Baghdad bombing claimed by the Daesh group killed 292 people, according to a new toll issued on Thursday, many of whom were trapped in blazing buildings and burned alive (AFP photo)
LONDON — A generation of children face the bleak prospect of going without an education unless the Iraqi government, its allies and aid agencies rebuild communities torn apart by years of war, a senior UN children's agency official said on Friday.
Peter Hawkins, UNICEF representative in Iraq, said recent fighting between government forces, backed by a US-led coalition, and Daesh extremists, had cut off thousands of children from school and healthcare.
"We are faced with a whole generation losing its way and losing prospects for a healthy future," said Hawkins in an interview.
Government institutions, faced with financial deficit, are collapsing leaving them dependent on UN agencies to provide schools and teacher training, following more than a decade of sectarian violence, Hawkins said during a visit to London.
"What is needed is a cash injection through central government so that we can see it building the systems required for an economic turnover," he told the Thomson Reuters Foundation.
Conflict has worsened the situation across Iraq, with an estimated 4.7 million children — about a third of all children in the country — in need of assistance, the UN agency said in a report last month.
Mass movements of people forced from their homes by fighting in areas like Ramadi and Fallujah, west of the capital, Baghdad, put one in five Iraqi children at risk of death, injury, sexual violence, abduction and recruitment into fighting, the report said.
UNICEF said earlier this year that at least 20,000 children in Fallujah faced the risk of forced recruitment into fighting and separation from their families.
"A big problem is the lack of schools, with a lack of investment in recent years meaning the systems have all but collapsed," Hawkins said.
Child recruitment
Thousands of civilians across much of western Iraq's rugged Anbar province have been driven from their homes into the searing desert heat in the last two years, as a tide of Daesh fighters took control of key towns and cities.
Despite losing considerable ground on the battlefield, a massive suicide bombing in Baghdad's central shopping district of Karrada last weekend showed Daesh remains capable of causing major loss of life.
In Anbar, where fighting has ruined scores of residential areas, many of the people displaced by the militants were now "in limbo", waiting in displacement centres, Hawkins said.
Nearly one in five schools in Iraq is out of use due to conflict. Since 2014 the UN has verified 135 attacks on educational facilities and personnel, with nearly 800 facilities taken over as shelters for the displaced, UNICEF data shows.
But Hawkins said he expected thousands of families to soon return home and rebuild their lives.
In Ramadi, where government forces retook control last December, UNICEF will help the ministry of education reestablish schools, provide catch-up lessons and teacher training over the summer after it had been "flattened" by fighting, Hawkins said.
The veteran aid worker, who has also worked in Angola, Sri Lanka, Afghanistan and Pakistan, said his "biggest fear" was that children could get caught up in a battle to retake Mosul, Iraq's biggest northern city still held by the militants.
Protection of children must be part of a military strategy to retake Mosul, said Hawkins.
Pressures on UNICEF's $170 million annual budget for 2016-17, which Hawkins said was short by $100 million, were hampering its ability to reach all those affected and may mean some child protection programmes are abandoned, he said.
Related Articles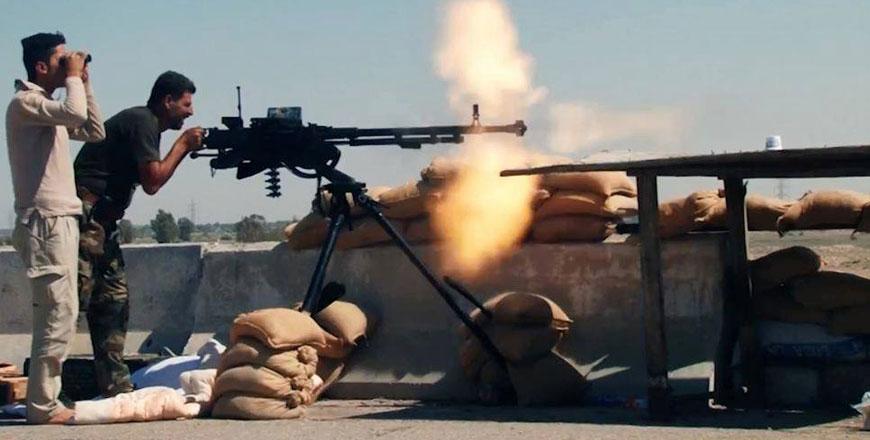 Jul 11,2015
ERBIL, Iraq/WASHINGTON — Iraqi Shiite militia fighters are tightening a noose around the Daesh-held city of Fallujah west of Baghdad a
Jan 09,2014
A suicide bomber blew himself up at a military recruiting centre in Baghdad on Thursday, killing at least 21 people in an attack likely meant to send a message to the government and would-be army volunteers over the Iraqi troops' ongoing push to retake two cities overrun by Al Qaeda militants.
Aug 13,2016
AMIRIYAH AL FALLUJAH, Iraq — As Iraqi political and military attention shifts north in the fight against the Daesh terror group, the militar
Newsletter
Get top stories and blog posts emailed to you each day.