You are here
Iraq expects new US-made F-16s in July
By AP - Apr 23,2015 - Last updated at Apr 23,2015
BAGHDAD — Iraq will at long last be getting the first batch of F-16 fighter jets it ordered four years ago, its air force commander said Thursday, a shipment that is expected to boost Iraq's capabilities in battling Daesh terror group.
Lt. Gen. Anwar Hama Amin said the fighters would arrive on July 12 along with the US-trained Iraqi pilots and spare parts and would immediately begin carrying out operations, according to a statement posted late Wednesday on the defense ministry's website.
The US embassy in Baghdad did not confirm the date, and only said the planes were expected by the summer.
Iraq first ordered the 18 jets for $3 billion in 2011 to supplement its almost nonexistent air force. A year later, then-prime minister Nouri Al Maliki complained over the delays in delivering the planes.
The pilots have been training with three of the planes in Arizona and plans to send them last year to Balad air force base in Iraq were scrapped after Daesh militants threatened the area, according to an article on the Pentagon website.
US personnel and contractors were evacuated from the base last summer after a Daesh blitz overran large swaths of the country, along with significant stretch of territory in neighboring Syria.
Iraq's air force has been at its lowest point and currently relies on US planes to carry out air strikes in the battle to dislodge Daesh militants from the north and west of the country.
By July, Iraq had also received a total of 13 second hand Russian Su-25 jets.
In other developments, Iraqi police and officials said Thursday that a suicide car bomb went off overnight next to a crowd of Shiite pilgrims near Balad as they were returning from a Shiite shrine in the city of Samarra, killing eight and wounding 16.
Samarra is the burial site for two revered 9th century Shiite imams and on Wednesday, there was a ceremony marking the death of one of them. The officials spoke on condition of anonymity because they were not authorised to speak to the media.
South of the Baghdad, a bomb exploded in a market in the town of Madain on Thursday, killing three people and wounding 10 others, according to police.
Related Articles
Feb 28,2015
A series of attacks targeting public places and Shiite militia checkpoints in and north of Iraq's capital killed 37 people Saturday, authorities said.
Sep 06,2015
BAGHDAD — Iraq has put F-16 warplanes acquired from the United States into action against the Daesh terror group for the first time, the com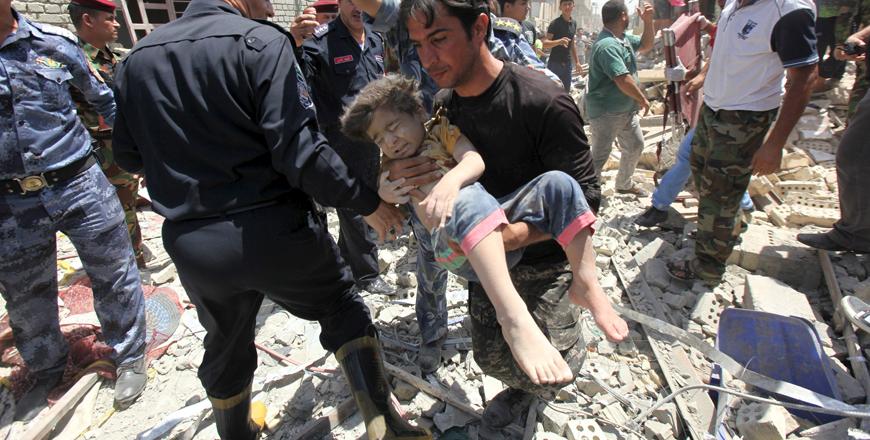 Jul 06,2015
BAGHDAD — A bomb fell from an Iraqi Sukhoi warplane and exploded in eastern Baghdad on Monday because of a "technical problem", killing at l
Newsletter
Get top stories and blog posts emailed to you each day.