You are here
Iraq must ensure Daesh's victims of sexual violence see justice — UN
More than 6,800 Yazidis were kidnapped by Daesh
By Reuters - Aug 24,2017 - Last updated at Aug 24,2017
ERBIL, Iraq — Iraq must ensure that women and girls subjected to sexual violence at the hands of the Daesh extremist group militants have access to justice and reparations, UN investigators said on Tuesday.
Thousands of people, predominantly from Iraq's ethnic and religious minorities, have been subjected to sexual violence since Daesh militants swept across vast swathes of Iraq in 2014. The report pays particular attention to members of the country's Yazidi community, who were kidnapped and forcibly converted, enslaved or conscripted to fight for the militants.
''Women and girls under the control of ISIL [Daesh], in particular women from the Yazidi and other minority communities, have been especially vulnerable to abuses of human rights and violation of international humanitarian law,'' the report by the UN Assistance Mission to Iraq and the UN Human Rights Office said.
More than 6,800 Yazidis were kidnapped by Daesh. About 3,000 of them are still believed to be held captive.
Victims must be provided with access to appropriate medical, psychosocial and financial support, the report said.
''The physical, mental, and emotional injuries inflicted by ISIL [Daesh] are almost beyond comprehension. If victims are to rebuild their lives, and indeed those of their children, they need justice and they need redress,'' said UN High Commissioner for Human Rights HH Prince Zeid.
The report, based on interviews with survivors, found that support for the victims must come with significant changes to the criminal justice system to prove effective.
UN investigators highlighted gaps in the legal frameworks of both Iraq and Iraq's autonomous Kurdish Region, which ''largely fail to ensure the appropriate respect and protection of women and children who have been subjected to sexual and other forms of violence».
Iraq's laws governing sexual and domestic violence offer inadequate protections for women, and would be an obstacle to the prosecution of Daesh-related crimes, the report said.
The report comes three days after Iraqi security forces launched their offensive to retake the city of Tal Afar, one of the militant group's last remaining strongholds in Iraq.
''With significant areas under the control of ISIL' [Daesh] having been reclaimed, it is now urgent to consider what steps need to be taken to ensure the protection, recovery, reintegration and redress for the thousands of women and girls,'' the report states.
Though the report focuses on crimes committed by Daesh, it also references abuses committed by groups fighting against the militants. These include ''revenge attacks'' against women thought to have been affiliated with Daesh, sometimes sanctioned by tribal agreements.
Marriage licences and birth certificates issued in Daesh-held territories are generally not recognised by Iraqi and Kurdish officials. The report recommends that this be rectified, to avoid leaving women and babies without legal status, particularly those born of sexual slavery. UNHCR has identified nearly 800 children whose births had been registered by Daesh in areas under its control.
Investigators found that men and boys had also been subjected to sexual violence by the militants.
The report builds on last year's finding that Daesh was committing genocide against the Yazidi people. The rare designation under international law marked the first time genocide was recognized as being carried out by non-state actors.
Related Articles
Jun 16,2016
GENEVA — Daesh terror group's militants are still committing genocide against the Yazidi minority in Iraq and Syria, United Nations rights i
Jun 09,2015
UNITED NATIONS — Teenage girls abducted by Daesh militants in Iraq and Syria are being sold in slave markets "for as little as a pack of cig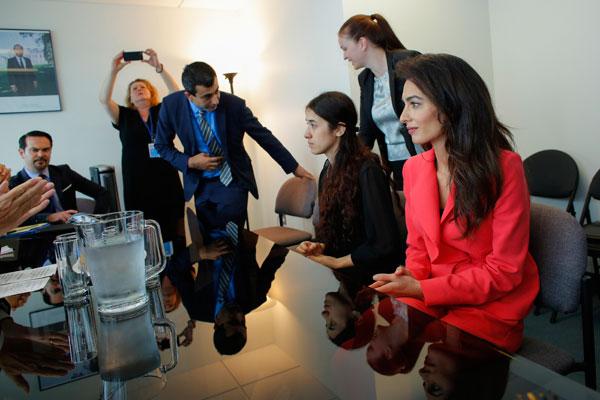 Sep 20,2016
LONDON — Daesh militants who have enslaved, murdered and raped Yazidi women and children must be brought to justice, no matter the price, in
Newsletter
Get top stories and blog posts emailed to you each day.