You are here
Iraqi forces beat back assault on city, reinforce town
By AFP - Oct 15,2014 - Last updated at Oct 15,2014
BAGHDAD — Iraqi security personnel and tribesmen beat back an hours-long jihadist attack on a key city west of Baghdad Wednesday while reinforcements reached a strategic town threatened by militants, officials said.
The attack by the Islamic State (IS) group on Ramadi, the capital of Anbar province, began around midnight and continued until 7:00am on Wednesday, police Captain Tahsin Al Dulaimi said.
IS jihadists attacked from three directions after hitting the city with mortar fire, Dulaimi said.
Pro-government forces in Ramadi, just 100 kilometres west of Baghdad, have so far held out against jihadists who have launched a string of attacks elsewhere in Anbar province, putting it on the brink of falling completely.
The fall of the city would be a major blow to the fight against IS-led militants who have captured swathes of Iraq since June and would ease the movement of fighters and supplies to frontline areas near Baghdad.
The town of Amriyat Al Fallujah, a key area closer to the capital that is one of the last parts of Anbar still holding out against the jihadists, received reinforcements from the Iraqi army on Wednesday.
Major Aref Al Janabi, the police chief for the area, said two battalions had arrived and security forces were awaiting orders to attack the militants.
The town lies between the militant bastion of Fallujah, farther up the Euphrates, and the contested area of Jurf Al Sakhr, which commands access to the holy Shiite city of Karbala.
Its fall would increase the danger to Baghdad, but IS fighters would still have to capture a significant stretch of government-controlled territory before reaching the capital.
Government forces have suffered a string of bruising setbacks in Anbar in recent weeks, prompting some officials to warn that the entire province, which borders Jordan, Saudi Arabia and Baghdad province, could fall within days.
Soldiers pulled out of a base near the city of Heet and regrouped in a large desert airbase, while government forces struggled to hold their ground in the provincial capital Ramadi.
Some officials in Anbar have argued that anything short of an intervention by US ground forces would lead to Anbar falling into jihadist hands.
Related Articles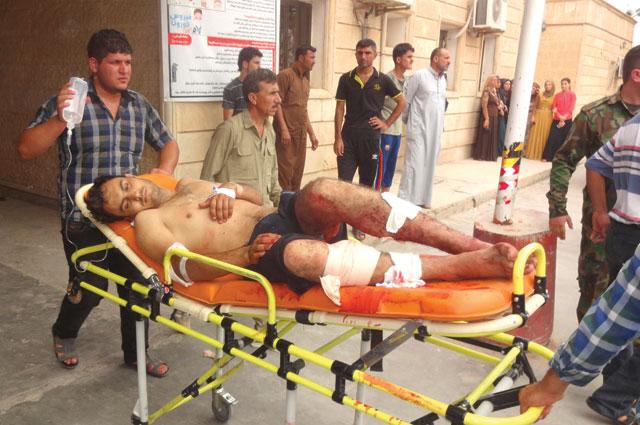 Oct 12,2014
A roadside bomb killed the police chief of Iraq's battleground province of Anbar Sunday, officials said, after the Pentagon expressed concern about a renewed offensive by jihadists in the area.
Jun 06,2015
BAGHDAD — Government forces and Shiite militiamen repelled two Daesh attacks in Anbar province on Saturday, officials said.
Feb 03,2014
Iraqi government forces pressed their assault on militant strongholds in Anbar province Sunday as attacks elsewhere killed 21 people, with intensifying violence fuelling fears of a return to all-out conflict.
Newsletter
Get top stories and blog posts emailed to you each day.