You are here
Iraqi troops retreat after Mosul hospital battle
By Reuters - Dec 08,2016 - Last updated at Dec 08,2016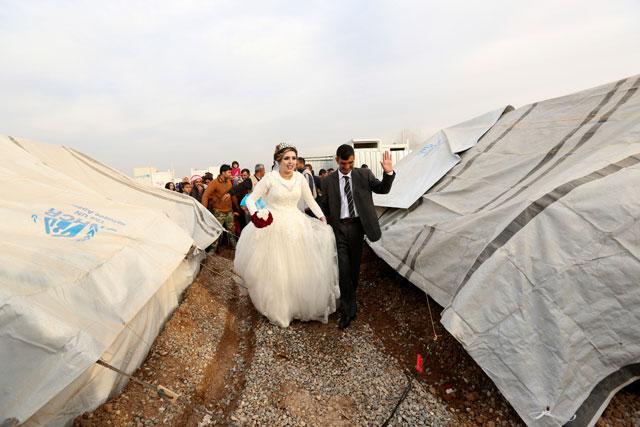 Iraqi internally displaced groom Jassim Mohammed walks with his bride, Amena Ali, during their wedding ceremony at a camp for internally displaced people in Khazir, near Mosul, Iraq, Thursday (AP photo)
BAGHDAD —Iraqi troops who seized a hospital deep inside Mosul believed to be used as a Daesh base have retreated after a fierce counterattack, giving up some of their biggest gains in a hard-fought seven-week campaign to recapture the city.
The soldiers seized Salam Hospital, less than 1.5km from the Tigris River running through central Mosul, on Tuesday but pulled back the next day after they were hit by six suicide car bombs and "heavy enemy fire", according to a statement by the US-led coalition supporting Iraqi forces.
Coalition warplanes, at Iraq's request, also struck a building inside the hospital complex from which the militants were firing machineguns and rocket-propelled grenades, it said.
Tuesday's rapid advance into the Wahda neighbourhood where the hospital is located marked a change of tactics after a month of gruelling fighting in east Mosul, in which the army has sought to capture and clear neighbourhoods block by block.
The soldiers are part of a US-backed 100,000-strong coalition of Iraqi forces including the army, federal police, Kurdish peshmerga fighters and mainly Shiite Popular Mobilisation forces battling to crush Daesh in Mosul.
Defeating the militants in their Iraq stronghold would mark a major step in rolling back the caliphate declared by the extremists in parts of Syria and Iraq when they took over Mosul in mid-2014.
But with two years to dig themselves into northern Iraq's largest city, retreating fighters have waged a lethal defence, deploying hundreds of suicide car bombers, mortar barrages and snipers against the advancing soldiers and exploiting a network of tunnels to ambush them in residential areas.
'Gates of hell'
Soldiers from the army's Ninth Armoured Division were left exposed on Tuesday after punching into the Wahda neighbourhood.
"When we advanced first into Wahda, Daesh showed little resistance and we thought they had fled," an officer briefed on the operation told Reuters by telephone. "But once we took over the hospital, the gates of hell opened wide".
"They started to appear and attack from every corner, every street and every house near the hospital," said the officer who declined to be identified because he was not authorised to speak to the media. He said insurgents may also have used a tunnel network reaching into the hospital complex itself.
Iraqi military spokesmen have said little about the fighting around the hospital, stressing instead gains they said were being made in other parts of east Mosul, including the Ilam neighbourhood a few districts northeast.
Brigadier General Yahya Rasoul, a spokesman for Iraq's joint operations command, said on Wednesday "operations are continuing" around Wahda. He could not immediately be contacted on Thursday.
The statement by the coalition said Iraqi troops "fought off several counter-attacks and six VBIEDs [car bombs] ... before retrograding a short distance, under heavy enemy fire".
The Iraqi officer said that when the troops were inside the hospital complex, fighting off the militants, they came under attack from suicide bombers who he said either infiltrated through tunnels or had been hiding in the hospital grounds.
"We don't know, they were like ghosts," he said.
Iraq does not give casualty figures or report on its equipment losses, but the officer said 20 soldiers were killed and around 20 armoured vehicles were destroyed or damaged.
Those figures could not be confirmed. Daesh-affiliated Amaq website said more than 20 vehicles were destroyed and dozens of soldiers killed, and that they had been forced to retreat.
Alongside those figures it showed a picture of a smouldering tank, its turret blown off, next to a crater in the road.
Around 280km southwest of Mosul dozens of people, mainly civilians, were killed on Wednesday in air strikes which hit a western Iraqi town close to the border with Syria, local parliamentarians and hospital sources said.
They said the strikes hit a busy market area in the Daesh-held town of Qaim, in the overwhelmingly Sunni Muslim province of Anbar. Among the victims were 12 women and 19 children.
An Iraqi military statement said Iraqi air force planes conducted air strikes "on a terrorist hideout" in the area shortly after noon on Wednesday, as well as a second attack an unspecified location.
It said at least 50 terrorists were killed. It gave no details of civilian casualties, but said that the region — and all information coming out of it — was controlled by Daesh.
Iraq's speaker of parliament, the country's most senior Sunni Muslim politician, called on Thursday for a government inquiry into the air strikes.
Related Articles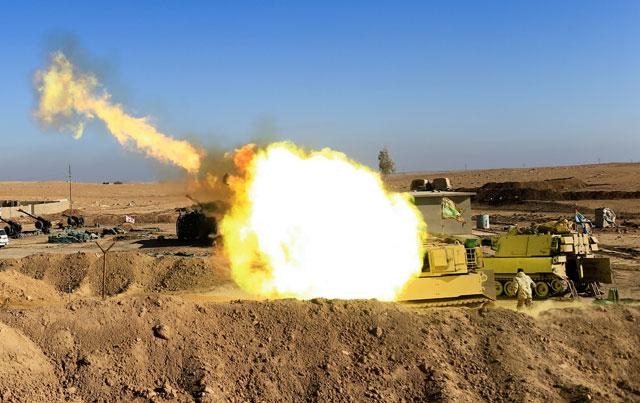 Dec 06,2016
BAGHDAD/ERBIL — Iraqi army units surged towards the centre of Mosul on Tuesday in an attack from the city's southeastern edges that could gi
Dec 12,2016
BAGHDAD — Several thousand Iraqi federal police are ready to join the assault against the Daesh terror group in east Mosul, a spokesman said
Nov 16,2016
MOSUL — Hundreds of Iraqi civilians spilled into the streets Tuesday in eastern Mosul areas recently retaken from the Daesh terror group to
Newsletter
Get top stories and blog posts emailed to you each day.