You are here
Israel begins telling African migrants to leave
By AFP - Feb 04,2018 - Last updated at Feb 04,2018
OCCUPIED JERUSALEM — Israel began warning thousands of African migrants on Sunday that they must leave by the end of March, officials said, under a plan that could see them jailed if they refuse.
On January 3, Prime Minister Benjamin Netanyahu announced implementation of a plan to deport about 38,000 migrants who had entered the country illegally, mainly Eritreans and Sudanese.
The controversial plan gives them until the end of next month to leave voluntarily or face jail and eventual expulsion.
Immigration authority spokeswoman Sabine Haddad told AFP that officials began issuing migrants letters on Sunday advising them that they had 60 days in which to leave the country voluntarily.
For now, the notices are being given only to men without families, officials said.
Israeli newspaper Haaretz said "anyone recognised as a victim of slavery or human trafficking, and those who had requested asylum by the end of 2017 but haven't gotten a response" would also be exempt for now.
It added that this left the number subject to near-term deportation at "between 15,000 and 20,000 people".
The authority is offering those who agree to leave a grant of $3,500, a flight ticket and help with obtaining travel documents.
Should they not leave by the deadline, the grant would be reduced and "enforcement measures" would be taken against them and anyone employing them, the authority says.
Israel refers to the tens of thousands of African migrants who entered the country illegally from neighbouring Egypt as "infiltrators".
Israeli officials tacitly recognise that it is too dangerous to return Sudanese and Eritreans to their troubled homelands, but local media say the notices do not specify where departing migrants would be sent.
Aid workers and media have named Uganda and Rwanda, although both countries deny being a destination for migrants being expelled involuntarily.
Public opposition to the plan has been slow to build, but some Israeli airline pilots have reportedly said they will not fly forced deportees.
Academics have published a petition and Israeli Holocaust survivors wrote an open letter to Netanyahu last month pleading with him to reconsider.
Related Articles
Feb 07,2018
HOLOT DETENTION CENTRE, Israel — At a detention centre in Israel's Negev Desert, African migrants facing deportation say they would rather b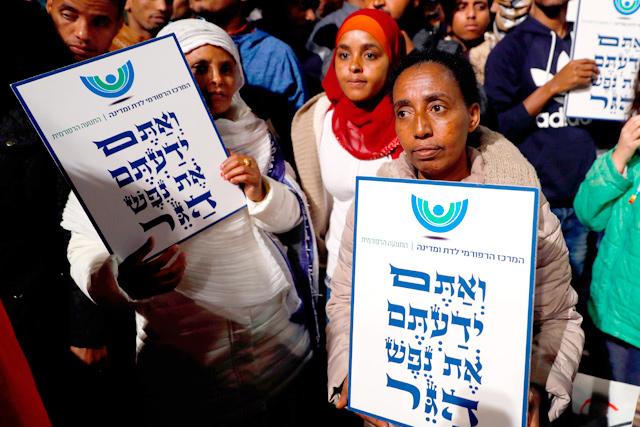 Feb 24,2018
TEL AVIV — Israeli forces said they detained two men, one armed, after they allegedly made online threats to disrupt a rally on Saturda
Nov 19,2017
OCCUPIED JERUSALEM — Israel's cabinet voted on Sunday to close a migrant detention centre, as Prime Minister Benjamin Netanyahu announced an
Newsletter
Get top stories and blog posts emailed to you each day.