You are here
Israel closes Palestinian map bureau, arrests its head
By AFP - Mar 14,2017 - Last updated at Mar 14,2017
Palestinian geographer Khalil Tafakji (centre), who runs a Palestinian map office, is detained by Israeli forces officers as they carry out an Israeli police order to close the office, in the Arab East Jerusalem neighbourhood of Beit Hanina on Tuesday (Reuters photo)
OCCUPIED JERUSALEM — Israeli force on Tuesday closed a Palestinian research centre in Jerusalem and briefly arrested its director, a prominent cartographer, accusing him of working for the Palestinian security services.
The office of cartography in occupied East Jerusalem was shut down for six months, a police statement said.
Israeli officials accused its head Khalil Tafakji of working with the Palestinian Authority to monitor the sale of land by Palestinians to Israeli Jews in East Jerusalem.
Israel seized East Jerusalem in the 1967 Six-Day War and later annexed it in moves never recognised by the international community.
Israel sees the whole city as its united capital, while the Palestinians view East Jerusalem as the capital of their future state.
Israeli authorities released Tafakji on Tuesday afternoon, the cartographer's family and police said.
Israeli Internal Security Minister Gilad Erdan earlier said Tafakji's work had been "part of the Palestinian Authority's plan to undermine our sovereignty in Jerusalem and terrorise Arabs selling real estate to Jews in the city".
"I'll continue to act assertively to prevent Palestinian sovereignty in Jerusalem."
Selling land to Israeli settlers is punishable by death under Palestinian law.
Senior Palestinian official Saeb Erekat condemned in a statement the "illegitimate" closure and arrest, calling it part of Israel's attempts to "erase any Palestinian presence in the city".
Several organisations promoting Israeli settlement in East Jerusalem have used so-called straw men to carry out transactions.
Palestinians accuse the Israeli government of seeking to Judaise East Jerusalem.
Around 200,000 Israelis now live in settlements in East Jerusalem.
Tafakji has been mapping the Palestinian territories for decades and is regularly quoted by both international experts and the world press.
He works within Orient House, which was long a hub of Palestinian culture in Jerusalem under the Palestine Liberation Organisation but was closed in 2000 by Israel.
Related Articles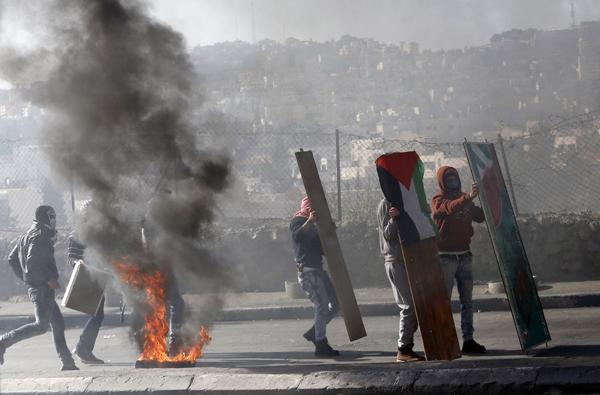 Jan 14,2016
OCCUPIED JERUSALEM — Israel has detained two Palestinian men who refused to heed a military expulsion order from their hometown of Jerusalem
Aug 08,2017
OCCUPIED JERUSALEM — Human Rights Watch said Tuesday Israel had stripped nearly 15,000 Palestinians from Jerusalem of their right to live in
Jun 16,2016
OCCUPIED JERUSALEM — Israeli municipal authorities on Wednesday approved the construction of a three-storey residential building for Jewish
Newsletter
Get top stories and blog posts emailed to you each day.