You are here
'Israel could get tougher on Gaza after warplanes hit Hamas'
By AFP - Jun 21,2018 - Last updated at Jun 21,2018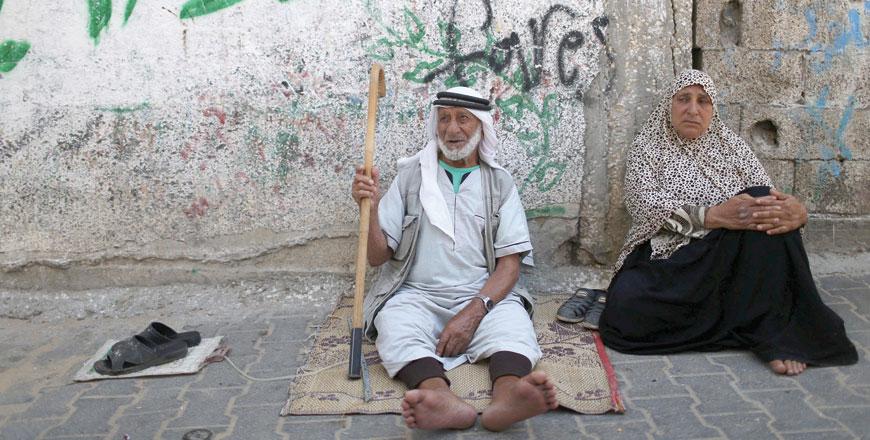 Palestinians sit outside their house at Khan Younis refugee camp in the southern Gaza Strip on Wednesday (Reuters photo)
GAZA CITY, Palestinian Territories — Israeli occupation warplanes pounded Hamas targets in the Gaza Strip early on Wednesday in a new flare-up of hostilities that saw dozens of rockets and mortar shells fired from the Palestinian enclave, Israel said.
An occupation forces spokesman said all targets belonged to Hamas's military wing, the Ezzedine Al Qassam Brigades, and the strikes were more intense than in previous sorties.
"We struck at a greater intensity, with the intended message for Hamas to understand that we will not allow this situation to continue," spokesman Jonathan Conricus told reporters.
The latest spike in tensions follows weeks of protests where Israeli forces killed 132 Palestinians along the Gaza-Israel border as well as the worst military escalation last month since the 2014 Israeli war on Gaza.
It comes as US President Donald Trump's special envoy Jason Greenblatt and Adviser Jared Kushner visit the region to discuss issues including the Palestinian-Israeli peace process.
Israeli planes initially targeted three Hamas military positions overnight in Gaza in response to kites and balloons carrying incendiary devices launched into Israel from the Palestinian territory, Israel said.
"We have warned verbally, we have fired various munitions in close proximity to [them], we have fired various munitions on various related supporting infrastructure and equipment, vehicles etcetera, related to efforts to launch kites — that may not remain the situation," Conricus said in English.
Hamas and other armed resistance groups hit back after the first air raids with more than 45 rockets and mortar rounds fired from Gaza towards Israel, seven of which were intercepted by the Iron Dome missile defence system, he added.
Three more landed inside Israel, he claimed, but did not account for the remainder.
In response, Israeli planes carried out more raids against 25 targets including an underground training compound, according to Israel.
Gaza medical sources said that five people were lightly injured in the strikes.
Tensions have soared in Gaza since mass protests broke out along the border on March 30. At least 132 Palestinians have been killed and thousands more injured by Israeli forces and live fire, but there have been no Israeli fatalities.
Palestinians are demanding the right to return to the homes their families fled or were expelled from during the 1948 war surrounding the creation of Israel.
Deteriorating path
The Gaza Strip is controlled by Hamas, which Israel considers its bitter enemy.
UN Secretary General Antonio Guterres has warned that Gaza is close to the brink of war.
The most serious military escalation since the 2014 Israeli war on Gaza last month raised fears of yet another full-blown conflict in the impoverished Palestinian enclave.
Israel said in late May it targeted some 65 militant sites in the Gaza Strip. It also said around 100 rockets and mortars fired from Gaza either exploded in Israel or were intercepted by air defences.
Israel and Hamas have fought three wars since 2008 and observe a tense ceasefire that is regularly shaken by hostile acts.
Peace talks between Israel and the Palestinians have been stalled since 2014.
On Tuesday, Greenblatt and Kushner met with Jordan's King Abdullah II in Amman to discuss the Palestinian-Israeli peace process during a regional tour that will also take them to Israel, Egypt, Qatar and Saudi Arabia.
Trump's controversial December decision to recognise the disputed city of Jerusalem as Israel's capital sparked anger across the Arab world and prompted Palestinians to freeze all contacts with US officials.
Newsletter
Get top stories and blog posts emailed to you each day.