You are here
Israeli dies in West Bank shooting
By AFP - Jun 30,2015 - Last updated at Jun 30,2015
OCCUPIED JERUSALEM — An Israeli wounded in a West Bank shooting overnight died Tuesday, and a Palestinian was shot by Israeli forces after he ran at them shouting Allahu Akbar in the latest violence to mar Ramadan.
In response to the Monday night incident, in which three more Israelis were hurt, authorities tightened restrictions on West Bank Palestinians wanting to pray at Jerusalem's Al Aqsa mosque during the holy month.
The Israelis' car came under fire near the Shvut Rachel settlement, the army said, adding that it was unclear whether it was a drive-by shooting or a sniper attack.
The men, all men in their 20s, were taken to Israeli hospital, and one of them died Tuesday, his family said.
The shots were fired at a crossroads near the settlement in the northern West Bank. Despite the army setting up roadblocks, the perpetrator or perpetrators got away.
West Bank settlements are considered illegal under international law and Israelis have been attacked previously in and around them, as well as in occupied East Jerusalem.
On Tuesday, Israeli forces said a Palestinian was shot and wounded after running toward security guards shouting "Allahu Akbar" [God is greatest] at a main checkpoint between east Jerusalem and the West Bank.
A statement said a guard fired a warning shot in the air then shot the man as he continued to advance. The man was taken to hospital in what police described as "moderate" condition.
Monday's shootings were the latest in a string of attacks since the start of Ramadan and Israeli Prime Minister Benjamin Netanyahu demanded the West Bank Palestinian leadership speak out against the violence.
"The fact that till this very moment the Palestinian Authority has not condemned the attacks should disturb not only us but the entire international community," he said ahead of a meeting with Italian Foreign Minister Paolo Gentilloni.
"Whoever doesn't take an unequivocal stance against terror, cannot claim innocence," he said.
There was no immediate response from the Palestinian Authority. Hamas, the Islamist movement which rules the Gaza Strip, saluted the attack, which has not been claimed by anyone.
COGAT, the defence ministry unit that manages civilian affairs in the Palestinian territories, said that in response to the latest attacks, access to Al Aqsa, Islam's third-holiest site would be strictly limited.
"Men below the age of 50 and women between 16-30 will be allowed entry to Jerusalem... only on the basis of [prior] permits," it said.
Related Articles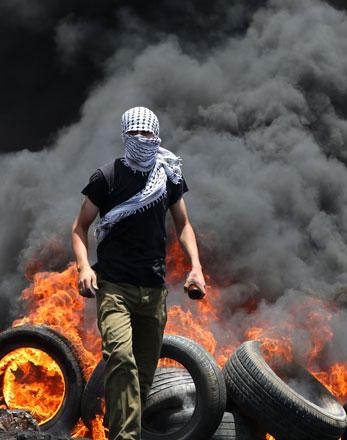 Jun 20,2015
NEAR DOLEV SETTLEMENT, Palestinian Territories — A Palestinian opened fire on two Israeli men near a West Bank settlement on Friday, killing
Dec 04,2014
A Palestinian teen stabbed two Israelis in a West Bank settlement in "an apparent terror attack" on Wednesday before an off-duty security guard shot him in the leg, Israeli forces said.
Oct 20,2015
UN chief Ban Ki-moon on Tuesday warned against any misuse of force as he met Israeli Prime Minister Benjamin Netanyahu in Jerusalem in a bid
Newsletter
Get top stories and blog posts emailed to you each day.