You are here
Israeli forces set October deadline to evacuate Palestine's Khan Al Ahmar
By Reuters - Sep 24,2018 - Last updated at Sep 24,2018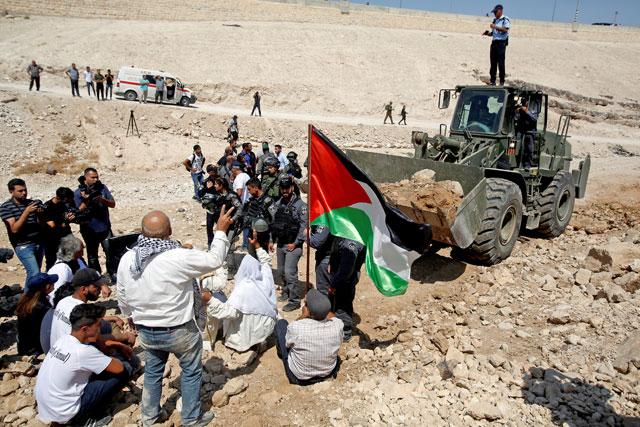 Palestinians gather in front of an Israeli bulldozer as they protest against Israel's plan to demolish the Palestinian Bedouin village of Khan Al Ahmar in the occupied West Bank on September 14 (Reuters file photo)
KHAN AL AHMAR, West Bank — Israel on Sunday told residents of Khan Al Ahmar, a Bedouin village in the occupied West Bank slated for demolition, to clear their houses by October 1.
Khan Al Ahmar consists of tin and wood shacks built on a desert hillside beside a highway that runs from the occupied city of Jerusalem to the Dead Sea.
Israel plans to demolish the village and relocate its 180 residents — Bedouins who scrape a living by raising sheep and goats — to a site 12 kilometres away, near the Palestinian village of Abu Dis and adjacent to a landfill site.
The move has drawn criticism from Palestinians and some European states, who cite the impact on the community and prospects for peace.
A spokeswoman for Israel's military liaison agency with the Palestinians said no date had been set for demolition should the houses remain after the deadline.
Israeli occupation forces on Sunday morning handed out letters telling residents to voluntarily take down the buildings by October 1 or Israeli forces would enforce the demolition orders.
"We will not voluntarily evacuate the place," said village resident Faisal Abu Dahuk. "The occupation forces that have an army and weapons can evacuate us by force, but there is no other place to go and we refuse to be moved anywhere else".
Israel's supreme court has rejected petitions to prevent the move, siding with the forces which say the village was built without the required permits. Palestinians say such documents are impossible to obtain.
Palestinians say the demolition is part of an Israeli push to create an arc of settlements that would effectively cut off East Jerusalem from the West Bank, territories Israel annexed in the 1967 war and which the Palestinians seek for an independent state.
Newsletter
Get top stories and blog posts emailed to you each day.