You are here
Israeli joy at Trump visit, but substance lacking
By AFP - May 24,2017 - Last updated at May 24,2017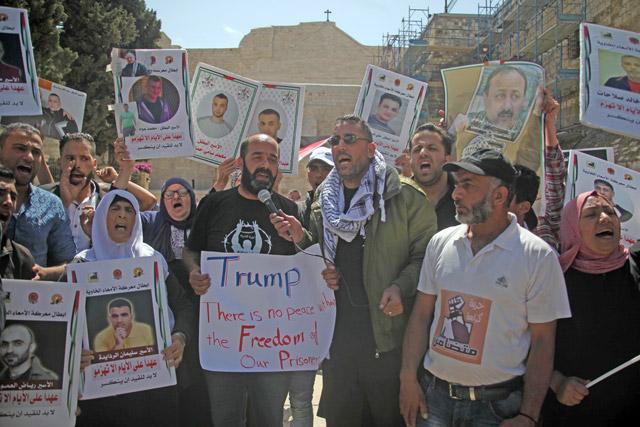 Palestinian demonstrators hold banners and posters during a demonstration in support of the Palestinian prisoners held in Israeli jails, outside the Mahd Church as US President Donald Trump meets Palestinian President Mahmoud Abbas in Bethlehem, West Bank, on Monday (Anadolu Agency photo)
OCCUPIED JERUSALEM — Israeli right-wingers celebrated US President Donald Trump's visit after he made no mention of the two-state solution, but a lack of specifics on how he would resolve the conflict with the Palestinians raised concerns.
Trump visited Israel and the Palestinian territories on Monday and Tuesday, and in a closing speech talked extensively about his commitment to Israel's security.
He also called on the Israelis and Palestinians to make compromises for peace — but gave no specific details on what he meant.
Israeli officials hailed the speech as a triumph for the country's right-wing government, which includes ministers opposed to the idea of an independent Palestinian state.
They were particularly pleased with Trump's visit to the Western Wall, one of the holiest sites in Judaism.
He became the first sitting US president to visit the site in east Jerusalem, which Israel occupied in 1967 and later annexed in a move never recognised by the international community.
Palestinian officials stressed they believed longstanding US policy remained unchanged as president Mahmud Abbas sought to convince Trump to remain committed to a two-state solution to the decades-long conflict.
But much of the intrigue over Trump's public statements during the trip revolved around what he didn't say.
By not mentioning the need for an independent Palestinian state in any of his public addresses, nor criticising Israeli settlement building in the occupied Palestinian territories, Trump endeared himself to the Israeli right.
The so-called two-state solution — meaning an independent Palestinian state alongside Israel — has long been the basis of US policy but Trump suggested in February he was no longer wedded to it.
"It was a great speech because he said the things he had to say and he did not say the things the other presidents usually took advantage of speeches to say," Tzachi Hanegbi, an Israeli minister and ally of Prime Minister Benjamin Netanyahu, told AFP after Trump's closing speech.
"He didn't reprimand Israel for settlements, he didn't commit the United States to a two-state vision."
What he didn't say
Michael Oren, a former Israeli ambassador to Washington, told AFP he was glad Trump's talk of peace "didn't lock us into a specific formula," referring to the two-state solution.
Far-right Education Minister Naftali Bennett and Israeli settler organisations also hailed Trump's silence on two states.
In contrast, Husam Zomlot, Palestinian ambassador to the United States and a key Abbas ally, said he did not see Trump's comments as a US policy shift.
The Palestinian leadership has pledged to work with Trump, hoping his unorthodox approach can lead to progress previously lacking.
"The last two days was not a matter of policy. We take it that the US policy remains as is," Zomlot told AFP.
"It was a visit of intent, of his intent to reach out and help us reach a final agreement."
Trump held talks with Netanyahu in Jerusalem and with Abbas in Bethlehem in the occupied West Bank. His visit to the West Bank lasted around two hours.
Trump came to power promising to be the most pro-Israel president in US history.
His visit came in stark contrast to president Barack Obama's first Middle East trip eight years ago when Israelis accused him of shunning the Israel as he delivered a keynote speech in Egypt.
Yet critics pointed out that while the symbolism of Trump's visit was significant, there were precious few details on his plan for kickstarting negotiations.
'Credibility problem'
The peace process has been deadlocked since April 2014 when indirect negotiations led by then US secretary of state John Kerry collapsed.
A commentary in Israel's centrist Yediot Aharonot newspaper said that after two days of waiting for Trump's keynote address "the only thing we could learn from that speech was how to say nothing with a whole lot of words".
Nathan Thrall from the International Crisis Group and author of a new book on past Israeli-Palestinian peace talks agreed that "there was nothing substantive in Trump's public comments".
"The real question is if there is something substantive happening behind closed doors."
Trump travelled to Saudi Arabia before Israel where he met King Salman
Much discussion has focussed on reviving a 2002 Saudi-led peace initiative whereby Arab states would recognise Israel in exchange for its full withdrawal from the territories it occupied in 1967 and a just settlement of the Palestinian refugee problem.
Related Articles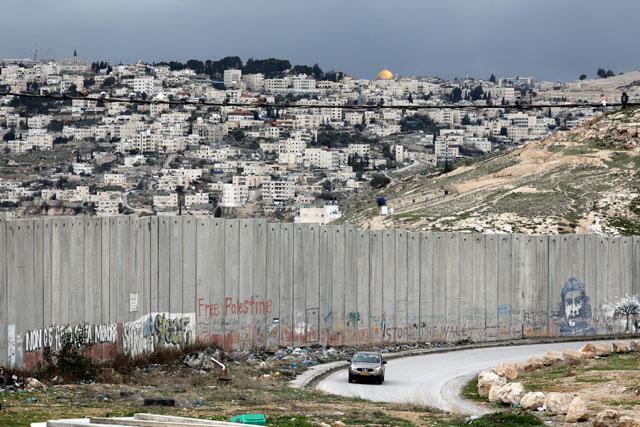 Feb 15,2017
WASHINGTON — President Donald Trump on Wednesday urged Israeli Prime Minister Benjamin Netanyahu to curb settlement activity but avoided any
Aug 01,2017
OCCUPIED JERUSALEM — A senior Palestinian official on Tuesday said silence in US President Donald Trump's administration over settlement uni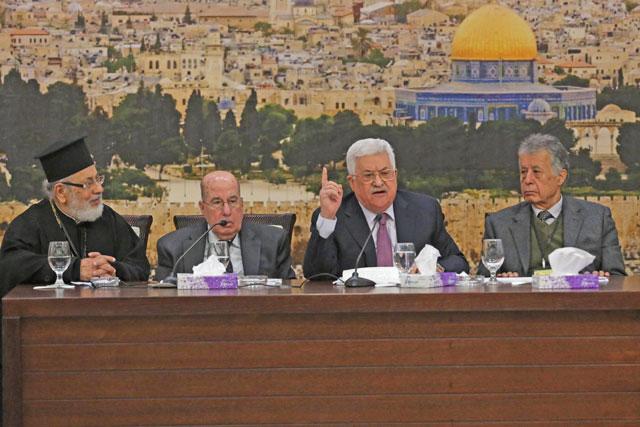 Jan 16,2018
RAMALLAH, Palestinian Territories — Palestinian leaders met Monday to plan a response to what they see as US President Donald Trump's attack
Newsletter
Get top stories and blog posts emailed to you each day.