You are here
Israeli warplanes pound Gaza after new rocket attack
By AFP - Feb 20,2018 - Last updated at Feb 20,2018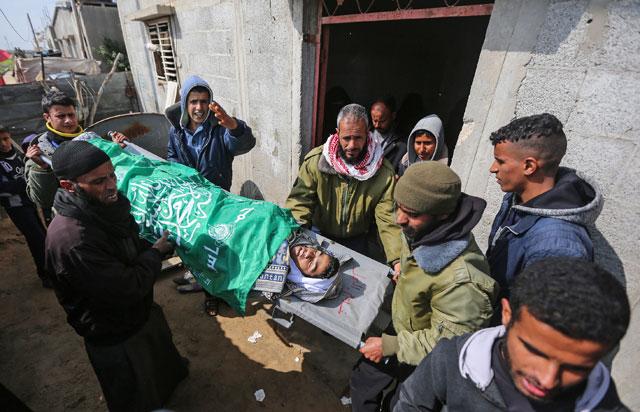 Palestinians carry the dead body of 17-year-old Salim Sabah, who was killed in Israeli attacks, during a funeral ceremony in Rafah, Gaza, on Sunday (Anadolu Agency photo)
GAZA CITY, Palestinian Territories — Israeli warplanes carried out a fresh round of strikes in the Gaza Strip on Monday after a rocket fired by Palestinians slammed into southern Israel, the army said.
The cross-border exchange followed a weekend escalation in violence seen as among the most serious since Israel and the coastal enclave's Hamas rulers fought a war in 2014.
The Islamist group was quick to say that it did not seek further confrontation.
Israeli fighter jets "targeted underground infrastructure in the southern Gaza Strip, in response to the projectile that was launched at Israel earlier", an army statement said.
It did not give further details, but Palestinian security sources said several missiles were fired at farmland east of Rafah in the south of the Gaza Strip.
No casualties were reported on either side.
Monday's strikes followed fierce exchanges over the weekend after an improvised bomb apparently planted by Palestinians exploded on Saturday, injuring four Israeli soldiers inspecting the border fence.
Israel responded by pounding 18 Hamas facilities in two waves of air strikes on Saturday and Sunday, according to the Israeli military.
Israeli ground forces also killed two Palestinian teenagers in the enclave in cross-border fire.
Efforts to 'stop escalation'
But senior Hamas official Mahmoud Zahar said on Monday that his organisation had no wish to see fighting with Israel intensify.
"The resistance does not want to waste its energy on this escalation," he told the Hamas-affiliated Al Risala website.
He added that efforts were under way "to stop escalation and a new war", although he did not elaborate.
Another source close to Hamas said it was sending messages to Israel through neighbouring Egypt, which frequently mediates between the two sides.
The source told AFP that Hamas representatives in Cairo "have officially informed the head of Egyptian intelligence that the movement is not interested in any escalation in Gaza".
"The Egyptian authorities must press the [Israeli] occupation government to stop the aggression and ongoing strikes in Gaza," he added.
The European Union said the flare-up was of "real concern", describing the deaths of the Palestinian teenagers as "deplorable" and demanding a halt to rocket fire.
"Rocket attacks by militants from Gaza against Israel are unacceptable and need to stop," it said in a statement which acknowledged "Israel's legitimate security concerns".
"It is extremely important that the situation does not escalate further and it is crucial that all parties act with restraint," it added.
Palestinians said two people were wounded in the weekend air strikes.
Two of the soldiers were severely wounded in the border blast but their lives were not in danger, the army said.
The Popular Resistance Committees, a loose alliance of fighters from various Gaza nationalist and Islamist Palestinian groups, claimed responsibility for the explosion and called it a "heroic act".
Founded in September 2000, the alliance took part in the 2006 capture of Israeli soldier Gilad Shalit, held captive until he was freed in a 2011 prisoner exchange.
Israeli army spokesman Lieutenant Colonel Jonathan Conricus on Saturday described the committees as a "rogue group", but said that Israel nevertheless held Hamas responsible for attacks from territory under its control.
Israeli Defence Minister Avigdor Lieberman pledged to eradicate those behind the Saturday explosion.
"Until we eliminate them, the score remains unsettled," he told Israeli news site Ynet on Sunday.
"It will take two days, a week, or two weeks," he said.
Related Articles
Mar 26,2018
OCCUPIED JERUSALEM — Israel's Iron Dome anti-missile shield was fired on Sunday against machinegun fire reportedly originating in the Hamas-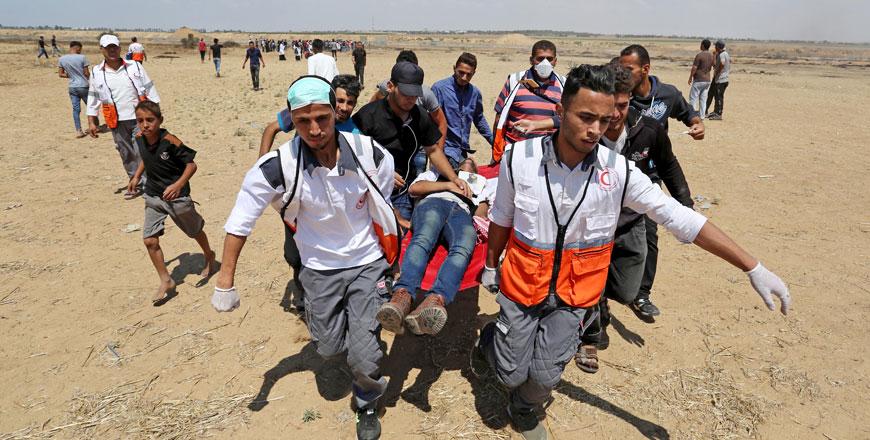 Jun 04,2018
GAZA CITY, Palestinian Territories — Israeli aircraft pounded over a dozen militant targets in Gaza, Israeli occupation forces said on Sunda
May 05,2016
GAZA CITY — Israel launched air raids Wednesday on the Gaza Strip after a day of tensions along the border of the Palestinian territory whos
Newsletter
Get top stories and blog posts emailed to you each day.