You are here
Last major challenger to Sisi calls off campaign after arrest
By Reuters - Jan 23,2018 - Last updated at Jan 23,2018
CAIRO — The last challenger seen as a potential threat to the reelection of Egyptian President Abdel Fattah Al Sisi was detained on Tuesday, and halted his campaign after the army accused him of breaking the law by running for office without permission.
Former military chief of staff Lieutenant General Sami Anan, who had announced his candidacy last week, was taken to the Military Prosecutor's office in Cairo, according to his son and one of his lawyers, who were waiting outside the building.
An army statement read aloud on state TV said Anan's presidential bid amounted to "a serious breach of the laws of military service", because as a military officer he was required to end his service and seek permission before seeking office.
Anan's spokesman denied he had broken any laws. The charges "come from an inaccurate reading of Anan's announcement", Hazem Hosni told Reuters just after the arrest, without elaborating. Nevertheless, the campaign announced Anan was halting his bid.
"To be banned by the state to enter the elections... [means] that the state doesn't want to hold an election," Anan's spokesman Hosni said.
The military declined to comment on Anan's detention. The interior ministry could not immediately be reached for comment.
A witness who knows Anan told Reuters the candidate was detained while driving to his office shortly before the army statement was broadcast. His car was stopped by what appeared to be armed military police on a main road in Cairo.
Anan, who served as armed forces chief of staff from 2005-2012, was the final high profile challenger to Sisi left in the race after a number of others dropped out, some citing intimidation by the authorities.
Egypt's president's office and government press centre have not commented on the election race. The electoral commission has said it will ensure the vote is carried out fairly and transparently.
Sisi, who was elected president a year following the ouster of Islamist president Mohammad Morsi, announced last week he will seek a second term in the election set for late March.
Candidates withdraw
Ahmed Shafik, a former prime minister and air force chief, abandoned a bid this month, saying that after several years living abroad he was out of touch with Egyptian politics. The announcement came amid media criticism and speculation that he was being held by authorities in a Cairo hotel.
Mohamed Anwar Al Sadat, the nephew of assassinated president Anwar Al Sadat, said last week he would not run, citing an environment of fear surrounding the vote.
Rights lawyer Khaled Ali has said he will still run, but he might be disqualified over an ongoing legal case against him.
Anan announced his presidential bid in a video declaration posted on his official Facebook page last week, saying he was running to save Egypt from incorrect policies and calling on state institutions to maintain neutrality towards all candidates.
Egyptian law requires former army officials to end their service and receive permission from the military before they can run for political office. The army's statement said Anan had falsified documents that stated his military service had ended.
Sisi's critics say his popularity has eroded over tough economic reforms tied to a $12 billion International Monetary Fund loan, which have squeezed many Egyptians, and over a crackdown on dissidents.
His supporters say firm measures are necessary to bring security and stability to a country that has seen unrest since a 2011 uprising toppled long-serving autocrat Hosni Mubarak.
Egypt is fighting a stubborn Daesh insurgency in its North Sinai region. Militants have expanded their attacks to target civilians, especially over the past year.
Related Articles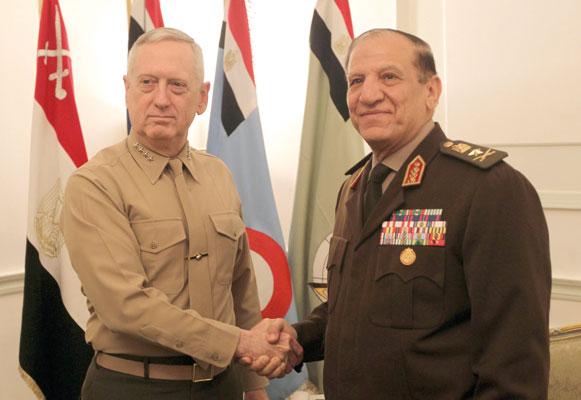 Jan 20,2018
CAIRO — A former Egyptian armed forces chief-of-staff said on Saturday that he will challenge fellow military man Abdel Fattah Al Sisi for t
Jan 29,2018
CAIRO — An Egyptian politician emerged just ahead of a deadline on Monday as the sole challenger to President Abdel Fattah Al Sisi in a Marc
Feb 03,2018
CAIRO — A political coalition including several high-profile Egyptians sharply criticised President Abdel Fattah Al Sisi on Friday for a spe
Newsletter
Get top stories and blog posts emailed to you each day.