You are here
Lebanon army probes new jihadist beheading claim
By AFP - Sep 06,2014 - Last updated at Sep 06,2014
BEIRUT — The Lebanese army is investigating photographs purportedly showing a second soldier who had been beheaded by the Islamic State, a military source said Saturday.
An apparent IS supporter posted a photo on Twitter showing a masked man wearing black, holding the severed head of a bearded young man over his body.
The corpse is lying in a pool of blood and, in the background, a man is holding up the black IS flag.
"The army has received the images, but we cannot confirm or deny whether they are authentic," said the source, speaking on condition of anonymity.
The image emerged four days after DNA testing confirmed that the body of a man whom jihadists had said they beheaded was that of Lebanese soldier Ali Sayyed.
Sayyed had been captured by jihadists from the Al Qaeda affiliated Al Nusra Front and the IS, along with some 30 soldiers and police in the eastern town of Arsal last month.
They were seized during major fighting against jihadists who had flooded in from neighbouring Syria.
Earlier Saturday, the body of a Lebanese civilian kidnapped and killed by jihadists was handed over to his family in Arsal.
Kayed Ghadada was abducted last month after the battle, which killed 20 soldiers, dozens of jihadists and 16 civilians.
The fighting in Arsal was the most serious border incident since the Syrian conflict erupted in March 2011.
The militants have reportedly sought to negotiate the release of the hostages in exchange for Islamist prisoners held in Lebanese jails.
Lebanese officials have rejected holding talks on a possible prisoner swap, but have said Qatar is mediating negotiations on the issue.
Related Articles
Sep 03,2014
DNA testing has confirmed that the body of a man who jihadists said they had beheaded was that of Lebanese soldier Ali Sayyed, his family said Tuesday.
Dec 06,2014
Anger erupted in eastern Lebanon early Saturday after Al Qaeda-linked Syrian extremist group Al Nusra front said it had killed a captured Lebanese policeman to avenge the arrest of Islamic militants' wives and children.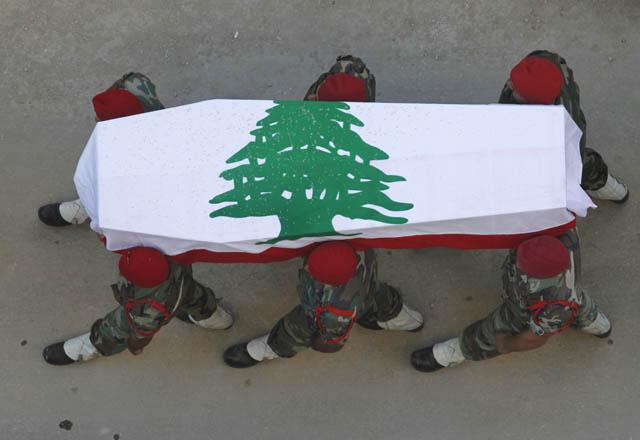 Sep 20,2014
A Lebanese soldier has been executed by Al Nusra Front, the Syrian affiliate of Al Qaeda, the government said on Saturday.
Newsletter
Get top stories and blog posts emailed to you each day.