You are here
Libya flood survivors endure unbearable wait for missing relatives
By AFP - Sep 20,2023 - Last updated at Sep 20,2023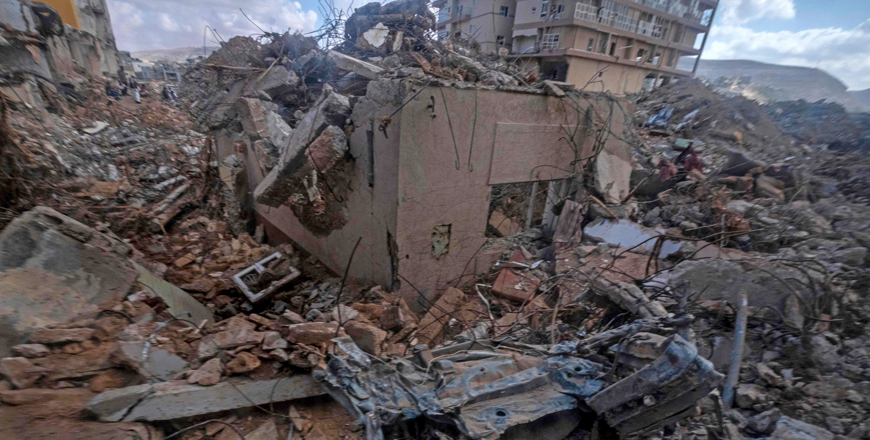 The rubble of buildings destroyed in a flood is scatterred in Libya's eastern city of Derna on Tuesday (AFP photo)
DERNA, Libya — In Libya's flood-hit city of Derna, the Mediterranean Sea breeze mixes with the nauseating stench of human remains buried under the mud-caked rubble.
Ten days after a tsunami-scale flash flood ripped through the coastal city, razing entire neighbourhoods, many of the traumatised survivors are still waiting to learn the fate of missing relatives.
Few of them have any hope of seeing their loved ones alive.
Bodies are still trapped inside shattered buildings and below the mountains of mud now turning into choking dust, as emergency response crews keep up their grim search.
Untold numbers of people were swept away by the raging waters and into the sea when two upstream dams burst late at night after Storm Daniel's torrential rains lashed the area on September 10.
Hundreds of bodies have since washed back onto the shores.
The official death toll stands at more than 3,300, but the eventual count is expected to be far higher, with international aid groups giving estimates of up to 10,000 people missing.
Entire families have vanished, said Derna resident Mohamad Badr as he was clearing his house of mud and trying to salvage what furniture and household items he could.
"The Bouzid family, the Fachiani family, the Khalidi family, these are entire families," the 23-year-old man told AFP, his hands and clothes stained with mud.
"There is no one left."
'Neighbours screamed'
On the flat roof of his house, he and five other workers have placed sofas, cushions, curtains, clothes, an exercise treadmill and electrical equipment.
"God knows if they still work," Badr said.
Emotion overtook him when he recounted how he survived the flood night that brought him "more than one nightmare".
"I heard a lot of screaming," he said. "It was neighbours who screamed until they died."
"It was dark and there was no one" to help them, he said.
When the muddy waters came crashing into the family home, Badr clung to an air conditioner fixed just below the ceiling.
Very quickly he could barely keep his head above water, and then the A/C unit broke off the wall.
Badr was able to cling onto a floating couch for the next few hours, until the waters gradually receded.
"My brother died after bleeding for hours from an arm injury," said Badr.
His parents, three children and sister-in-law survived, but he has had no news of his uncles and their families.
Thirty-two of his relatives are missing after their building was reduced to rubble that remains inaccessible.
"Maybe their bodies were found and no one was able to identify them," said Badr.
Mass graves
In the first days after the disaster, rescue teams and volunteers hastily buried hundreds of unidentified bodies in mass graves.
DNA samples were taken in the hopes they could be identified later, authorities said.
Elsewhere in the shattered city, Mahmud Erqiq, 50, has been offering drinking water and refreshments to the rescue workers.
With misty eyes, he also listed the names of neighbouring families of whom he has had no news.
"The Karaz family, the Bou Chatila family, the Ghariani family, the Snidel family, the Tashani family..."
The day after the floods, he said, "I recovered 20 bodies in my neighbourhood".
Erqiq's apartment, located on an upper floor, was spared, but he lost the metal workshop that was his livelihood.
Standing nearby was Miloud Boussertia, still visibly in shock after losing 25 family members.
"Our building collapsed. There were 25 people inside and they all died," said the 40-year-old who happened to be away from home when the disaster struck.
Boussertia said he lost "up to 70" members of his extended family in the city.
He has stuck close to the rescue teams. "As soon as they find a body, we come and open the body bag," he said.
But even this no longer brings certainty, added Boussertia, because at this stage often "the features are no longer recognisable".
Related Articles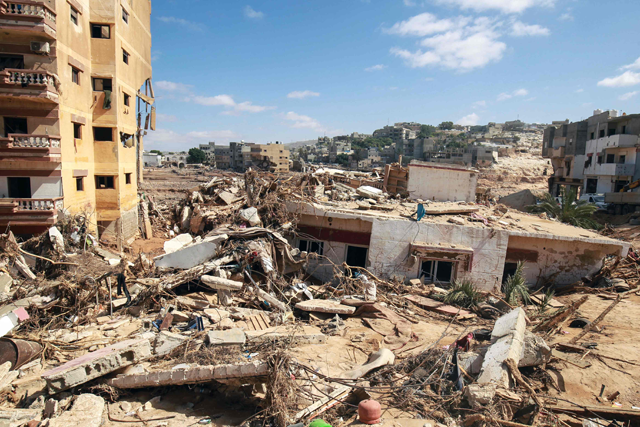 Sep 16,2023
DERNA, Libya — Shipments of international aid began to arrive in Libya on Saturday, offering a lifeline to thousands despite dwindling hopes
Sep 18,2023
DERNA, Libya — The UN warned Monday that disease outbreaks could bring "a second devastating crisis" to Libya a week after a huge flash floo
Sep 12,2023
BENGHAZI, Libya - At least 2,300 people were killed in Libya and thousands more were reported missing after catastrophic flash floods broke