You are here
Libya's Misrata pays price in fight against Daesh
By AFP - Aug 10,2016 - Last updated at Aug 10,2016
Libyan Abdullah Ehmeda (right) shows a picture of his son Abdelqader, who died fighting alongside pro-Government of National Accord fighters in the battle against the Daesh terror group, during an interview on August 8 in Misrata, Libya (AP photo )
MISRATA, Libya — In the fight against the Daesh terror group in Libya, few communities have paid as heavy a price as Misrata.
The coastal city is home to powerful militias that formed in the 2011 uprising that overthrew Muammar Qadhafi and have played a key role in the war-torn country ever since.
Today, they are a crucial part of forces fighting to oust Daesh from its North African stronghold Sirte, 190 southeast of Misrata, Libya's third city.
In May, the militants came to within 100 kilometres of Misrata when they attacked the key crossroad town of Abu Grein.
"Every family in Misrata has a martyr," says Eshtewi Khalifa, whose cousin Abdelrahman Al Kissa, a 54-year-old former lawyer and onetime government minister, was killed in the battle in June.
Fighters from Misrata are at the forefront of efforts by forces allied with Libya's Government of National Accord (GNA) to oust Daesh from Sirte, Qadhafi's hometown.
The extremists seized control of Sirte in June 2015, raising fears of a Daesh stronghold just across the Mediterranean from Europe.
The UN-backed GNA, formed last year in an effort to end the political chaos that has plagued Libya since Qadhafi's ouster, has made defeating Daesh a top goal, winning broad international support.
It launched a major offensive in May to take Sirte from militants hands, with Misrata at its heart.
'It's time to fight'
The operation's command centre is in the city, and Misrata's militias — armed with tanks, MiG fighter jets and attack helicopters — have formed the core of the pro-GNA forces.
At least 300 pro-GNA fighters have been killed and more than 1,500 wounded since the start of the battle, according to medical sources. Officials say most were from Misrata.
Abdelrahman Al Kissa's son Ali, 22, remembers bidding his father farewell as the ex-lawyer set off to fight in Sirte in early June.
"He told me 'I'm going to Sirte'... I told him 'Take care of yourself, and God willing, all will be well,'" Ali says.
Two days later, the news came that his father was dead.
"He only went to the front once. He left on Monday and died on Wednesday," says Ali, a university student, as he looks through photographs of his father at the family home in Misrata.
"People here rejoice in their martyrs, but I hope the war will end," Ali says. "It's the hope of every Libyan today that this war will end and the country will stand up and be better."
Kissa had been a "minister for martyrs" with the rebel National Transitional Council (NTC) during the anti-Qadhafi uprising and later the president of Libya's bar association.
But when he left to join the battle in Sirte, he told his cousin Khalifa: "My role as a lawyer is finished. It's time to fight."
Countdown' to final battle
Abdullah Ehmeda, 66, has seen four of his nine sons on the battlefront in Sirte, three as fighters.
The other, 30-year Abdelqader, was killed while covering the battle as a journalist.
Sitting on a blue sofa in his living room, Ehmeda holds a closely guarded copy of a local newspaper containing photos and an obituary of his son.
He opens the newspaper, looks at the photos with tears in his eyes, puts it aside and speaks with pride of his son, who married a year-and-a-half ago.
"His life story was full of events. He was wounded by a bullet in the 2011 [uprising], he was kidnapped in 2013 and he died in Sirte. His life was like that of many Libyans who defend their country and their brothers."
Pro-GNA forces have stepped up the fight against Daesh in recent days, and the Pentagon announced last week it had begun carrying out air strikes on Daesh positions in Sirte at the GNA's request.
On Sunday pro-government forces said the "countdown" had begun for the final assault on Daesh's holdout positions in Sirte.
For Ehmeda, defeating Daesh would help the people of Misrata deal with their losses.
"Of course it is not easy for anyone to accept that their son be killed, and we had hoped that the war would not continue for this long," he says. "But victory would ease the pain of losing Abdelqader and all the other martyrs."
Related Articles
Oct 03,2016
TRIPOLI — A Dutch journalist was killed by sniper fire on Sunday while covering clashes in Libya's coastal city of Sirte, as unity governmen
Jun 11,2016
TRIPOLI — Forces allied with Libya's unity government said Saturday they had recaptured the port in the militant bastion of Sirte, advancing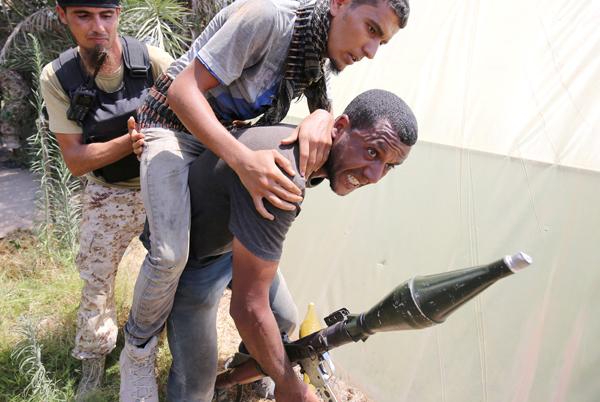 Aug 02,2016
TRIPOLI — Libyan forces said Tuesday they were advancing inside the extremist bastion of Sirte, as Washington conducted a second straight da
Newsletter
Get top stories and blog posts emailed to you each day.