You are here
Libya oil storage tanks set on fire during Daesh assault
By AFP - Jan 07,2016 - Last updated at Jan 07,2016
An image grab taken from a user generated content video uploaded on social networks on Tuesday shows a petroleum storage tank burning at Al Sidra oil terminal, near Ras Lanuf, in the so-called 'oil crescent' along Libya's northern coast (AFP photo)
BENGHAZI — At least four oil storage tanks have been set ablaze during deadly fighting in Libya as the Daesh group tries to seize export terminals, the National Oil Company (NOC) said Wednesday.
The clashes, in which at least 10 security guards have died, began Monday as UN envoy Martin Kobler struggles to convince the oil-rich North African country's rival parliaments to agree on a unity government deal brokered by the world body.
The fires broke out at key terminals in Al Sidra and Ras Lanouf, located in the so-called "oil crescent" along Libya's northern coast, said a statement from the NOC management loyal to the internationally recognised government.
The NOC statement did not make clear whether the fires were still burning or if fighting was still under way for a third successive day in the Daesh push to seize the terminals.
A senior executive with the Sirte Oil Co. told AFP that four tanks were still ablaze in Al Sidra.
But Mohamad Al Manfi, an NOC spokesman, was quoted by the Libyan news agency close to the recognised regime as saying "calm has returned to the area after two days of fighting".
Ali Al Hassi, a spokesman for security guards in Al Sidra, said: "We have lost 10 of our men since the beginning of the Daesh offensive on the terminals".
'Put aside differences'
Mustafa Sanalla, chairman of the rival NOC management in militia-held Tripoli, condemned the attacks.
"I hope this appalling violence will lead political leaders on all sides in Libya to understand the magnitude of the threat we face," he said in a statement.
"I encourage them urgently to put aside their differences. We need to unite against this common enemy, not tomorrow or next week, but now."
Daesh has been trying for several weeks to push east from its coastal stronghold of Sirte, and officials have warned of crippling consequences if the militants manage to seize control of Libya's oil resources.
Sanalla urged the "swift formation of a national unity government and the establishment of a unified force structure capable of bringing peace to this country and protecting its natural resources".
Kobler was equally insistent on the need for a political settlement.
"Every day that passes without a deal being endorsed is another day gained by Daesh," he said in a statement late Tuesday.
Libya descended into chaos following the 2011 ouster and killing of longtime dictator Moammer Qadhafi. It has had rival administrations since August 2014, when an Islamist-backed militia alliance overran Tripoli, forcing the government to take refuge in the east.
The United Nations is pressing both sides to accept a power-sharing agreement it hopes will help to reverse Daesh's territorial gains.
Oil is Libya's main natural resource, and the country sits on reserves estimated at 48 billion barrels, the largest in Africa.
It had a pre-revolt output capacity of about 1.6 million barrels per day (bpd), accounting for more than 95 per cent of exports.
But unrest has forced a major slump in production, and output now stands at around 500,000 bpd.
Related Articles
Apr 28,2016
LONDON/TRIPOLI — Libya's National Oil Corporation (NOC) has ambitious plans to restore output to pre-2011 levels after years of violence and
Jan 06,2016
TRIPOLI — Fighting raged between the Daesh group and Libyan forces Tuesday as the jihadists pushed on the country's crucial coastal oil term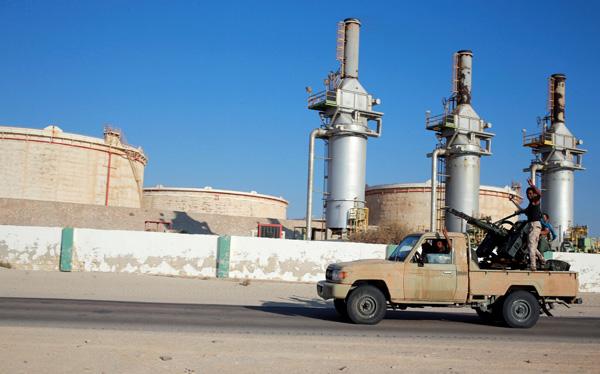 Sep 18,2016
BENGHAZI, Libya — A counter-attack by fighters loyal to Libya's UN-backed unity government aimed at retaking key eastern oil ports was repel
Newsletter
Get top stories and blog posts emailed to you each day.