You are here
Merkel in Egypt to reduce migrant flows
By AFP - Mar 02,2017 - Last updated at Mar 02,2017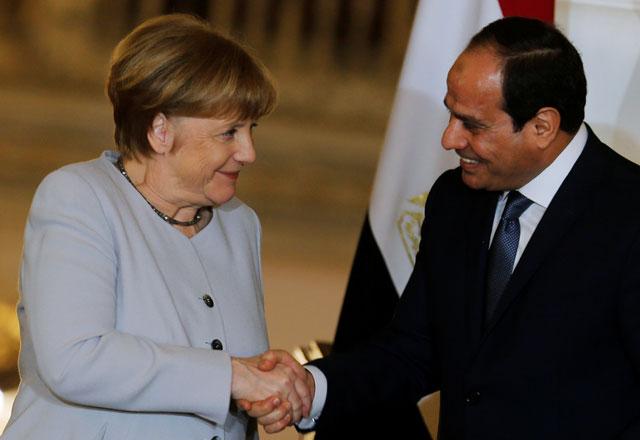 Egypt's President Abdel Fattah Al Sisi and German Chancellor Angela Merkel shake hands following a news conference at El Thadiya presidential palace in Cairo, Egypt, on Thursday (Reuters photo)
CAIRO — German Chancellor Angela Merkel held talks Thursday with Egyptian President Abdel Fattah Al Sisi on stemming illegal migration to her country, during a two-day trip that will also include Tunisia.
Turmoil exploited by people smugglers since the 2011 overthrow of Muammar Qadhafi has made Libya, which neighbours Egypt and Tunisia, the main gateway for African migrants seeking to make dangerous Mediterranean crossings.
Merkel, who faces elections in September, has been under intense pressure to reduce the number of asylum seekers coming to Germany, which has taken in over 1 million migrants since 2015.
"There are routes for illegal immigration from Libya to Germany. We have a lot of mutual concern and interest in putting an end to this," she said at a press conference with Sisi.
"The question now is how to stop human trafficking and prevent the opening of a new route for escaping to Europe through Egypt," she said.
She added that Germany would continue providing technical support for Egypt to monitor its long border with Libya.
Merkel has urged the North African states to step up border controls and speed up repatriations of migrants whose asylum applications are rejected.
After meeting Sisi, Merkel is scheduled to meet Coptic Orthodox Pope Tawadros II and Sheikh Ahmed Al Tayeb, Egypt's top Muslim cleric.
She will depart to Tunisia on Friday to meet Tunisian President Beji Caid Essebsi.
Merkel is joined by a business delegation that could sweeten the diplomacy with investments badly needed by both countries, which are grappling with sluggish economies, extremist attacks and high unemployment, especially among youths.
Holding centres
"Without a political stabilisation of Libya, we won't be able to stop the human traffickers operating out of Libya who are responsible for by far the most arrivals in Italy," Merkel said in her latest weekly podcast.
The trip is part of a larger diplomatic push by Merkel, who last year visited Mali, Niger and Ethiopia. She had also planned a trip to Algeria last week, but it was called off after President Abdelaziz Bouteflika fell ill.
Germany, which this year holds the G-20 presidency, has also announced investment partnerships in Africa with the long-term goals of reducing poverty and deterring people from leaving in the first place.
Last year, Berlin spearheaded an EU agreement with Ankara that helped sharply reduce the influx of migrants through Turkey and western Balkan countries.
But as with the Turkey deal, the negotiations with the North African countries have been clouded by human rights concerns.
In particular, an idea floated by Merkel's interior minister — for North African countries to build holding centres for returned migrants — has been rejected by Merkel's centre-left coalition partners and by rights groups.
Foreign Minister Sigmar Gabriel — whose Social Democrats hope to topple Merkel this year — dismissed the idea, saying: "I doubt that all this has been really thought through".
'Dodgy deals'
Human Rights Watch noted that Egypt banned protests and jailed thousands of people, while outlawing the Muslim Brotherhood movement president Mohamed Morsi whom Sisi, a former army chief, overthrew in 2013.
Repatriating Tunisians and Egyptians who do not need protection can be "legitimate" if they are treated fairly, the New York-based rights group said.
"It's another thing entirely to pursue dodgy deals that could trap asylum seekers and migrants from elsewhere in countries like Tunisia and Egypt that cannot guarantee decent treatment or meaningful access to asylum," said Judith Sunderland, a Europe and Central Asia director for the group.
At the press conference with Sisi, Merkel said she broached the topic of Egypt's controversial NGO law which critics say will stifle civil society.
"We also spoke about civil society in general and I affirmed that the rule of law and a diverse civil society are very important for the development of the country and the society," she said.
Merkel is under huge pressure at home to achieve results in an election year, as the anti-immigration Alternative for Germany Party hopes to enter the national parliament for the first time.
Public fears in Germany have been heightened by several extremist attacks last year — especially the truck rampage by Tunisian immigrant Anis Amri at a Berlin Christmas market that killed 12 people in December.
A year before, sexual assaults by large groups of mostly North African men on New Year's Eve against women in Cologne provoked outrage in Germany.
Related Articles
Feb 14,2017
BERLIN — German Chancellor Angela Merkel told her Tunisian counterpart on Tuesday she wanted to speed up repatriation of failed asylum seeke
Jun 02,2015
CAIRO — Egyptian President Abdel Fattah Al Sisi travels to Berlin on Tuesday, where German leaders are ready to roll out the red carpet for
Jan 13,2016
BERLIN — German ministers outlined plans on Tuesday to speed up the deportation of foreigners who commit crimes, responding to sexual attack
Newsletter
Get top stories and blog posts emailed to you each day.