You are here
Militants stage attacks between Libyan stronghold of Sirte and coastal Misrata
By Reuters - May 05,2016 - Last updated at May 05,2016
TRIPOLI — Daesh militants staged attacks on Thursday between their Libyan stronghold of Sirte and the city of Misrata, killing four people, officials said.
The extremist group said it had taken control of several villages in the area following attacks on checkpoints, though reports that local security forces had retreated could not immediately be confirmed.
Daesh took advantage of Libya's security vacuum and political turmoil to establish itself in Sirte last year. It controls a strip of coast about 250km long around the city, but it has struggled to hold ground elsewhere in the country.
The West is hoping a UN-backed government that arrived in Tripoli at the end of March will be able to unite Libya's armed factions to take on Daesh. But efforts to counter the group have so far depended on loose alliances of armed brigades that supported rival governments in Tripoli and the east.
Aziz Issa, the spokesman for Misrata central hospital, said two members of the local security forces had been killed and 12 wounded in an attack on a checkpoint at Abu Grain, about 140km west of Sirte.
Separately, militants carried out a bomb attack in Baghla, to the south, a local official and a resident said. The official, from the nearby town of Bani Walid, said two people were killed in the bombing.
Daesh said in statement that its fighters had gained control over several villages in the area, including Baghla, Zamzam, and Abu Najaym, as well as the town of Abu Grain.
Daesh militants regularly venture across the main road leading south from Misrata, and have carried out raids and attacks in the area before, including against checkpoints manned by brigades from Misrata.
The attacks on Thursday came as military forces in eastern Libya said they were preparing for a campaign to recapture Sirte.
There have also been reports that Misrata brigades were mobilising to advance against Daesh, and pictures posted on social media last week showed convoys of dozens of vehicles on the road south from Misrata.
The UN-backed unity government has urged armed factions to hold back from attacking Sirte until it creates a unified military command.
Related Articles
Jul 26,2017
MISRATA, Libya — Libya forces allied with UN-backed government who last year defeated the Daesh terror group in Sirte are increasing patrols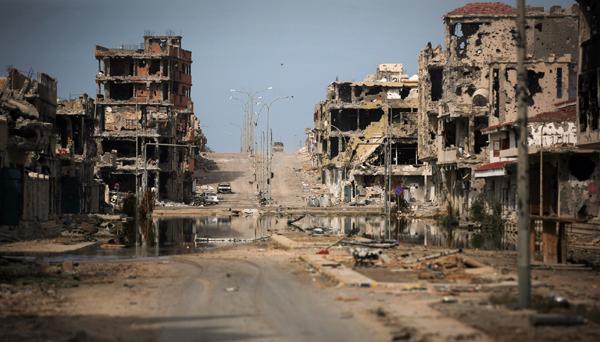 May 18,2016
MISRATA — Forces loyal to Libya's UN-backed unity government pushed the Daesh terror group fighters back towards their stronghold of Sirte o
May 17,2016
TRIPOLI — Libyan military forces said on Tuesday they had recaptured one of the main checkpoints south of the city of Misrata from Daesh, re
Newsletter
Get top stories and blog posts emailed to you each day.