You are here
More than 16,000 children are displaced following Libya floods — UNICEF
By AFP - Sep 29,2023 - Last updated at Sep 29,2023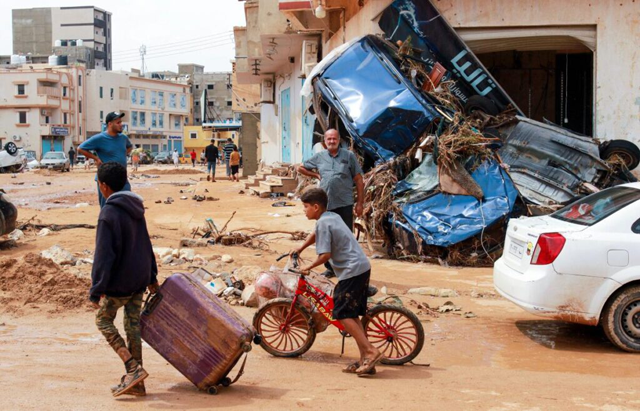 Catastrophic floods hit the eastern part of Libya in September (Photo courtesy of UNICEF)
NEW YORK/AMMAN/TRIPOLI — More than 16,000 children are displaced in eastern Libya following Africa's deadliest storm in recorded history, UNICEF warned on Thursday.
"Their psychosocial wellbeing is at stake. Many more children are affected due to lack of essential services, such as health, schooling and safe water supply," UNICEF said in a statement to The Jordan Times.
Storm Daniel struck eastern Libya on 10 September and left widespread flooding and destruction in its wake across Derna, Albayda, Soussa, Al Marj, Shahat, Taknis, Battah, Tolmeita, Bersis, Tokra and Al Abyar.
Some of the displaced families are hosted in schools, UNICEF said, adding it is working with authorities and partners since the beginning of the tragedy to respond to the urgent needs of children and families in the affected areas.
"When disasters hit, children are always among the most vulnerable," Adele Khodr, UNICEF Regional Director in the Middle East and North Africa, said.
"I saw the devastating toll the floods have already taken on children and families. I met families grappling with a high psychological burden and I spoke to children in extreme distress, many not sleeping and unable to interact and play. The memory of what happened still haunts their dreams and their thoughts."
While the number of children among the casualties is not yet confirmed, UNICEF said that it is feared that hundreds of children died in the disaster, given that children account for about 40 per cent of the population.
"Significant damage to health and education infrastructure means children once again risk further disruption to their learning and the outbreak of deadly diseases. In the hit region, out of 117 impacted schools, 4 were destroyed and 80 partially damaged," the statement said.
Waterborne illnesses are a growing concern due to water supply issues, significant damage to water sources and sewer networks, and the risk of contamination of the ground water. In Derna alone, 50 per cent of water systems are estimated to have been damaged.
UNICEF said it revising its humanitarian response appeal of $6.5 million to integrate initial recovery efforts with a focus on education, health and water.
To date, UNICEF said that it has received about 25 per cent of these much-needed funds.
Related Articles
Sep 22,2023
DERNA, Libya — Libya's flood disaster, which killed thousands in the city of Derna, also displaced more than 43,000 people, the Internationa
Sep 17,2023
DERNA, Libya — A week after a wall of water rushed through the Libyan coastal city of Derna, sweeping thousands to their deaths, the focus t
Sep 23,2023
BENGHAZI, Libya — Libya's flood-devastated port city of Derna will host an international conference next month to aid reconstruction efforts