You are here
Moroccan police stifle women's protest in northern city
Protests around Al Hoceima have been simmering since October death of fishmonger
By Reuters - Jun 04,2017 - Last updated at Jun 04,2017
Women shout during a protest against official abuses and corruption in the town of Al Hoceima, Morocco, on Saturday (AFP photo)
AL HOCEIMA, Morocco — Moroccan authorities stifled a women's protest against official abuses and corruption on Saturday in a northern town where months of unrest has tested the North African kingdom.
The protest in the town of Al Hoceima was organised by the "Hirak" movement, which is campaigning for jobs, infrastructure and other demands in the northern Rif region, and whose leader Nasser Zefzafi was arrested last week on charges of threatening national security, among other offences.
Police encircled hundreds of female protesters to leave a public park in Al Hoceima late on Saturday, impeding others from joining, as the women chanted "freedom, dignity and social justice", a Reuters reporter at the scene said. Female police officers and riot police pushed the leader of the protest, Nawal Ben Aissa, a prominent member of Hirak, away from the group. She was accompanied at the protest by Zefzafi's mother.
Political rallies are rare in Morocco and usually heavily policed. But protests around Al Hoceima have been simmering since October after a fishmonger, Mouhcine Fikri, was crushed to death inside a garbage truck while trying to salvage fish that had been confiscated by police.
Fikri's death has become a symbol for frustrations about official abuses and revived the spirit of the February 20 movement that led pro-democracy rallies in 2011 and prompted King Mohammed VI to cede some of his powers.
Since Zefzafi's arrest after he interrupted a Friday prayer sermon, protests have become a daily occurrence in the town.
"We go to sleep in fear, and we wake up in fear," said Fatima Alghloubzari, 54, who tried to join the protest on Saturday. "We never imagined our city would become like this."
One woman fainted after police stifled the protest.
A heavy security presence has been in place around the city's Sidi Abed square. Since Zefzafi's arrest, police have been increasingly preventing people joining in protests and blocking access, organisers say.
Moroccan government spokesperson Mustapha El Khalfi acknowledged last week that the Hirak protests and demands were "legitimate," and said authorities were speeding up promised infrastructure and development projects for the region.
Related Articles
Jun 16,2017
RABAT — A court in Morocco on Wednesday sentenced 25 demonstrators and suspected members of a grassroots protest movement to 18 months in ja
Jun 05,2017
RABAT — Moroccan authorities on Monday arrested two more leaders of a protest movement, after demonstrators rallied for more than a week aga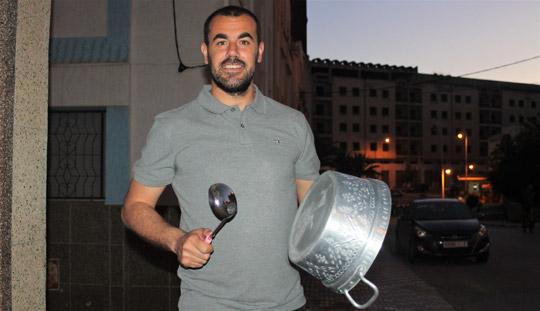 May 27,2017
AL HOCEIMA, Morocco — Moroccan authorities were engaged in a manhunt on Saturday for a protest leader in the neglected Rif region after his