You are here
In Mosul, Iraqi soldiers decry Trump's travel restrictions
By AFP - Jan 28,2017 - Last updated at Jan 28,2017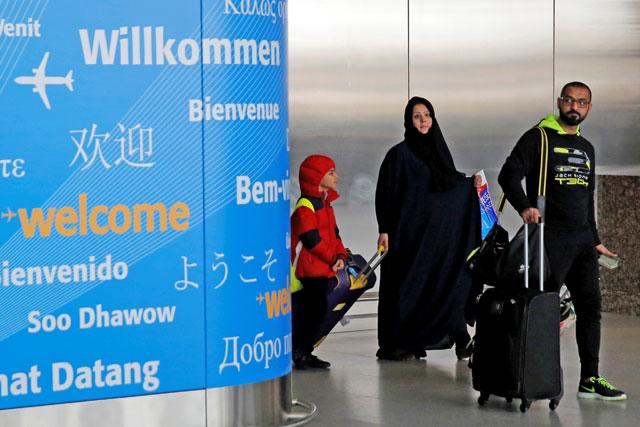 People exit immigration after arriving from Dubai on Emirates Flight 203 at John F. Kennedy International Airport in Queens, New York, US, on Saturday (Reuters photo)
Mosul, Iraq — In Mosul, where Iraqi forces are at the forefront of the war against extremists, soldiers are unhappy that security concerns could keep them from visiting relatives in the United States.
President Donald Trump has signed an executive order restricting the entry of citizens of seven Muslim-majority countries including Iraq in what he described as an effort to make America safe from "radical terrorists".
The travel restrictions, which come on the heels of repeated assertions by Trump that the US should have stolen Iraq's oil before leaving in 2011, risk alienating the citizens and government of a country fighting against militants the president has cast as a major threat to America.
"It's not fair, it's not right. I should have the right to visit my family," said Assem Ayad, a 23-year-old soldier deployed in Mosul who has three cousins living in Texas.
"This decision was made because there are terrorist groups in Iraq. But there are also innocent people" including those who are fighting against extremists, said Ayad, who carried an American-made assault rifle.
Haider Hassan, 45, another soldier in Mosul, said his cousin lives in the United States and that he had wanted to visit.
Referring to US military personnel deployed in Iraq, Hassan asked: "Why would they ban us from coming to America when they are in my country and have bases here?"
The Daesh terror group overran large areas north and west of Baghdad in 2014, sweeping aside military and police units that were ill-prepared to combat the offensive.
But Iraqi forces backed by US-led air support, training and other assistance have since regained much of the territory they lost, and are now three months into a massive operation to retake Mosul, the country's last city in which Daesh still holds significant ground.
'Why close the doors?'
Hamza Kadhim, 34, noted that he and other Iraqi soldiers are part of the battle against extremists, and also emphasised that the actions of extremists do not reflect Islam as a whole.
"On the day of his inauguration, Trump said he would fight terrorists. As Iraqi soldiers here to defend our country and fight terrorists, we tell him: Islam is not terrorism. Islam is a religion of love and brotherhood."
"We don't send terrorists to foreign countries... but we have had people coming to Iraq from foreign countries to kill, rape and rob. And we will keep fighting them until the last drop of our blood," he said, referring to Daesh militants.
The travel restrictions follow repeated statements by Trump that the US should have "kept the oil" in Iraq, remarks that have drawn criticism from Prime Minister Haider Al Abadi.
"Of course, the oil of Iraq is for Iraqis, and any remark to the contrary is unacceptable," Abadi told a news conference in Baghdad.
Keeping Iraq's oil would have required a continued US military occupation to accomplish, and would have been illegal under international law.
For Iraqis who have waited years for the chance to move to the US, Trump's assertion that stricter vetting of potential immigrants is needed may come as a surprise.
Abu Mohammed, a father of three, applied through the International Organisation for Migration four years ago, and was expecting to move to the US in a month or two when Trump's order was announced.
"God willing, the decision won't affect my case," Abu Mohammed said.
"Why close the doors in our faces?"
Related Articles
Dec 12,2016
BAGHDAD — Several thousand Iraqi federal police are ready to join the assault against the Daesh terror group in east Mosul, a spokesman said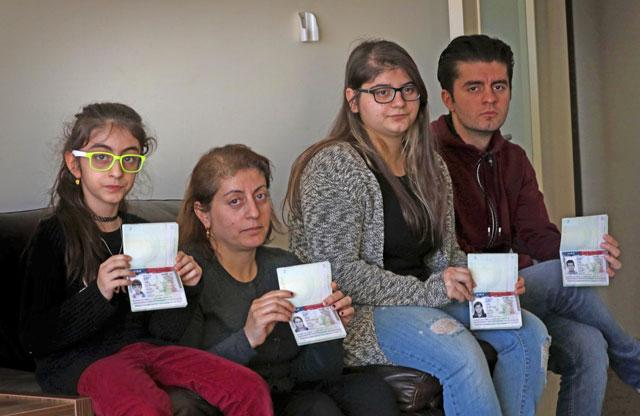 Jan 30,2017
BAGHDAD — Iraqi lawmakers voted Monday to call on the government to enact a reciprocal travel ban on Americans if Washington does not withdr
Jan 31,2017
BAGHDAD — Iraq's Prime Minister Haider Al Abadi said on Tuesday that President Donald Trump's decision to ban Iraqis from travelling to the
Newsletter
Get top stories and blog posts emailed to you each day.