You are here
New protests shake Morocco's north
By AFP - May 31,2017 - Last updated at May 31,2017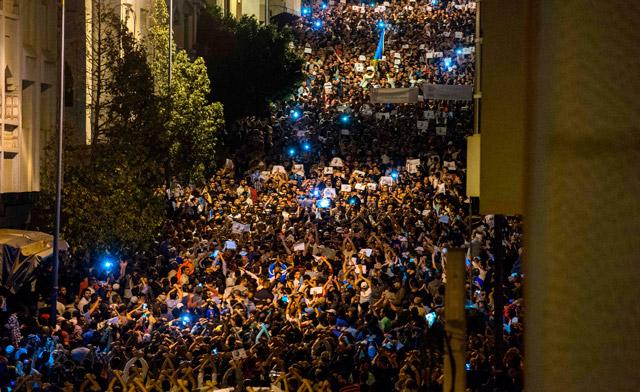 Protesters crowd the street during a demonstration against corruption, repression and unemployment in the northern city of Al Hoceima, Morocco, on Tuesday (AFP photo)
AL Hoceima, Morocco — Thousands staged demonstrations for a fifth night running in northern Morocco to demand the release of the leader of a months-long protest movement in the neglected Rif region.
The region has been shaken by social unrest since the death in October of fishmonger Mouhcine Fikri, 31, who was crushed in a rubbish truck in the fishing port of Al Hoceima as he protested against the seizure of swordfish caught out of season.
Initial protests triggered a wider movement demanding more development in the region and railing against corruption, repression and unemployment.
Nasser Zefzafi, who has emerged as the head of the grassroots Al Hirak Al Shaabi, or "Popular Movement", was arrested on Monday after three days on the run.
On Tuesday night, shouting slogans such as "We are all Zefzafi" and "dignity for the Rif", the protesters took to the streets of central Hoceima after breaking the dawn-to-dusk Muslim fast of Ramadan.
The protesters, including women and children, held aloft hundreds of pictures of Zefzafi.
Others held up berber flags, the symbol of a strongly-felt regional identity in an area many claim has long been neglected by central authorities.
One brandished a sign saying "Free the prisoners or put us all in prison!"
Anti-riot police attempted to disperse the demonstrators, but pulled back following a tense but non-violent stand-off.
'Proud of my son'
Zefzafi was arrested on Monday morning for "attacking internal security".
A warrant for his arrest issued Friday sparked turmoil in Al Hoceima, a city of 56,000 inhabitants, sparking clashes between demonstrators and security forces over the weekend.
"I'm proud of my son, he acted like a man," Zefzafi's tearful mother told AFP.
"He has done nothing but protest peacefully for legitimate demands."
The father of fishmonger Fikri, also at the scene of the demonstrations, urged protesters to "carry on their peaceful movement".
Many demonstrators raised their hands and declared "loyalty to the Rif".
Handcuffed and hooded, three of them mimed a scene of arrest and torture.
The protests broke up before midnight without further incident.
Images shared on social media showed large demonstrations in other parts of the province, and activists posted videos they said showed security forces violently breaking up demonstrations.
'Serious situation'
In Rabat, around 200 people staged a sit-in outside the parliament building which was violently dispersed by the police as soon as it began.
A similar scenario played out near the National Brigade of the Judicial Police in Casablanca, where it is believed Zefzafi is being held.
Protests were held elsewhere across Al Hoceima province.
State media outlets and politicians have remained largely silent on the events, but the local branches of three parties including the ruling Justice and Development Party issued a joint statement warning of a "serious situation" and criticising the state's response.
Out of around 40 people authorities say they arrested on Friday, including core members of Al Hirak, 25 have been referred to the prosecution.
Their trial began on Tuesday but has been pushed back to June 6 at the request of their lawyers, who have complained their clients were ill-treated during their detention.
Seven suspects were released on bail while another seven were released without charge.
Related Articles
Jun 11,2017
IMZOUREN, Morocco — Moroccan police have detained four people in northern Morocco, an official and an activist said, as protests continued f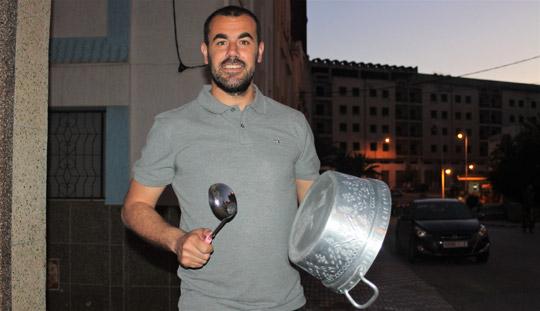 May 27,2017
AL HOCEIMA, Morocco — Moroccan authorities were engaged in a manhunt on Saturday for a protest leader in the neglected Rif region after his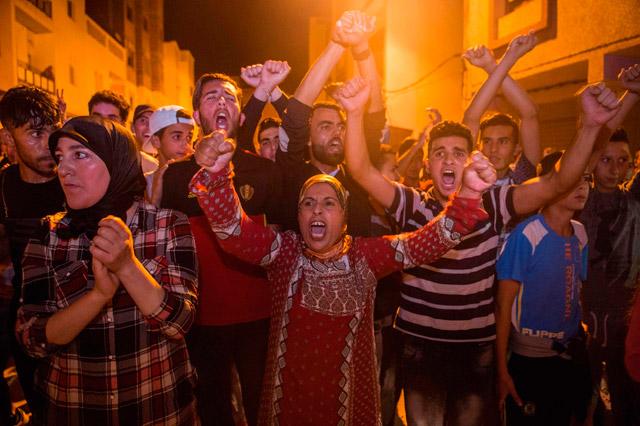 Jun 11,2017
IMZOUREN, Morocco — Protesters clashed with security forces in Morocco's Al-Hoceima early on Saturday, an AFP correspondent reported, after
Newsletter
Get top stories and blog posts emailed to you each day.