You are here
Palestinian detainee ends two-month hunger strike
By AFP - Aug 20,2015 - Last updated at Aug 20,2015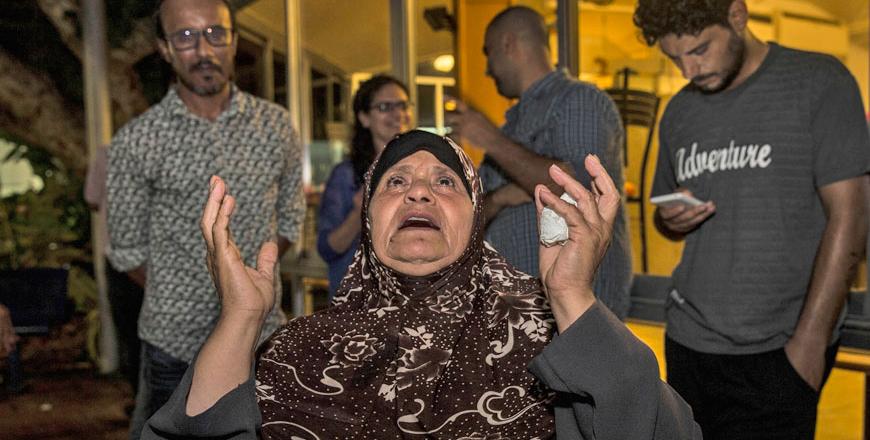 Mazoza Allan, mother of Palestinian hunger striker Mohammed Allan, reacts to a supreme court decision outside Barzilai Hospital in Ashkelon, southern Israel, on Wednesday. Israel's supreme court on Wednesday suspended the detention order for Allan who has been on a hunger strike for more than two months, releasing him while he receives medical care in a decision hailed by relatives and supporters as a victory (AP photo by Tsafrir Abayov)
ASHKELON, Israel — Palestinian detainee Mohammed Allan ended a two-month hunger strike Thursday that had put his life at risk and sparked intense debate over his detention without trial by Israeli authorities, his lawyer said.
His decision to stop his protest came after Israel's top court late Wednesday suspended his detention without trial, but ordered him to remain in hospital pending a final decision on his case.
Allan's hunger strike, which began June 18, had captured the attention of both the Israeli and Palestinian public, while putting Israel under increasing pressure as the 31-year-old's health worsened.
The court's ruling sparked criticism from Palestinian activists who said it had come too late, with Allan's health deteriorating, as well as from Israeli ministers claiming judges had given in to "blackmail".
Allan's lawyer and his mother visited him in hospital in the southern Israeli city of Ashkelon on Thursday and said his health was improving, though he remained bedridden and was receiving vitamins and minerals intravenously.
"Mohammed Allan regained consciousness and is not on hunger strike," lawyer Jamil Al Khatib told journalists.
"He is in a good health condition and can communicate with others. He can't eat food in his mouth because it needs a while. Now he is drinking water and it will be gradual, and I imagine this will be next week."
His mother Maazouza said: "I was shaking but happy because I saw he was awake and talking, even if he was slow, not like the day when I entered [Sunday] and he was in a coma."
Islamic Jihad says that Allan, a lawyer from the West Bank, is a member of the Palestinian resistance movement, as does Israel.
He has been held since November in a form of internment without trial known as administrative detention, which was temporarily lifted by Wednesday's high court ruling.
Under the order, Allan can ask to be moved to another hospital, but it left open the question of what would happen if or when his health improves and he is able to stop medical treatment.
'Brink of death'
Doctors had placed Allan in a coma due to his deteriorating condition on Wednesday before the court's ruling.
He was said to be suffering brain damage, apparently due to a vitamin deficiency caused by his hunger strike, though it was unclear whether the damage was permanent.
"Now he's awake. He's very weak," Dr Chezy Levy, the director of Barzilai Hospital, told journalists earlier on Thursday. "He started to speak with those next to him."
It was the second time Allan had been in a coma since last week. He had slipped into a coma Friday, prompting doctors to give him fluids, vitamins and minerals intravenously and to place him on a respirator.
His condition improved, and by Tuesday he was conscious and taken off the respirator. He had pledged to resume his hunger strike and even stop ingesting water if his case were not resolved, Palestinian activists supporting his cause said.
Adalah, a rights group that petitioned the court for Allan's release, said judges should have acted on the request when it was first filed on August 17.
"The court may have accepted the petition but this occurred after Mohammed Allan's case became extremely cruel and inhumane, and brought him to the brink of death," a statement said.
But members of Prime Minister Benjamin Netanyahu's rightwing government saw the ruling as capitulating to a hunger strike they view as "blackmail".
Some said a controversial law passed last month allowing for the force-feeding of prisoners in certain circumstances should have been invoked.
"The high court gave in to blackmail by the terrorist Mohammed Allan instead of applying the law on forced feeding," Culture Minister Miri Regev tweeted.
Administrative detention allows for internment without charge for six-month periods and can be renewed indefinitely. Israel uses it to hold Palestinians deemed to be security risks, while not divulging what the authorities view as sensitive intelligence.
Allan's lawyers argued his condition negated authorities' claims that he posed a danger.
Around 340 Palestinians are now held in administrative detention, and detainees have regularly gone on hunger strike to protest.
Jewish extremists have also been held under the measure, though in far fewer cases.
Related Articles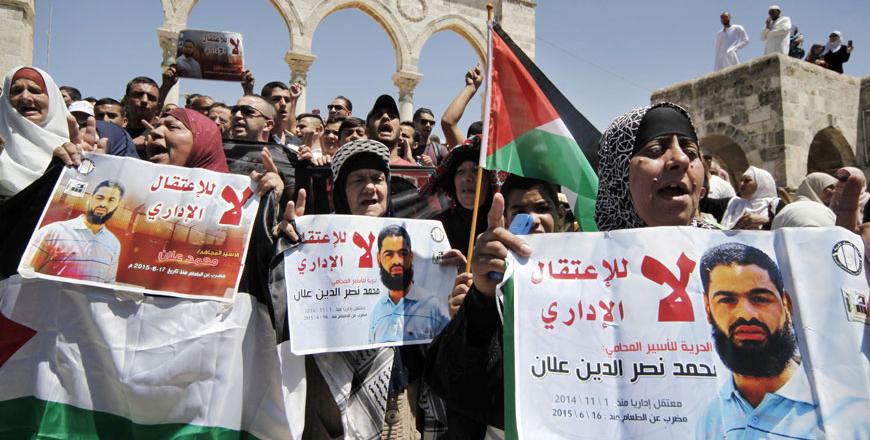 Aug 18,2015
OCCUPIED JERUSALEM — Israel on Monday offered to free a Palestinian detainee whose two-month hunger strike has left him in a coma — but only
Sep 16,2015
OCCUPIED JERUSALEM — Palestinian Mohammed Allan renewed his hunger strike on Wednesday, his lawyer said, after Israel renewed his detention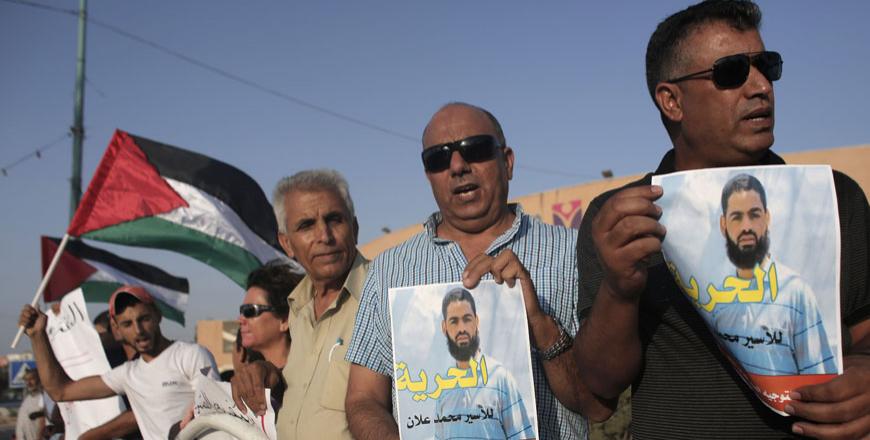 Aug 18,2015
OCCUPIED JERUSALEM — A Palestinian detainee on a two-month hunger strike emerged from a coma Tuesday but pledged to resume fasting if Israel
Newsletter
Get top stories and blog posts emailed to you each day.