You are here
Palestinian shoots Israeli dead near West Bank settlement
By AFP - Jun 20,2015 - Last updated at Jun 20,2015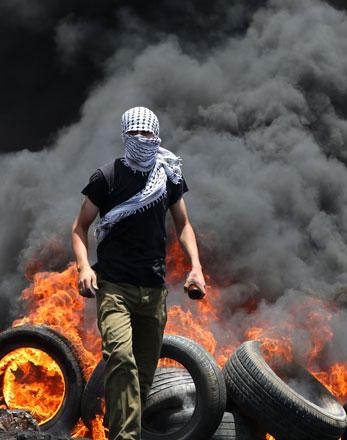 A masked Palestinian protester looks on during clashes with Israeli forces following a demonstration against the expropriation of Palestinian land by Israel in the village of Kfar Qaddum, near Nablus, in the occupied West Bank, on Friday (AFP photo)
NEAR DOLEV SETTLEMENT, Palestinian Territories — A Palestinian opened fire on two Israeli men near a West Bank settlement on Friday, killing one and wounding the other, authorities said, in what appeared to be a lone-wolf attack.
Israeli army spokesman Lieutenant Colonel Peter Lerner said a "Palestinian approached a vehicle that was in the area and asked them to stop... and shot the two from close range".
A spokeswoman at Sheba Hospital near Tel Aviv confirmed that one of the men had died and the other was lightly wounded.
The attacker fled, prompting a manhunt.
Local media named the dead man as Danny Gonen, a 25-year-old from the central Israeli city of Lod. Lerner said that Gonen and his friend, also from Lod, had been hiking in the area.
The incident occurred near the Dolev settlement, according to Israel's emergency medical service Magen David Adom, which said the victims were in their 20s.
The army said the two men were in a car at the time of the shooting, which took place northwest of Ramallah in the Israeli-occupied West Bank.
Prime Minister Benjamin Netanyahu said on Twitter that "the evidence on the ground indicates this was a terror attack, and we're working to find the perpetrator".
"We can't let the relative quiet achieved thanks to many successfully prevented attacks mislead us," he said.
"The attempts to hurt us continue all the time, and we'll continue to fight them with all the means we have."
President Reuven Rivlin condemned the attack, which he described as "another step in the quiet and serious escalation in acts of terrorism we have witnessed in recent months".
Rivlin also called for Palestinian as well as Arab Israeli leaders to issue a "clear and decisive condemnation" of the attack.
The UN Special Coordinator for the Middle East Peace Process, Nickolay Mladenov, condemned the shooting and called on "all sides to exercise the utmost restraint, to maintain calm and promptly bring the perpetrators to justice".
West Bank settlements are considered illegal under international law, and Israelis have been attacked previously in and around them as well as in annexed east Jerusalem.
A string of so-called lone-wolf attacks by Palestinians, which have occasionally involved shootings, began in Jerusalem in October but have spread to the West Bank.
On May 20, two Israeli female security personnel were injured in East Jerusalem when they were hit by a car driven by a Palestinian who was then shot dead.
Also last month, three Israeli settlers were hurt by a Palestinian who hit them with his car near the Alon Shvut settlement in the West Bank. The Shin Bet domestic security service said the perpetrator had confessed to carrying out the attack for "nationalistic reasons".
In April, Israeli forces shot dead a Palestinian who stabbed an officer in the southern West Bank city Hebron.
Israeli seized the West Bank in the 1967 War.
Today around 580,000 Jewish settlers live in the territory, including Israeli-occupied Arab East Jerusalem.
up
186 users have voted, including you.
Related Articles
Apr 08,2015
A Palestinian stabbed two Israeli soldiers in the northern West Bank on Wednesday, wounding one seriously before being shot dead, the army said.
Jun 30,2015
OCCUPIED JERUSALEM — An Israeli wounded in a West Bank shooting overnight died Tuesday, and a Palestinian was shot by Israeli forces after h
Dec 03,2015
LOD, Israel — Israel said Thursday it has arrested a number of alleged Jewish extremists over the firebombing of a Palestinian home that kil
Newsletter
Get top stories and blog posts emailed to you each day.