You are here
Palestinians fire rockets from Gaza into Israel
By AFP - Apr 21,2014 - Last updated at Apr 21,2014
OCCUPIED JERUSALEM — Palestinian fighters in the Gaza Strip fired seven rockets into Israel on Monday but caused no casualties, the army said.
It said the projectiles fell in the Negev region of southern Israel, with two of them targeting the town of Sderot.
Police said in a statement that a road in a residential neighbourhood of Sderot was slightly damaged.
Gaza security sources said Israeli aircraft retaliated with strikes on open ground near the Nuseirat refugee camp in the central Gaza Strip and against a base of the Hamas military wing at Khan Younis, further south.
The Israeli navy also fired at the Khan Younis base, they said, adding that altogether two people were lightly injured.
An Israeli military statement said aircraft attacked "two terror activity sites in the southern Gaza Strip and a third site in the central Gaza Strip, in response to the latest severe aggression emanating from Gaza. Direct hits were confirmed".
It made no mention of naval action.
A Palestinian security source said Hamas evacuated its bases for fear of further air raids.
An Israeli army statement said that prior to the rocket barrage, militants fired an anti-tank missile at an army patrol on the border fence but caused no injuries or damage.
The attacks came during a public holiday in Israel marking the last day of the Jewish festival of Passover.
Related Articles
Aug 21,2016
OCCUPIED JERUSALEM — Israel targeted Hamas positions in the Gaza Strip by air and with tank fire on Sunday after a rocket fired from the Pal
Oct 06,2016
OCCUPIED JERUSALEM — Israeli tanks shelled the Gaza Strip after a rocket from the Palestinian enclave hit an open field on Thursday, the sec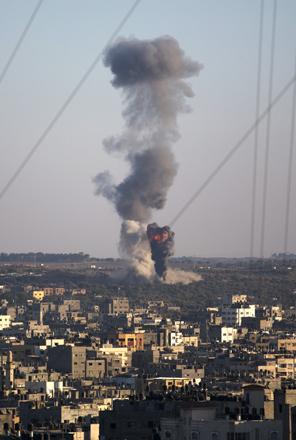 Oct 05,2016
GAZA, Palestine — Israel's military struck several Hamas positions in the Gaza Strip on Wednesday after a rocket launched from the Palestini
Newsletter
Get top stories and blog posts emailed to you each day.