You are here
Palestinians strike in support of protesting prisoners
By AFP - Apr 27,2017 - Last updated at Apr 27,2017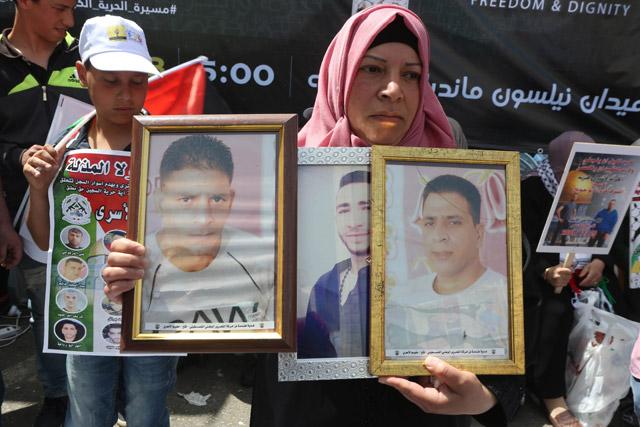 Palestinians stage a protest to show solidarity with detainee hunger-striker prisoners at Israeli prisons in Ramallah, West Bank, on Thursday (Anadolu Agency photo)
RAMALLAH, Palestinian Territories — Palestinians held a general strike Thursday in solidarity with hundreds of prisoners in Israeli jails on hunger strike for 11 days, with some officials calling it the largest in years.
Stores were closed and shuttered and streets empty across the West Bank, the Palestinian territory occupied by Israel for 50 years.
In Ramallah, dozens of people gathered at a tent set up in a central square for a protest march.
They set off in the direction of an Israeli military checkpoint but were stopped by Palestinian security forces well before they could reach it.
Others bypassed the Palestinian police and reached the Israeli position, hurling stones at the soldiers who responded with tear gas and rubber bullets.
There were similar confrontations on the outskirts of Ramallah, near the Israeli settlement of Psagot.
No serious injuries were reported.
"This general strike is unprecedented in years," said Khalil Rizeq of the Union of Palestinian Chambers of Commerce.
"All Palestinian industries, such as transport, bakeries, stores, all of the private sector and commercial institutions are participating."
The strike was called in all cities in the occupied West Bank, with only doctors and students nearing graduation excluded.
Palestinian bus services were also on strike in Israeli-annexed East Jerusalem.
Oday Homaid, a 27-year-old engineer, arrived at Ramallah's Yasser Arafat Square with other workers from his lift maintenance company to participate in the protest.
It was the "minimum that we can do for our prisoners," he said.
Munther Karaja, a 42-year-old who had closed his pastry shop, said: "We can sacrifice one day for prisoners who have given years of their lives."
In the Gaza Strip, where the Islamist Hamas holds power, banks and government schools were shut.
Palestinian officials say some 1,500 prisoners are participating in the hunger strike that began on April 17, with detainees ingesting only water and salt.
Israeli authorities have put the number at around 1,200.
Some 6,500 Palestinians are currently detained by Israel for a range of offences and alleged crimes.
Around 500 are being held under Israel's system of administrative detention, which allows for imprisonment without charge.
Palestinian prisoners have mounted repeated hunger strikes, but rarely on such a scale.
The hunger strike is being led by Palestinian leader and prominent prisoner Marwan Barghouthi, serving five life sentences over his role in the second Palestinian Intifada, or uprising, of 2000 to 2005.
The prisoners have issued demands ranging from better medical care to phone access.
A series of demonstrations have been held in the West Bank in support of the prisoners, occasionally resulting in clashes with Israeli forces.
Barghouthi is popular among Palestinians, with polls suggesting he could win the Palestinian presidency.
A Palestinian NGO said this week that Barghouthi's health has seriously declined and that he was refusing medical treatment.
Palestinian leaders have denounced Israel's refusal to negotiate with the hunger strikers, warning of a "new Intifada" if any of them die.
Related Articles
Apr 25,2017
RAMALLAH, Palestinian Territories — Israel has forbidden contact with the 1,500 Palestinian prisoners on hunger strike for the past eight da
May 26,2017
RAMALLAH, Palestinian Territories — Palestinian President Mahmoud Abbas said Thursday he has asked the United States to mediate on a standof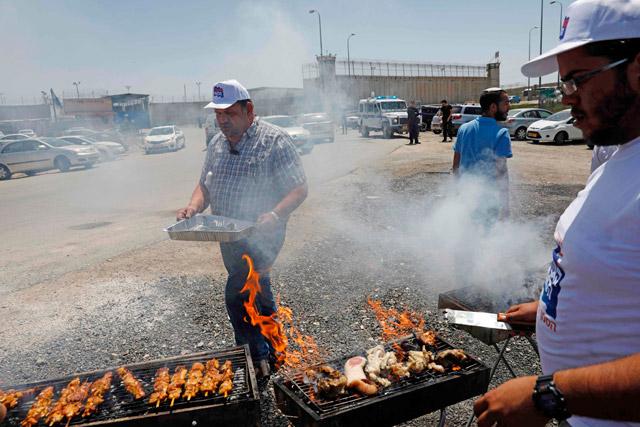 Apr 20,2017
AMMAN — Israeli settlers on Thursday held a barbecue party in front of Ofer Prison, west of Ramallah, where Palestinian prisoners are on a h
Newsletter
Get top stories and blog posts emailed to you each day.