You are here
Parties push for Yemen peace talks ahead of UN envoy's visit
By AFP - Nov 20,2018 - Last updated at Nov 20,2018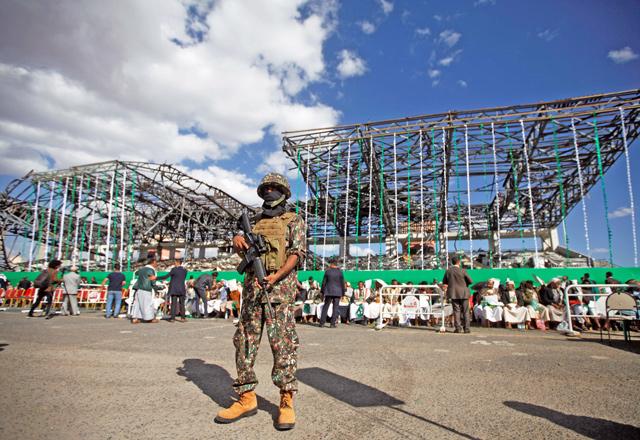 A Houthi fighter secures a rally marking the birth anniversary of Islam's Prophet Mohammad in Sanaa, Yemen, on Tuesday (Reuters photo)
SANAA — Yemen's internationally-recognised government on Monday said it will take part in proposed peace talks, hours after a high-ranking Yemeni rebel official urged his leadership to freeze military operations.
The moves come ahead of a visit in the next few days to the war-torn country by UN envoy Martin Griffiths, who is once again trying to get all sides around the negotiating table.
"The government has informed the UN envoy to Yemen... that it will send a government delegation to the talks with the aim of reaching a political solution," Yemen's foreign ministry said, quoted by the official Saba news agency.
Earlier Mohammed Ali Al Houthi, head of the Houthi rebels' Higher Revolutionary Committee and an influential political figure, Tweeted that he wanted his group to announce "readiness to suspend and halt all military operations" and stop firing missiles on Saudi Arabia.
Riyadh, which is backing the Yemeni government, also lent its support to new talks.
The Iran-backed Houthi rebels have controlled Yemen's capital Sanaa since capturing it in late 2014. They also still hold the key port of Hodeida on the Red Sea in what has become a brutal almost four-year war, which has pushed millions of Yemenis to the brink of starvation.
The rebels have also fired hundreds of ballistic missiles into neighbouring Saudi Arabia, which has since 2015 has led a military coalition to restore to power President Abed Rabbo Mansour Hadi's government.
Mohammed Ali Al Houthi called on "all [Houthi] official Yemeni sides to issue directives to end launching missiles and drones against aggression countries", which would "deprive them of any reason to continue their aggression and siege".
Griffiths is expected to visit the Yemeni capital of Sanaa this week to finalise arrangements for peace talks in Sweden. No date has yet been set for the negotiations.
On Monday Saudi King Salman told the Shura Council, his country's top advisory body, "our support for Yemen was not an option but a duty... to help the Yemeni people confront the Iran-backed militias".
He also threw his weight behind a "political solution" and a "comprehensive national dialogue" in Yemen.
Firm assurances
Mohammed Ali Al Houthi is head of the rebels' Higher Revolutionary Committee, but is not their ultimate decision-maker — that power lies with supreme leader Abdulmalek Al Houthi.
Griffiths said both the Saudi-backed government and the Houthi rebels have shown a "renewed commitment" to reaching a political solution.
Multiple past attempts to hold negotiations between the government alliance and Houthis have failed.
In September, the rebels refused to fly to Geneva for UN-hosted talks. But on Friday Griffiths offered to travel with the Houthis to Sweden "if that's what is needed".
The rebels, whose delegates were trapped in Oman for three months after previous talks collapsed in 2016, had accused the world body of failing to guarantee their delegation's return to Sanaa or secure the evacuation of wounded fighters.
Stop the bloodshed
The Houthis' foreign minister, Hisham Sharaf Abdallah, met UN officials on Sunday evening, according to the rebels' Saba news agency.
It quoted him as saying that the UN and the international community should "adopt the political path to stop the bloodshed".
Britain is set to present a draft resolution to the UN Security Council on Monday to address the crisis, its ambassador said Friday.
British Foreign Secretary Jeremy Hunt arrived on Monday in Iran for the first time to discuss Tehran's role in Yemen, meeting with his Iranian counterpart Mohammad Javad Zarif.
"We are very, very keen to move towards peace in Yemen. That's our number one priority at the moment," Hunt told British television after the talks.
Fighting in Yemen intensified at the start of November as the coalition renewed an offensive aimed at seizing Hodeida, whose port serves as entry point for nearly all of the country's imports and humanitarian aid.
But pro-government forces announced a pause in their offensive last week as international pressure grew for a ceasefire.
The World Health Organisation says nearly 10,000 people have been killed in Yemen since the Saudi intervention in March 2015, but rights groups believe the toll may be five times higher.
The war in Yemen — already one of the world's most impoverished countries — has left the nation on the edge of mass starvation, sparking what the UN has labelled the world's worst humanitarian crisis.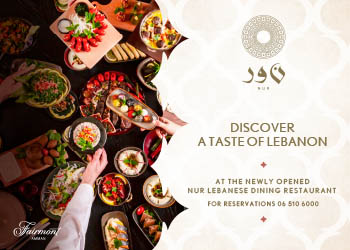 Newsletter
Get top stories and blog posts emailed to you each day.