You are here
Police ban face veil to guard Iraq's post-Daesh Mosul
By AFP - Jun 16,2017 - Last updated at Jun 16,2017
Displaced Iraqi women walk towards Iraqi forces as they flee their homes in Mosul's western Al Shifa district on Thursday, during the ongoing offensive by Iraqi forces to retake the city from Daesh (AFP photo by Mohamed El Shahed)
MOSUL, Iraq — Iraqi women walk freely around a street market in Mosul, their hair wrapped in brightly coloured scarves and face uncovered after police banned the conservative black veil mandatory under extremist rule.
Iraqi forces, who have retaken eastern Mosul from the Daesh terror group after three years of extremist rule, have banned the face veil as part of a package of measures to curb extremist attacks in the area.
They decided on the ban after having detained several Daesh militants who had dressed up as women, concealing their faces behind the black material.
Iraqi forces seized the eastern half of Mosul in January, and are now battling to retake the last western neighbourhoods from the extremist group.
Traditionally in Mosul, women wear what they like at home but don a long robe and cover their hair in the street.
But after Daesh overran the northern city in 2014, imposing its harsh interpretation of Islamic law on inhabitants, women also wore the face veil, or niqab.
Now the extremists have fled the eastern sector, women can breath a sigh of relief.
Before, "we never dared come to the market without wearing a face veil, gloves and black socks", Umm Ali, 45, said in Nabi Yunis market.
"I saw the world from behind a black veil. The world seemed dark. But as soon as they left, I threw away the niqab... The police also banned us wearing it."
Up until sundown, Nabi Yunis market bustles with customers before they return home to break the daily dawn-to-dusk fast during the Muslim holy month of Ramadan.
Policemen stand among the women and children strolling between the shops, keeping an eye out for anything suspicious.
Security first
Abu Messab, who sells clothes at a shop inside the market, said he has stopped stocking the face veil.
"Nobody wants a niqab," the 50-year-old said. "Most people come here looking for bright, attractive colours."
The salesman pointed at two policemen standing not far off.
"They're here the whole time," he said. "When they see women with their face covered, they ask them politely to no longer wear the veil. And people cooperate."
Since the extremists left, Abu Mossad has given his shop a makeover, bringing back out previously banned mannequins.
"We're back to pre-Daesh times," he said.
Police chief Talal Abdallah said the face veil has been banned in eastern Mosul and the wider Nineveh province because "Daesh fighters dress up as women to walk around markets".
Iraqi forces fear Daesh extremists may hit back with suicide bombings or car bombs.
Police are also throughly checking identity papers as part of ramped up security measures, and neighbourhood leaders are expected to report on all residents in their district.
Nobody can buy a phone or SIM card without first showing their identity papers, Abdallah told AFP, while motorbikes and lorries have been banned from 0600 pm local time to avoid bomb attacks.
Last July 3, a truck bombing in a busy Baghdad shopping district claimed by Daesh killed more than 320 people.
"We have taken these measures to minimise or prevent infiltration by Daesh members," Abdallah said.
"The security of our citizens is more important that their freedom," he said, adding that the bans would be lifted "when the city is totally liberated".
Nearby, Ali Mahmoud, 22, parked his motorcycle before heading in to the market.
"Sometimes you need your bike but you can't use it because it's past six in the evening," he said. "They're scared someone will sneak in and blow themselves up."
Related Articles
Aug 08,2016
BAGHDAD — As Iraqi forces prepare to attack the Daesh terror group in its de facto capital of Mosul, residents inside the city and others wh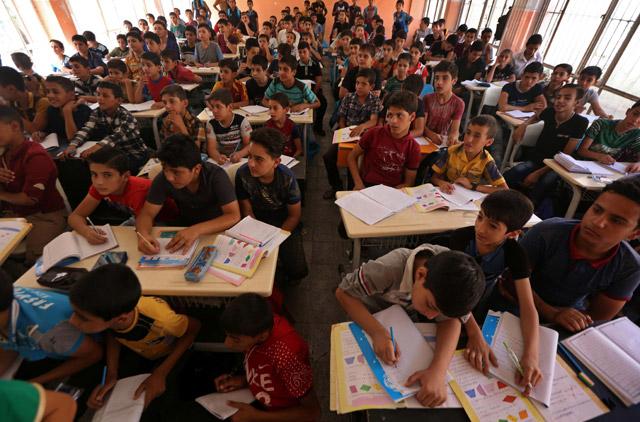 Jul 29,2017
MOSUL, Iraq — Despite having fallen three years behind their peers elsewhere in Iraq, it has been mostly smiles all around for the girls at
Dec 04,2014
An American teacher and mother of twins was stabbed to death in a shopping centre toilet in Abu Dhabi by a suspect in a Muslim veil, police said Wednesday.
Newsletter
Get top stories and blog posts emailed to you each day.