You are here
Russia's army warns of 'terrorist' drones after attacks
By AFP - Jan 11,2018 - Last updated at Jan 11,2018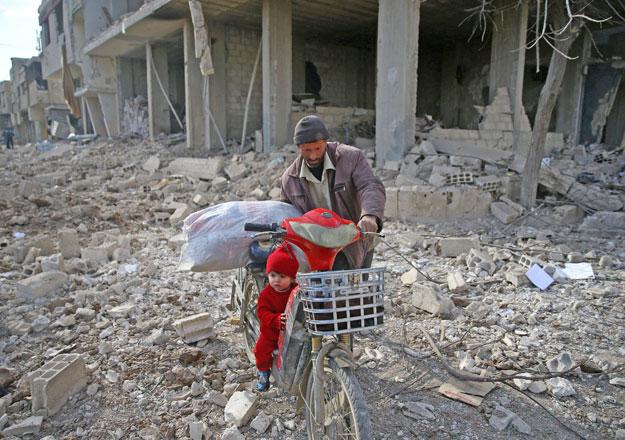 A man is seen with a child who rides a bicycle inside damaged area in Misraba, Eastern Ghouta, near Damascus, Syria, on Thursday (Reuters photo)
MOSCOW — Russia's defence ministry on Thursday said it was concerned about the threat of drones used "for terrorist purposes" following recent attacks on Moscow's bases in Syria.
Ten drones equipped with explosives attacked Russia's airbase in Hmeimim in the early hours of January 6, while three others targeted its naval base in the port of Tartus, according to the military.
The defence ministry said there were no casualties or damage in the incidents, but warned that similar technology could be used to wage terror anywhere in the world.
"There is a real threat linked to using drones for terrorist purposes anywhere in the world," said Russian General Alexander Novikov at a press conference in Moscow.
"Until now, fighters have used drones primarily for aerial examination. There were only isolated incidents when they were used for attacks," Novikov said.
He said both the drones that attacked the Russian bases had 10 explosive devices each weighing 400 grammes and were filled with what he called "small metal balls".
"Creating this sort of weapon is impossible in homemade conditions," Novikov said, adding that they could have been made "with the participation of specialists educated in countries that make and use this sort of drone".
He added that the Russian military is investigating which country created the drones.
Defence ministry spokesman Igor Konashenkov said that creating such devices "requires specialised knowledge".
"The fact that the terrorists received the method to assemble the pilotless drones from abroad shows that the threat is not only in Syria. This can happen in other countries and not only against military targets," Konashenkov said.
"Serious attention and organisation on the international level is needed to neutralise such threats," he added.
On Wednesday, the defence ministry said the drones were sent from Syria's Idlib province, a "de-escalation" zone controlled by anti-Damascus fighters.
Idlib has been a source of tension between regime-backer Russia and rebel-supporter Turkey, with Ankara accusing the Syrian regime of stepping up its offensive on key rebel-held areas there.
After two years of Russian military support for the regime of Syrian leader Bashar Al Assad, President Vladimir Putin announced in mid-December a partial withdrawal of forces from the country, saying their task had been largely completed.
More than 330,000 people are estimated to have been killed in the Syrian war, which began in 2011 as the regime crushed anti-government protests. Millions have been displaced.
Related Articles
Oct 17,2015
BEIRUT — Syrian regime forces edged forward in the northern province of Aleppo on Saturday with air cover from Russian warplanes, but faced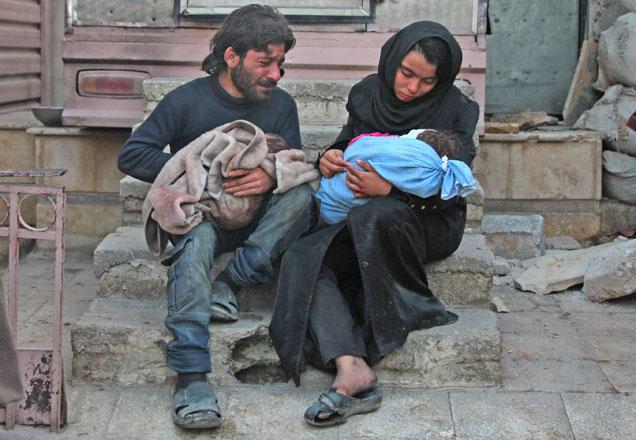 Jan 10,2018
ANKARA — Turkey called on Russia and Iran on Wednesday to pressure Syrian authorities to halt a military offensive in Syria's rebel-held Idl
Oct 05,2017
MOSCOW — Russia on Thursday said its air strikes in Syria had destroyed a huge underground arms depot belonging to the Hayat Tahrir Al
Newsletter
Get top stories and blog posts emailed to you each day.