You are here
Russia deploys forces to police Syria safe zones
By AFP - Jul 25,2017 - Last updated at Jul 25,2017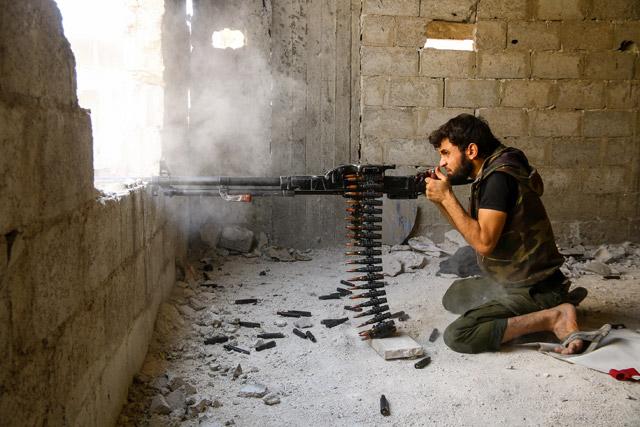 A member of opposition forces fires from a building during a clash after government forces reportedly hit a rebel-held region, Ain Tarma town, in the Eastern Ghouta region of Damascus, Syria, on Monday (Anadolu Agency photo)
MOSCOW — Russia has deployed military police to monitor two safe zones being established in Syria, it was announced on Monday, with officials touting it as a new era of US cooperation.
Senior commander Sergei Rudskoi said Russian forces had set up checkpoints and observation posts around a zone in the south-west and in another covering Eastern Ghouta, near Damascus.
The two areas are part of a broader Moscow-backed plan to create four "de-escalation zones" in rebel-held parts of Syria.
The defence ministry's announcement marks the first deployment of foreign troops to bolster the safe zones as Moscow seeks to pacify Syria after its military intervention swung the six-year conflict in favour of President Bashar Assad.
Russian Foreign Minister Sergei Lavrov on Monday praised the creation of the safe zones, saying it showed Russia can work with the United States under President Donald Trump.
He was giving an interview on Monday to Kurdish Rudaw television whose transcript was posted on the ministry site
Russia's top diplomat said the fact that President Vladimir Putin and Trump agreed on creating de-escalation zones in southern Syria at their first meeting at the G-20 in Hamburg was "a concrete example that we can work together".
Earlier this month Russia, the US and Jordan struck a deal to fix the boundaries of this zone and impose a ceasefire in the area.
Lavrov contrasted the negotiations with Barack Obama's administration, which he said "turned out to be incapable of separating terrorists from the normal opposition" in Syria.
"Only now through the concept of safe zones are we getting results in this area," Lavrov said.
Rudskoi said Russian personnel on July 21 and 22 established two checkpoints and 10 observation posts along the boundaries dividing rebel forces and government troops in the southern zone.
Moscow has also informed Israel of its deployment and that the nearest Russian position is 13 kilometres from the demarcation line between Israeli and Syrian troops in the Golan Heights, Rudskoi said.
Under a second deal Moscow said it struck with "moderate" rebels over the weekend in Egypt, Russian forces on Monday also set up two checkpoints and four observation posts in the area covering conflict-ravaged Eastern Ghouta, he added.
The Syrian army on Saturday announced a halt in fighting for parts of Eastern Ghouta, a rebel-held region on the outskirts of the capital, but a London-based monitor said regime war planes still carried out raids.
Assad's forces have surrounded Eastern Ghouta for more than four years, and regime forces have regularly targeted the area.
On the other two proposed safe zones, Rudskoi said that while boundaries have been fixed in the north of the Homs province they have still not been agreed in Idlib on the border with Turkey.
Further discussions on hammering out details of those two zones are set to take place at a fresh round of peace talks in Kazakhstan in late August.
Related Articles
Jul 22,2017
DAMASCUS — Syria's army announced Saturday a halt in fighting in parts of Eastern Ghouta after rebels and regime ally Russia agreed on how a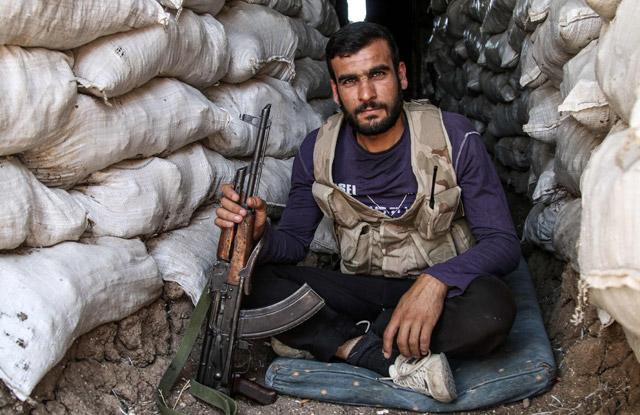 Aug 04,2017
BEIRUT — A ceasefire between government forces and rebels went into effect in part of central Syria on Thursday after Russia struck a deal w
Mar 15,2018
BEIRUT, Lebanon — Turkey turned up the heat on Syria's Afrin Wednesday, launching deadly strikes on Damascus loyalists deployed around the K
Newsletter
Get top stories and blog posts emailed to you each day.