You are here
Saudi crown prince meets Egypt's Sisi on first public trip
By Reuters - Mar 05,2018 - Last updated at Mar 05,2018
CAIRO — Saudi Arabia's Mohammed Bin Salman met President Abdel Fattah Al Sisi in Cairo on Sunday, on his first public trip abroad since he became crown prince last year and purged the kingdom's political and economic elite.
Egypt and Saudi have strengthened ties since Sisi took power after ousting the Muslim Brotherhood in 2013.
The countries signed agreements to "activate" a 60 billion Saudi riyal ($16 billion) investment fund they agreed to set up in 2016, and another deal on environmental protection, at a short televised ceremony attended by the two leaders. The details of the agreements were not immediately given.
Cairo supports Riyadh in its fight against Iran-backed Houthi fighters in Yemen, and last year joined a Saudi-led boycott of Gulf state Qatar and agreed to hand over two Red Sea islands to Saudi despite widespread criticism at home.
The day before Prince Mohammed's visit, Egypt's top court dismissed all outstanding legal challenges to the deal on the Red Sea islands.
The Saudi visit comes three weeks ahead of an election where former general Sisi is seeking a second term. Sisi is guaranteed a win in a vote where, critics say, authorities have locked up opponents or forced them to halt election campaigns.
As Egypt tries to keep a lid on any internal unrest, it has sided firmly with Saudi Arabia on key foreign policy issues including the face-off between the Sunni kingdom and its Shiite foe Iran.
Egypt eagerly joined the trade and diplomatic boycott of Qatar, whose government and media it accuses of supported the now banned Muslim Brotherhood, hundreds of whose members Cairo has imprisoned and sentenced to death.
The Saudi prince will head to Britain on March 7 following his three-day visit to Cairo and then to the United States, Riyadh's closest Western ally, later in the month.
Related Articles
Mar 05,2018
CAIRO, Egypt — Saudi Arabia's Crown Prince Mohammed bin Salman landed in the Egyptian capital on Sunday at the start of his first foreign to
Mar 05,2018
CAIRO/RIYADH - Saudi Arabia and Egypt set up a $10 billion joint fund on Sunday to develop a planned mega-city, committing more than 1,000 s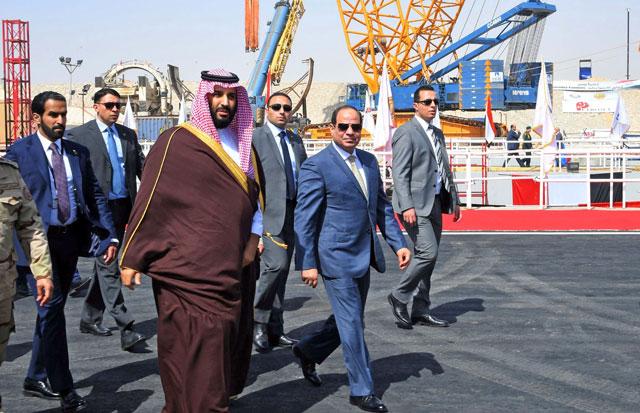 Mar 06,2018
CAIRO, Egypt — Saudi Crown Prince Mohammed Bin Salman continued a visit to Egypt on Monday focused on economic cooperation, with Riyadh agre
Newsletter
Get top stories and blog posts emailed to you each day.