You are here
Saudi-led coalition intensifies Yemen air strikes after Saleh's death
By Reuters - Dec 07,2017 - Last updated at Dec 07,2017
A Yemeni boy peers inside the husk of a burnt car as he inspects damages from recent clashes between Houthi rebel fighters and loyalists of Yemen's late ex-president Ali Abdullah Saleh, in the capital Sanaa, on Wednesday (AFP photo by Mohammed Huwais)
ADEN — A Saudi-led coalition intensified air strikes on Yemen early on Wednesday, as the armed Houthi movement tightened its grip on the capital after it killed former president Ali Abdullah Saleh, who switched sides in the civil war.
Saudi Arabia and its allies struck a day after Saleh's son vowed to lead a campaign against the Houthis.
The intervention by Ahmed Ali, a former leader of the elite republican guard once seen as a likely successor to his father, gives the anti-Houthi movement a potential figurehead after a week of fighting that saw the Houthis rout Saleh's supporters in the capital.
Yemen's war, pitting the Iran-allied Houthis who control Sanaa against a Saudi-led military alliance backing a government based in the south, has brought what the United Nations calls the world's worst humanitarian crisis.
Saleh had helped the Houthis win control of much of the country's north, including Sanaa, and his decision to switch allegiances and abandon the Houthis in the past week was the most dramatic change on the battlefield in years.
But the Houthis swiftly crushed the pro-Saleh uprising in the capital and killed him.
Coalition fighter jets carried out dozens of air strikes, both sides said, bombing Houthi positions inside Sanaa and in other northern provinces.
Yemen's pro-Houthi Al Masirah television station said the coalition bombed Saleh's residence and other houses of his family members.
Residents told Reuters loud explosions were heard in downtown Sanaa.
Masirah said air strikes also hit northern provinces including Taiz, Haja, Midi and Saada. There was no immediate word on casualties.
In a sign of support and defiance, tens of thousands of Houthi supporters staged a rally in Sanaa on Tuesday to celebrate the death of Saleh. They chanted slogans against Saudi Arabia and its allies.
The proxy war between regional arch-rivals Saudi Arabia and Iran has already killed more than 10,000 people, with more than 2 million displaced. Nearly a million have been hit by a cholera outbreak and famine threatens much of the country.
The United Nations says millions of people may die in one of the worst famines of modern times, caused by warring parties blocking food supplies.
The UN Secretary General special envoy for Yemen, Ismail Ould Cheikh Ahmed, called on all parties to show restraint in a briefing to the Security Council.
"Increased hostilities will further threaten civilian lives and exacerbate their suffering," he said.
The commander of Iran's Islamic Revolution Guards Corps, Major General Mohammad Ali Jafari, said Yemen's enemies had been behind Saleh's armed uprising and praised what he called the Houthis' swift quashing of the "coup against the holy warriors", the semi-official Fars news agency reported.
The death of Saleh, who once compared ruling Yemen to dancing on the heads of snakes, deepens the complexity of the multi-sided war.
Much is likely to depend on the future allegiances of his loyalists, who had previously helped the armed Houthi group, which hails from the Zaidi branch of Shiite Islam that ruled a thousand-year kingdom in northern Yemen until 1962.
In a statement sent to Reuters by an aide, his son said his father was killed at "the hands of the enemies of God and the country".
Ahmed Ali said he would "confront the enemies of the homeland and humanity, who are trying to obliterate its identity and its gains and to humiliate Yemen and Yemenis".
The Arabian peninsula's poorest country, Yemen is one of the most violent fronts in the proxy war between Saudi Arabia and Iran, which have also backed opposing sides in Syria, Iraq and elsewhere across the Middle East.
up
91 users have voted, including you.
Related Articles
Dec 05,2017
SANAA/DUBAI — Veteran former president Ali Abdullah Saleh was killed in a shooting on Monday after switching sides in Yemen's civil war, aba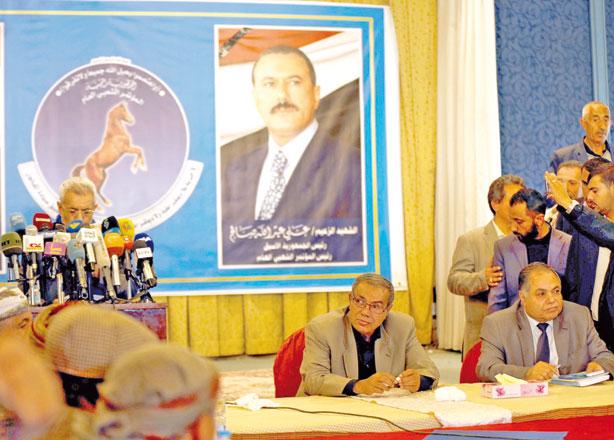 Jan 07,2018
DUBAI — The party of former Yemeni president Ali Abdullah Saleh named a new leader on Sunday after he was killed last month by the Iran-alig
Dec 02,2017
ADEN — Former Yemeni President Ali Abdullah Saleh said on Saturday he was ready for a "new page" in relations with the Saudi-led coalition f
Newsletter
Get top stories and blog posts emailed to you each day.