You are here
Sisi says suicide bomber behind church attack in Egypt
By Reuters - Dec 12,2016 - Last updated at Dec 12,2016
Relatives of a Christian woman who was killed in the bombing of Cairo's main Coptic cathedral, carry her body to bury at the Mokattam Cemetery in Cairo, Egypt, on Monday (Reuters photo)
CAIRO — Egyptian President Abdel Fattah Al Sisi said on Monday a suicide bomber carried out the attack that killed 24 people at Cairo's Coptic cathedral, the deadliest on the Christian minority in years.
Speaking at a state funeral for the victims, Sisi noted four people had been detained, including a woman, and security forces were seeking two more people believed to be involved. The bomber was a man wearing a suicide vest, he added
"The attack brought us great pain but we will never be torn apart," he said. "We will only be much stronger. We will hold steadfast and, God willing, we will succeed."
At least 24 people were killed and 49 wounded when a bomb exploded in a chapel adjoining St Mark's Cathedral, Cairo's largest church and seat of the Coptic papacy, where security is normally tight.
Security sources said a bomb containing at least 12kg of TNT exploded on a side of the church normally used by women.
Sisi did not name the organisation the attackers were believed to belong to. No group has claimed responsibility, but exiled Muslim Brotherhood officials and local militant groups have joined the international community in condemnation.
Only Daesh supporters celebrated on social media. The group has also claimed attacks in Cairo and urged its supporters to launch attacks around the world as it goes on the defensive in its Iraqi and Syrian strongholds.
The interior ministry released a picture of the bomber it identified as Mahmoud Shafik Mohamed Mostafa, 22, whose nom de guerre was Abu Dajjana Al Kanani. It also released an image of what it said was the battered head of the dead bomber, who hailed from the town of Fayyoum south of Cairo.
State news agency MENA reported that three of those arrested are also from Fayyoum while a fourth is from the Cairo suburb of Matariya. Both are areas typically associated with strong support for the Muslim Brotherhood.
Sisi and Coptic Pope Tawadros II led the funeral procession and the coffins were draped in the national flag.
Earlier, mourners had packed Cairo's Virgin Mary and St Athanasius Church where Tawadros prayed over the wooden coffins. On the walls hung banners with the names of the dead, many of them women.
Tawadros sought to heal any sectarian friction caused by the attack, saying it "is not just a disaster for the church but a disaster for the whole nation". He also condemned attacks against the security forces.
"Those who commit acts such as this do not belong to Egypt at all, even if they are on its land," he said.
Related Articles
Dec 11,2016
CAIRO — A bomb blast tore through a church near Cairo's Coptic cathedral during a service Sunday, killing at least 25 people in the deadlies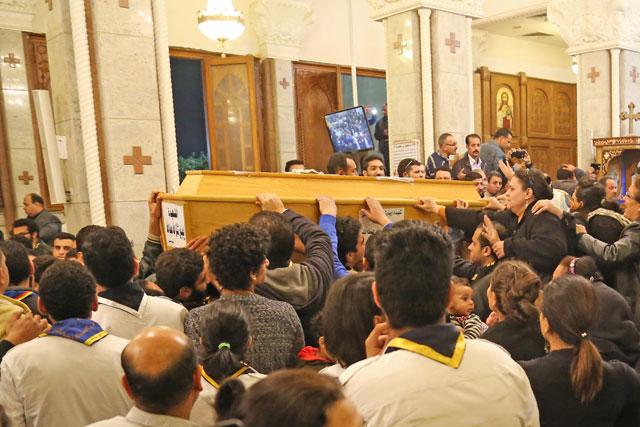 Dec 30,2017
CAIRO — A gunman killed at least 11 people on Friday in attacks on a Coptic Orthodox church and a Christian-owned shop near Cairo before he
Apr 10,2017
TANTA/CAIRO — At least 44 people were killed in bomb attacks on the symbolic cathedral seat of the Coptic Pope and another church on Pa
Newsletter
Get top stories and blog posts emailed to you each day.