You are here
Somalia's Al Shabaab say attack meant to get president 'dead or alive'
By Reuters - Feb 22,2014 - Last updated at Feb 22,2014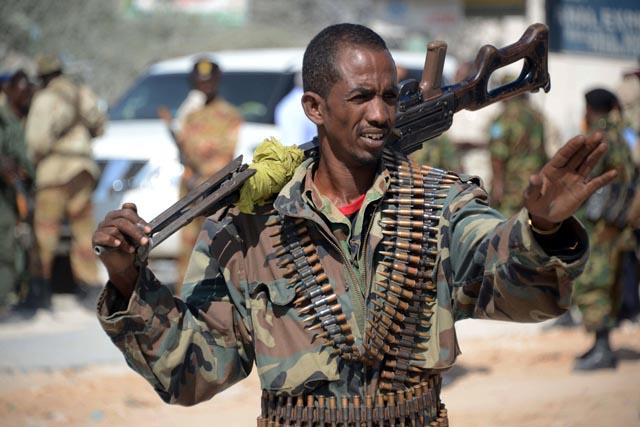 MOGADISHU — Islamist militants said on Saturday their attack on the Somali president's compound, in which at least 11 people died, was an attempt to kill or abduct him.
Al Shabaab fighters blasted through a gate with a car bomb on Friday and fought a gunbattle with guards at the heavily fortified compound known as Villa Somalia. President Hassan Sheikh Mohamud was unharmed in the assault.
"The main objective of attacking the palace on Friday was to assassinate the so-called Somali president or kidnap him," Al Shabaab spokesman Sheikh Ali Mohamud Rage told Reuters on Saturday.
"We sent well-trained mujahedeen from our special forces to bring us the president dead or alive."
In the past few weeks, the capital Mogadishu has been hit by a series of suicide bomb attacks claimed by Al Shabaab, who were pushed out of the city in mid-2011 but have continued to wage a guerrilla campaign.
The strike was another reminder of the threat still posed by the rebels and how Somalia's fragile government is struggling to impose order more than two decades after the fall of dictator Mohamed Siad Barre tipped the country into chaos.
Police said the attackers wore uniforms similar to those of the presidential guards, and some wore suicide vests during the well-coordinated attack.
The chief of staff of the office of the prime minister and a former chief of intelligence were killed, along with all nine militants who staged the attack, the government said.
"In 2006, Ethiopian troops came but we chased them and by then we were weak," said Rage. "But now we are strong and determined to fight back and eliminate the Ethiopian troops."
President Mohamud said on Friday the attack would not stop his government's work to rebuild Somalia and called Al Shabaab a "marginal group on the brink of extinction".
The president's spokesman said the rebels would be defeated.
"These are the death throes of a dying animal. Al Shabaab has been driven out of Mogadishu, Kismayo and many other areas. Our military campaign against them is going to remove them entirely," Abdirahman Yarisow told Reuters.
Related Articles
Jul 08,2014
Islamist militants attacked Somalia's presidential compound on Tuesday with a car bomb and gunmen broke through a perimeter wall but were repulsed by security forces, and the president was not there at the time, the interior ministry said.
Jul 13,2016
MOGADISHU — The leader of Somalia's Al Shabab extremist group Ahmed Diriye described Turkey as "the enemy of the nation" and accused foreign
Feb 25,2014
Somalia's 2011 famine is over. Militants have been pushed out of Mogadishu. Political progress is being made. And yet the UN and Somali government are pleading with international donors to help a country they say is still in crisis.
Newsletter
Get top stories and blog posts emailed to you each day.