You are here
Starting over after two years treating the injured in Syria's 'hell'
By Thomson Reuters Foundation - Apr 18,2018 - Last updated at Apr 18,2018
The former rebel Syrian town of Douma on the outskirts of Damascus is seen on Tuesday after the Syrian army declared that all anti-regime forces have left Eastern Ghouta (AFP photo)
BEIRUT, Lebanon — After two years of "hell" spent treating the wounded while under government bombardment in Eastern Ghouta, a former rebel-held enclave near the Syrian capital Damascus, medical student Mohammed finally got out.
After a 36-hour bus journey to the north of the country, this week marks the start of his next challenge: how to rebuild his life as a displaced person in his own country.
Mohammed had studied medicine near Douma, the site of a suspected poison gas attack on April 7 that prompted the United States, France and Britain to launch 105 missiles on Saturday targeting facilities near Damascus and the city of Homs.
But the bloody seven-year war meant he could not finish his course. Instead, he was thrown into the role of doctor's assistant in emergency rooms and intensive-care units.
"I was living in hell and surrounded by fire — wherever you go there is bombing, gunfire and injured people," said Mohammed who declined to use his full name for safety reasons.
His two years treating the injured were characterised by too much work and too little food or sleep. About a week ago he went home, only to find that his building had been destroyed in a bombardment; fortunately his parents and brother had survived.
The 23-year-old said he had seen countless injuries, from bullet wounds to shattered limbs and, his latest, treating those who were affected by the alleged poison gas attack this month that reportedly killed dozens of civilians.
"A lot of children, women and men started to come to the hospital with symptoms of coughing and [difficulty] breathing," he said, adding that one of those brought in — a 35-year-old — fell into a coma and later died.
Forced displacement
Earlier this month, the Jaish Al Islam rebel group, which had controlled Douma, agreed with the government and its Russian military allies that it would leave the city.
Because Mohammed had treated rebels and members of the Syria civil defence, or "White Helmets", he feared he would be in danger if he stayed.
And so last Thursday, he and his brother left everything and joined the nearly 700,000 Syrians who have been forced to flee their homes this year alone.
Buses carrying rebels, their families and civilians who did not wish to stay in Douma under President Bashar Al Assad's rule left the city in batches last week to travel to opposition-held areas in northern Syria, near the border with Turkey.
"I feel very sad because I didn't think this day would come. I didn't want to be a refugee in any area," he told the Thomson Reuters Foundation by phone after reaching a northern Syrian town near the border with Turkey.
"We are not the first city to face forced displacement and we won't be the last."
Mohammed, who now lives with his brother and 16 people in a three-bedroom house, said he was "very sad to lose everything", but was done living in fear.
"I don't know anything about where I am living now. I really want to find a university and I want to finish. I lost a lot of years without university and I want to graduate — that is my priority," he said.
Although he survived life under bombardment, the mental scars of war in the city he grew up in, he said, would never leave him. Among those: a young boy who had lost both of his legs.
"It was so hard for me because every time he calls you and holds your hand — you can't not cry and not wonder about what this child did to this world to have this destiny," he said of the child, who survived.
"It is not his fault to be punished by this war."
He said he was proud to have helped save lives, and hoped one day he could return to Douma without fear.
"I want the world to do something, and to say 'no' to the forced displacement, for the deaths, for the chemical attacks," he said in tears.
"It is enough what has happened in Syria — it is enough."
Related Articles
Nov 20,2017
DOUMA, Syria — Entire families have been buried under the rubble in a rebel-held enclave near Syria's capital, as government forces pursue a
Sep 07,2015
BEIRUT — The hardest part of being a medic in the Syrian town of Douma during some of the most intense bombardment in four years of war is d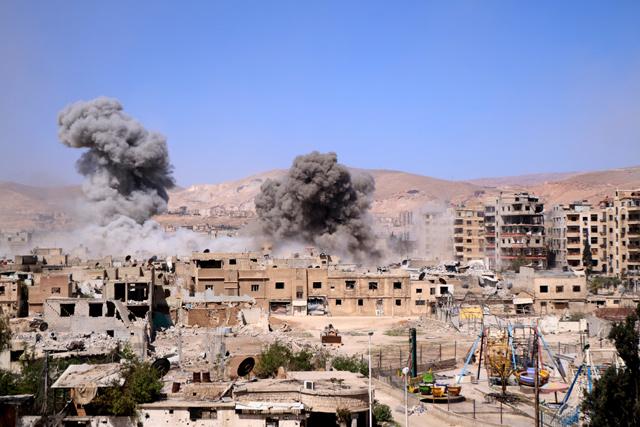 Apr 07,2018
BEIRUT — Deadly bombardments pounded the last opposition holdout in Syria's Eastern Ghouta on Saturday, after regime troops resumed a m
Newsletter
Get top stories and blog posts emailed to you each day.