You are here
Stretched thin, Daesh goes on defensive
By AFP - Dec 21,2015 - Last updated at Dec 21,2015
BEIRUT — Stretched thin and under pressure by increasing air strikes, the Daesh terror group has been forced into a defensive position in areas under its control in Syria and Iraq.
Last year, the extremist group declared a self-styled caliphate across the borders of Syria and Iraq, sweeping quickly into Mosul and Raqqa.
It also expanded beyond the Middle East, launching a series of spectacular attacks abroad that left dozens dead.
But some experts believe the extremist group's luck has changed.
"In recent months, IS's [Daesh's] positions along most of its fighting fronts in Syria and Iraq have turned defensive," says Iraqi expert Hisham Al Hashimi, who closely follows jihadist developments.
"It has lost the initiative that it depended on to attack its enemies," he adds.
Hashimi attributes the transformation partly to military pressure by the air wars against the group, which has been unable to move its forces in large columns the way it did last year.
The US-led coalition fighting Daesh in Syria has been growing, with Britain and France recently conducting strikes on Daesh positions the war-torn country.
And on September 30, Russia began carrying out its own aerial campaign on the group, as well as other armed groups opposed to Damascus.
The raids have destroyed Daesh posts, vehicles, and oil infrastructure.
Furthermore, Daesh's "logistical stores have been drained", Hashimi says, and many of its key cross-border supply routes have been cut in recent months.
The extremist group has also depleted another key resource: suicide bombers, which proved crucial to Daesh's lightning attacks on cities in Iraq and Syria, but are in increasingly rare supply.
Daesh relying on 'heartland'
Despite a slow start, anti-Daesh efforts have reaped significant benefits in recent months.
In Iraq, Daesh lost control of the town of Baiji and the nearby oil refinery, as well as the flashpoint town of Sinjar, cutting off its vital supply routes between Iraq and Syria.
And in Syria, Daesh has been pushed back from swathes of territory in the northeast Hasakeh province by a Kurdish-Arab alliance, as well as other parts of Syria by regime fighters.
"Daesh is being attacked on numerous fronts by various actors," said Syria analyst and geographical expert Fabrice Balanche.
Together, the Kurdish People's Protection Units in northeast Syria and Kurdish forces in Iraq backed by American air support have been able to squeeze Daesh in the border area.
Syrian government troops, meanwhile, have used the additional boost of Russia's air power to push back against Daesh in the northern Aleppo province and central Homs.
"Daesh is on the defensive. It is relying on its heartland" and launching only local offensives, Balance says.
That area includes the Sunni Arab zone around the Euphrates River in Syria and across the border in northwest Iraq.
To continue pushing Daesh back, its enemies must "understand that Daesh retreats where the population is hostile, which is what is happening in the Kurdish territory," according to Balanche.
He says this is why the US-backed offensive in Iraq is focusing on the western city of Ramadi more than Fallujah, where locals support Daesh.
Propaganda battle
But Daesh has not lost all momentum, other analysts point out.
"While it is true that they are currently consolidating rather than going on the offensive, they are still attracting legions of foreign recruits, they have demonstrated that they were able to strike everywhere," says Karim Bitar, from the Institute for International and Strategic Affairs.
The number of foreign fighters in Iraq and Syria has more than doubled since last year to at least 27,000 people, says a recent study by the US-based Soufan Group.
Among those, between 20 and 30 per cent were returning to their home countries, a dangerous development as Daesh in particular eyes more spectacular attacks overseas.
Daesh will seek to "preoccupy the international coalition with its own internal security" and create "racist and religious chaos" between Muslims and the rest of the West, Hashimi says.
"Without being able to shoot down coalition planes, Daesh will organise attacks in the heart of the coalition countries, like France, to try to destabilise us and win the propaganda battle, which is likely to bring it more funding and fighters," Balanche adds.
Related Articles
May 24,2016
BEIRUT — Pressure mounted on the Daesh terror group Tuesday as a Kurdish-Arab alliance launched a major assault north of the extremists' Syr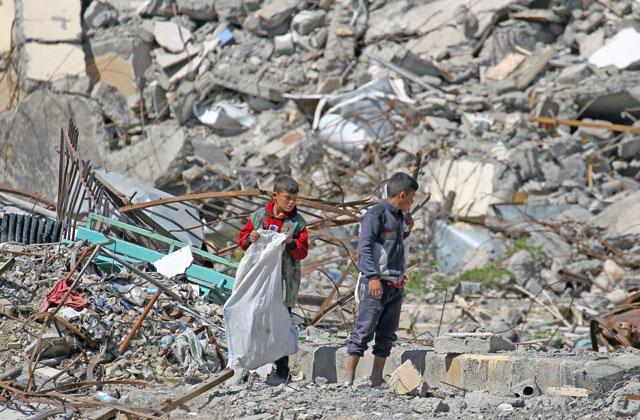 Apr 19,2018
BEIRUT, Lebanon — The Daesh terrorist group launched a surprise attack near a town in eastern Syria that they had lost six months ago, killi
Sep 05,2017
BAGHDAD — Facing a string of defeats in Syria and Iraq, the Daesh extremist group is being forced to retreat to the desert from which it eme
Newsletter
Get top stories and blog posts emailed to you each day.