You are here
Sudan forces arrest top Darfur militia chief
By AFP - Nov 27,2017 - Last updated at Nov 27,2017
KAHRTOUM — Sudan's counter-insurgency forces have arrested a powerful militia chief from Darfur accused by the United Nations of human rights abuses in the war-torn region, officials said on Monday.
The Rapid Support Forces (RSF) arrested Musa Hilal, a former aide to President Omar Bashir, near his home town of Mustariaha in the state of North Darfur, State Minister of Defence Lieutenant General Ali Mohamed Salem told parliament.
Mohamed Salem said Hilal's son Habeeb was also detained. They were arrested on Sunday.
"They were arrested after clashes in the area but the security situation there is now stable," Mohamed Salem said in a statement carried by the official SUNA news agency.
On Sunday, fierce fighting erupted between fighters loyal to Hilal and an RSF unit near Mustariaha, in which the RSF said it lost 10 members including a commander.
Mustariaha is a bastion of Hilal, whose fighters from the Arab Mahamid tribe have regularly clashed with RSF troops in Darfur in recent months.
RSF told AFP that Hilal had been arrested with several of his fighters and three sons, and that they were all brought to Khartoum on Monday.
"Hilal has been handed over to military intelligence for questioning," RSF spokesman Abdulrahman Al Jaali told AFP.
"Hilal was a fugitive and he should face the law."
RSF chief Mohamed Hamiditi said in a separate statement to SUNA that his troops confiscated "sophisticated communications equipment" from Hilal's fighters.
"A foreign national is among those arrested, which confirms the participation of foreign parties in destabilising the security in Darfur," he said, without specifying the foreigner's nationality.
Sunday's fighting erupted when an RSF unit was ambushed as it oversaw a weapons hand-in near Mustariaha under a disarmament programme launched by the government across Darfur after it announced the conflict in the region had ended early this year.
Darfur, a region the size of France, has been awash with weapons since 2003, when ethnic minority rebels took up arms against Bashir's Arab-dominated government, accusing it of economic and political discrimination.
Refusing to disarm
The weapons are held by tribal militias, including some backed by government forces, and authorities now want them to be handed in.
But Hilal and his fighters have refused to surrender their arms.
During the initial years of the conflict in Darfur, Hilal and his fighters fought on the side of government forces against black African rebels in the region.
Hilal is under a UN travel ban and on a list of individuals sanctioned for "human rights atrocities" during the early years of the conflict.
The UN and rights groups have accused him of attacking villages and even displaced people's camps.
The UN and Washington say he played a key role in mobilising pro-government Arab militias that attacked black African rebels and villagers for allegedly backing rebel groups.
Hilal denies these accusations, saying that he organised his tribesmen order to defend their lands and property following a call by Khartoum.
In 2008, Hilal was appointed an adviser to Bashir, but later a rift erupted between him and the government when he accused Khartoum of ignoring his political demands.
Related Articles
Nov 30,2017
KHARTOUM — A powerful militia chief from Darfur, who was arrested by Sudanese forces after fierce fighting last week, will face a military t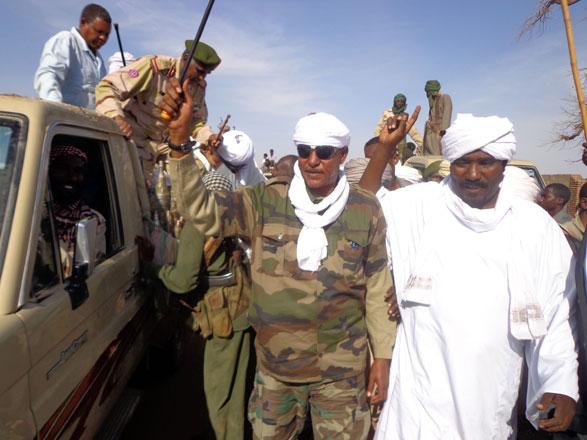 Dec 04,2017
KHARTOUM — By arresting Darfur's powerful militia chief Musa Hilal, Khartoum has tightened its control over Sudan's strife-torn region but a
Nov 21,2017
GENEVA — The United Nations said on Tuesday that Sudan had to disarm militias in Darfur before those displaced by the conflict could return
Newsletter
Get top stories and blog posts emailed to you each day.