You are here
Suffering grips Yemen three years after rebel takeover
By AFP - Sep 20,2017 - Last updated at Sep 20,2017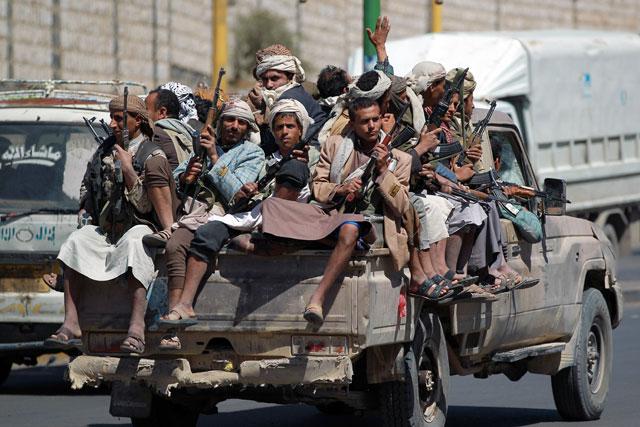 This file photo taken on September 21, 2014 shows armed Yemeni Shiite Houthi anti-government rebels sitting in the back of a pick up truck as they drive near the state television compound in the capital Sanaa (AFP photo)
SANAA — Three years after Iran-backed rebels swept into Sanaa, a semblance of normality has returned to the Yemeni capital. But across the war-wracked country a humanitarian disaster is unfolding.
The only Arab capital controlled by an armed rebel movement, Sanaa lives under the constant threat of air strikes by a Saudi-led coalition fighting in support of the internationally recognised government.
Displaced people have filled the city, the epicentre of a cholera epidemic, and hunger is rife.
The capital is riven by rivalry between the Houthi Shiite rebels and allied troops loyal to former president Ali Abdullah Saleh.
Murad, a visual artist who participated in the 2011 protests that drove Saleh from power, said he had dreamed of a "city of peace and freedom".
That hope soon faded when the Houthis advanced from their northern strongholds and seized the capital on September 21, 2014.
"Between 2011 and 2014, we had a real climate of freedom, a freedom that we had forged with our own hands," Murad said.
"But for the past three years things have changed with the deterioration of living conditions and the return of fear," he told AFP.
"Sanaa today is no longer what it was in 2014. It's a city that lives in the shadow of warplanes and Kalashnikovs."
Hopes dashed
After storming the capital, the Houthis managed to occupy its public buildings in just one afternoon with the support of forces loyal to Saleh.
President Abed Rabbo Mansour Hadi fled to the southern city of Aden, which he later declared the "provisional capital".
The situation worsened when the Saudi-led coalition intervened on March 26, 2015 in support of Hadi.
"We were hopeful," said Yasser Al Matari, a 24-year-old taxi driver. "But the situation keeps getting worse. Petrol and food prices have risen steadily and wages are no longer paid.
"They [the Houthis] justify it by the state of war, but why do Syrians continue to receive wages when they are at war?"
After the fall of Sanaa, the international airport was closed, the central bank moved to Aden, public services collapsed and prices soared.
Sanaa is gripped by a major food crisis because of a blockade by the Saudi-led coalition, while across the country seven million Yemenis are on the brink of famine.
The streets of the capital teem with children begging for money and food.
In the schools that are still open, the pupils are crammed inside because other classrooms are used as shelters for displaced people or are in danger from air raids because they are occupied by rebels.
A total of 1,640 of the 16,000 schools in Yemen have been closed, leaving 1.8 million children out of school.
An additional 1.6 million children have never attended school, according to UNICEF.
'Biggest humanitarian crisis'
Worsening hygiene conditions have triggered a cholera epidemic in the capital which has also hit several regions of the country, causing more than 2,000 deaths.
"Life for civilians is increasingly harder" with a lack of adequate food, shelter and access to water and sanitation, said an aid worker in Sanaa.
"Yemen is now the world's biggest humanitarian crisis, and it is hit by the most dangerous cholera outbreak, while people are going hungry."
At night Sanaa becomes a city of shadows, dotted with security checkpoints.
Since March 2015, more than 8,400 people, mostly civilians, have been killed and around 48,000 wounded in the conflict.
The Houthis are preparing to celebrate their "victory" on Thursday in Sanaa.
Cars, equipped with loudspeakers, have crisscrossed the capital calling the population to a large gathering.
In southern Yemen, meanwhile, Al Qaeda in the Arabian Peninsula (AQAP), seen by the United States as the extremist network's most dangerous branch, has exploited the turmoil to expand its presence.
"AQAP and a small group of warlords that span the various fighting factions are the only clear winners," said April Longley Alley, an analyst at the International Crisis Group.
Related Articles
Oct 25,2015
ADEN — Heavy clashes and air strikes in Yemen's third city Taez left at least 36 fighters dead on Sunday, army sources said, as aid workers
Sep 21,2017
SANAA — Yemen's Houthi rebels marked the third anniversary of their takeover of Sanaa on Thursday, gathering tens of thousands of supporters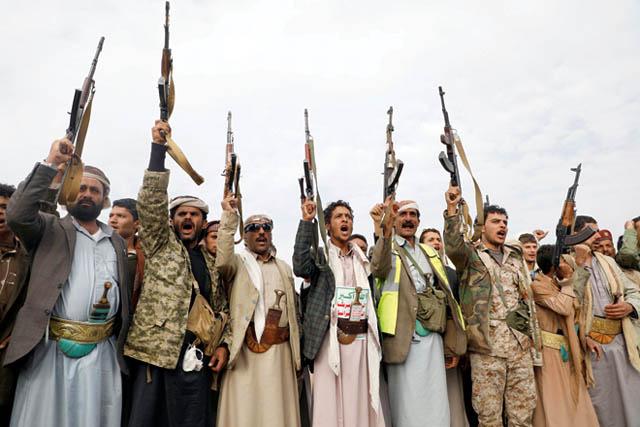 Aug 27,2017
RIYADH — The Saudi-led Arab military coalition on Saturday admitted responsibility for an air strike the previous day in the Yemeni capital
Newsletter
Get top stories and blog posts emailed to you each day.