You are here
A summer night out in London turns to horror
By AFP - Jun 04,2017 - Last updated at Jun 04,2017
LONDON — Just minutes before Saturday's terror attack in London, pubs were crammed with revellers enjoying a balmy night out in a trendy part of the city, many of them watching the Champions League final on big screens.
And then terror struck yet again at London's heart as a van smashed into pedestrians before its occupants went on a stabbing rampage, bringing bloodshed to the streets of the British capital.
Within minutes, six people had been killed and three attackers shot dead by armed police. Dozens more were wounded.
People enjoying their evening out near the River Thames told of how their night became a nightmare in seconds as they witnessed the attack unfold.
'I saw her bounce up in the air'
First, a white van veered wildly into pedestrians crossing London Bridge, with those who managed to avoid the attack rushing to aid those who were hit.
The van deliberately swerved into groups of people at speed, eyewitnesses said.
"I saw this van going left and right, left and right, trying to catch as many people as he could," Alessandro told BBC radio.
"There were five or six people that we tried to help, they were young people."
Mark, another witness, was in the middle of London Bridge, taking pictures of Tower Bridge downstream.
"It was swerving from side to side. I could see it hitting people," he said of the van.
"It hit one person about six metres in the air. Poor girl. I just saw her bounce up in the air.
"There must have been about five or six people on the ground, they must have been seriously injured," he told BBC radio.
London resident Dee, 26, said she was sure it was a terror attack as the van careered southwards over London Bridge.
"And then there was a man with a knife, he was running, he came down the stairs and went to a bar," she told AFP.
After the van crashed right by Southwark Cathedral, the stabbing spree began, with the attackers descending into Borough Market, a popular area of trendy bars and eateries on the south side of the bridge.
Taxi driver Chris told LBC radio he saw men brandishing long knives emerging from the van.
"Three men got out with long blades, 30 centimetres long and went randomly... stabbing people".
Witness Eric saw the trio get out of the van and thought they were going to help those who had been hit.
However, they were "kicking them, punching them, and took out knives. It was a rampage."
They then ran towards Borough Market with a shout of "this is for Allah".
Alex Shellum, who was in The Mudlark pub near London Bridge said he saw a young woman stagger in.
"She was bleeding heavily from the neck and from her mouth," he said.
"It appeared to myself and to my friends that her throat had been cut," he told the BBC.
Related Articles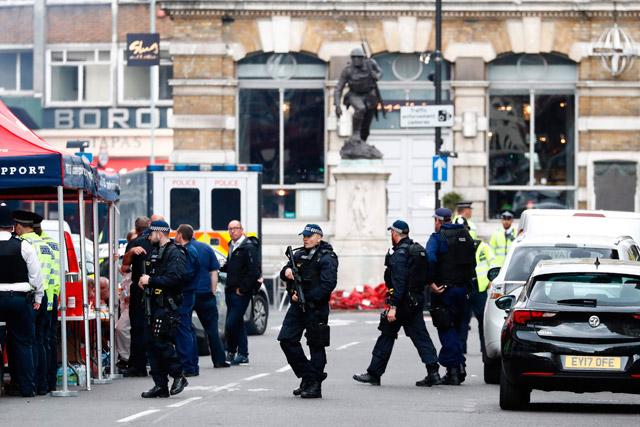 Jun 04,2017
LONDON — British Prime Minister Theresa May called on Sunday for a stronger response to extremism after three attackers drove a hired van in
Jun 20,2017
LONDON — British Prime Minister Theresa May vowed on Monday to fight extremism in all its forms after a white driver ploughed his van into a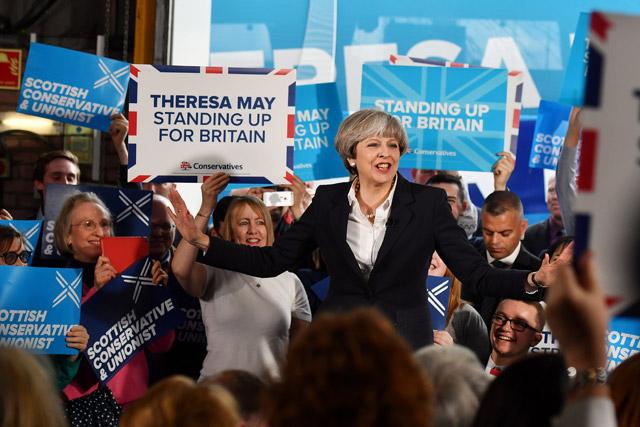 Jun 05,2017
LONDON — Britain's election campaign resumed in earnest on Monday with Prime Minister Theresa May's opinion poll lead narrowing and the focu
Newsletter
Get top stories and blog posts emailed to you each day.