You are here
Syria army retakes desert town from Daesh — state media
By AFP - Oct 21,2017 - Last updated at Oct 21,2017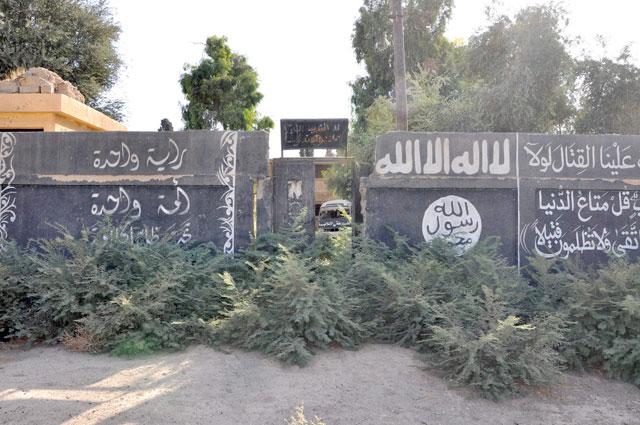 This photo taken on Friday shows the Daesh extremist group writing on a wall in the recently seized strategic Syrian town of Mayadeen (AFP photo)
DAMASCUS — Syrian troops and militia retook the desert town of Al Qaryatain from the Daesh terror group on Saturday ending a three-week-long fightback by the extremists, state media said.
It was the latest in a string of reverses for Daesh in Syria this month that on Tuesday saw US-backed forces capture its emblematic bastion Raqqa.
The extremists had seized Al Qaryatain on October 1 in a surprise counteroffensive against the Homs province town which they had lost to Russian-backed government forces in April last year.
"Units of the Syrian Arab Army in cooperation with allied forces have restored security and stability in the town of Al Qaryatain after eliminating the Daesh terrorists," the state SANA news agency reported.
The Syrian Observatory for Human Rights, a Britain-based monitor of the war, said that more than 200 extremists had pulled out of the town during the night, withdrawing into the vast desert that stretches all the way to
the Iraqi border.
There was no immediate word on the fate of the town's residents during Daesh's three-week reoccupation.
Al Qaryatain was a symbol of religious coexistence before the civil war broke out in 2011, with some 900 Christians among its population of 30,000.
But during their first eight-month-long occupation of the town in 2015-16, the extremists of Daesh repeatedly targeted its Christian minority.
Daesh abducted 270 Christians, transporting them around 90 kilometres into the desert and locking them up in an underground dungeon. They were freed 25 days later.
The extremists also destroyed parts of a monastery in the town and reduced a fifth-century mud brick church to rubble using explosives and bulldozers.
Government forces are engaged in twin Russian-backed offensives against Daesh, mopping up the last pockets it still holds in the desert and pushing down the Euphrates Valley towards the Iraqi border in the east.
Related Articles
Oct 24,2017
BEIRUT — The Daesh terror group executed dozens of civilians this month in the Syrian desert, a monitor said Monday, in a gruesome mas
Oct 01,2017
BEIRUT — Syria's war killed at least 3,000 people including 955 civilians in September, the deadliest month of the conflict this year, the S
Apr 03,2016
BEIRUT — Syrian and allied forces backed by Russian air strikes drove Daesh militants out of the town of Al Qaryatain on Sunday after encirc
Newsletter
Get top stories and blog posts emailed to you each day.