You are here
Syria buffer zone, long sought by Turkey
By AFP - Jan 16,2019 - Last updated at Jan 16,2019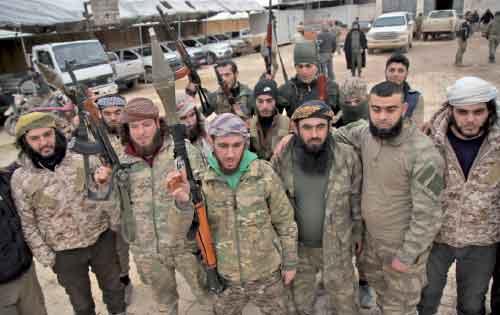 Turkish-backed Syrian fighters participating in a training manouevre, gather near the town of Tal Hajar in Aleppo's province, a few kilometres from areas controlled by a Kurdish-led coalition, on Wednesday (AFP photo)
BEIRUT — Since the start of the Syrian conflict, Turkey has pushed for the creation of a buffer zone on its border to protect refugees and prevent the emergence of an autonomous Kurdish region.
The ''safe zone'' or ''security zone'' would be on the Syrian side of the 900-kilometre Syria-Turkey frontier.
After receiving backing from US President Donald Trump, President Recep Tayyip Erdogan said this week that Turkey would go ahead with the plan, prompting angry reactions from both the Kurds and Damascus.
Here is some No background.
In November 2011, just months into Syria's devastating conflict, Turkey's Foreign Minister Ahmet Davutoglu said a buffer zone could be imposed on the border, with international backing, in case of a massive outflow of refugees.
The idea had already been proposed in the Turkish media as a means to protect civilians from a harsh crackdown by forces backing President Bashar Assad.
The Syrian National Council, the main opposition coalition, had also mooted a no-fly zone or secure area to protect civilians.
Against the Kurds
In July 2012, the Syrian army withdrew from certain parts of the country's north where Kurdish militants were deployed.
Erdogan accused Damascus of ''allotting five provinces to the Kurds'', posing a threat to Turkey, and threatened to respond by creating a border security zone.
Turkey sees Syria's main Kurdish force, the People's Protection Units (YPG) as a ''terrorist'' offshoot of the Kurdistan Worker's Party (PKK), which has for decades waged a deadly insurgency in Turkey.
But the YPG has been a key US ally in the fight against the Daesh group, leading a coalition that ousted the militants from key parts of northern Syria including Manbij, Raqqa and the border town of Kobane.
Civilian safe havens
In August 2012 Davutoglu urged the UN Security Council to set up civilian safe havens inside Syria, saying Ankara was struggling to cope with the thousands of people crossing into Turkey each day.
''The UN should initiate the establishment of IDP [internally displaced people] camps within Syria without delay. Needless to say these camps should have full protection,'' Davutoglu said.
But UN officials and major powers said such camps would face major diplomatic, legal and military hurdles.
Free of 'terrorism'
Turkey's next foreign minister, Mevlut Cavusoglu, said in 2014 that a buffer area inside Syria was needed in order to defeat Daesh as well as for humanitarian reasons. But the proposal met with a guarded international response.
In 2015 Erdogan again called on world leaders to rally behind ''a safe zone cleared of terror'', implying it would be rid of both Daesh and Syrian Kurdish fighters.
In February 2017, he said the aim was to establish an area of at least 4,000 square kilometres ''free from terrorism''.
Under Turkey's control
In January 2017, incoming president Trump raised the idea of ''safe zones in Syria for the people'' in an interview with ABC News.
Turkey welcomed his shock December 2018 announcement that US troops would be withdrawn from Syria, but the two NATO allies quickly fell into a row over future of US-backed Kurdish forces.
Trump later proposed setting up a 30-kilometre safe zone along the border, but did not say who would create, enforce or pay for it, or where it would be located.
On January 14, Trump spoke to Erdogan, who later said he had reaffirmed that a 30-kilometre security zone along the Syrian border ''will be set up by us''.
It would be ''controlled by Turkey'', his spokesman added
Syrian Kurds rejected the idea, Damascus denounced Ankara's ''language of occupation and aggression'', and regime backer Russia said the Syrian government must have full control of its north.
Newsletter
Get top stories and blog posts emailed to you each day.