You are here
Syria refugees in Turkey make rare trip home for Eid
By AFP - Sep 04,2017 - Last updated at Sep 04,2017
BINNISH, Syria — Syrian refugee Mohamed Hajj Steifi hasn't been home for a year, but this week he made the trip across the Turkish border to celebrate the Islamic festival of Eid Al Adha.
He is one of over 40,000 Syrian refugees living in Turkey who have taken advantage of a rare chance to return to their war-torn homeland for the holiday.
"I haven't seen my family for more than a year," Steifi said, sitting in the garden of his home in Binnish, a town in Syria's northwestern Idlib province.
Seated around him, his parents and brother chatted with relatives visiting to celebrate Eid Al Adha, one of the Islamic calendar's biggest festivals.
From time to time, they were interrupted by phonecalls from the family's daughters, who live in the Gulf.
Almost three million Syrians have taken refuge in Turkey since the conflict in their country began in 2011 with anti-government protests.
But the border crossings between the countries are mostly closed except to aid convoys, meaning the chance to return for Eid is a rare opportunity.
Those taking advantage of the window had to register on a dedicated website, and must return to Turkey by October 15.
Some headed to towns like Al Bab and Jarabulus in Aleppo province, targets of a Turkish-led operation launched in mid-2016 against the Daesh terror group.
Others crossed into Idlib province, now largely controlled by an extremist group formerly affiliated with Al Qaeda.
While Steifi was delighted to be home, he said he would soon return to the Turkish town of Reyhanli, where he works for an internet company.
'Calm is not enough'
"I'm definitely going to stay where I have a livelihood, which is in Turkey," Steifi said.
"If the work situation improves and the state comes back, I would certainly prefer to return to my country."
The grinding violence of Syria's civil war, which has killed over 330,000 people, has dropped off in recent months after the tentative and partial implementation of local ceasefires.
But Steifi says the relative calm hasn't tempted him to move back home just yet.
"Calm is not enough," he said. "If institutions, universities and order are not restored, and life doesn't goes back to normal, we'll be living in chaos."
The International Organisation for Migration (IOM) said last month that more than 600,000 displaced Syrians had returned to their homes this year.
Most of those were internally displaced, but 16 per cent were refugees returning from exile in neighbouring Turkey, Lebanon, Jordan and Iraq.
While some returnees said they were motivated by improved security and economic conditions, the IOM warned that many were struggling to access clean water and health services in a country ravaged by over six years of fighting.
'Everyone's dream is to return'
Yaman Al Khatib, a 27-year-old journalist, moved with his wife and child to the Turkish province of Antakya last year after leaving a rebel-held part of Aleppo city before it was captured by regime forces.
He travels into Syria clandestinely for his job, but has no plans to move his family back there for now.
"There's nowhere safe for us to live after we left Aleppo," he said.
"Syria in general is a war zone, so Turkey is the safest place I've found for my family."
But he too dreams of returning.
"The flood of Syrian families from Turkey to Syria is proof that everyone's dream is to return home," he said.
"But the lack of security, along with the lack of basic necessities like water and electricity, make it impossible."
Rahaf, 19, was overjoyed to be visiting family in Binnish to mark Eid. But she too planned to return to Reyhanli at the end of the festival.
Wearing a black tunic and new jeans bought to mark Eid, she said she fled to Turkey five years ago along with her mother and sister, and plans to start university there.
She said the family fears returning to Syria before the conflict ends.
"I would definitely think about going back to Syria if security returned and the situation went back to how it was before the war," she said.
"There's nothing better than a person's country, it will always be better than any other country."
Related Articles
Apr 09,2017
REYHANLI, Turkey — Ahmad Mustafa fled northern Syria to Turkey four months ago, badly injuring his hand along the way. But while the fr
Oct 09,2017
REYHANLI, Turkey — Turkish troops on Sunday exchanged fire with Syria-based extremists as Ankara massed military vehicles on the frontier ah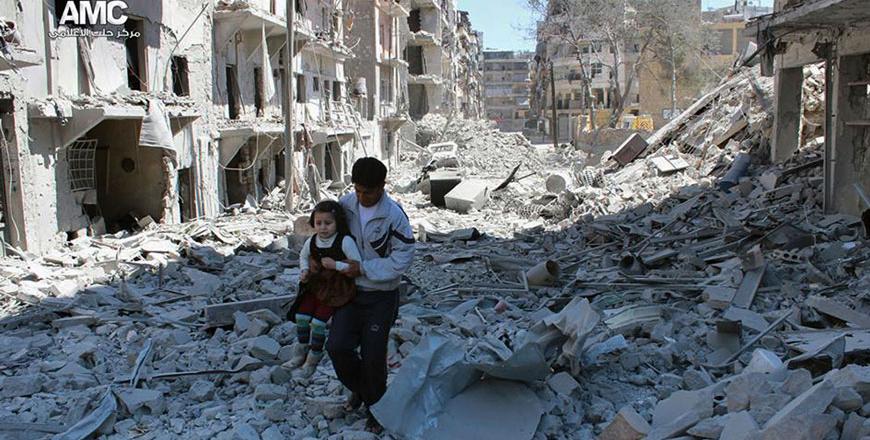 Sep 03,2015
GENEVA — Syrians are caught between government bombardment of civilian areas and ruthless Islamist groups in a conflict increasingly driven
Newsletter
Get top stories and blog posts emailed to you each day.