You are here
Syrian army preparing assault to end rebel siege of base east of capital
By Reuters - Jan 03,2018 - Last updated at Jan 03,2018
Syrian friends pose for a selfie in front of a hospital in Maaret Al Numan after they found their friend alive, who was working at the hospital when an air strike struck in Syria's rebel-held Idlib province on Wednesday (AFP photo)
AMMAN — The Syrian army backed by Russian jets escalated bombing of the last rebel bastion on the eastern outskirts of Damascus, as they prepared to break a siege of an army base encircled by opposition forces, residents and witnesses said on Wednesday.
They said the army was amassing elite forces to prepare for a major assault on the Military Vehicles Administration, which is besieged by rebels. At least 200 troops were believed to be trapped within its sprawling, heavily defended grounds.
Since Sunday, rebels mainly belonging to Ahrar Al Sham faction widened their control of parts of the army base in Harasta that penetrates the Eastern Ghouta, the last rebel bastion around the capital.
They stormed the base last November in a drive to relieve pressure on Eastern Ghouta's towns and villages, which have seen escalating aerial attacks in the last week.
State media did not report the assault but said "terrorists" had fired mortars on residential areas in Harasta and the army responded by strikes in Eastern Ghouta that led to losses in the ranks of the insurgents. No further details were given.
Civil defence sources said that in four days of heavy aerial strikes since Friday 38 civilians have been killed and at least 147 people have been injured. Five civilians were killed on Tuesday.
The base has long been used to strike at the densely populated Eastern Ghouta in an attempt to force the rebel enclave to submission. More than 300,000 people there have lived under siege by army troops since 2013.
The advances bring rebels closer to the heart of the capital once again, after they were pushed out of their remaining pockets last year by months of siege and bombardment.
The army setback comes against a backdrop of successive battlefield victories that allowed the Syrian army with heavy reliance on Russia and Iran to regain in the last year large tracts of territory from insurgents.
Residents said at least 30 aerial strikes hit residential areas of Eastern Ghouta on Tuesday. Shelling of a market in the city of Douma, the main urban centre in the Ghouta, left one dead and scores injured.
"The frontlines of Ghouta are witnessing battles and clashes and big losses inflicted on [Syrian President] Assad's forces and his militias," said Hamza Biriqdar, the spokesman for Jaish Al Islam, a main rebel faction.
Further northwest, rebels ranging from extremists to mainstream Free Syrian Army (FSA) were retreating from more villages seized by the army in southern Idlib province and the adjoining eastern Hama countryside.
The strikes have escalated in the last week on this major front with at least 50 villages retaken by the Syrian army and its allies in their push into the last major province in rebel hands that borders Turkey.
The intensity of strikes by Russia and the Syrian Air Force has driven tens of thousands of villagers in these areas to flee to the relative safety of the northern part of Idlib province near of the Turkish border, where many families have spread makeshift tents on main roads and agricultural land.
Related Articles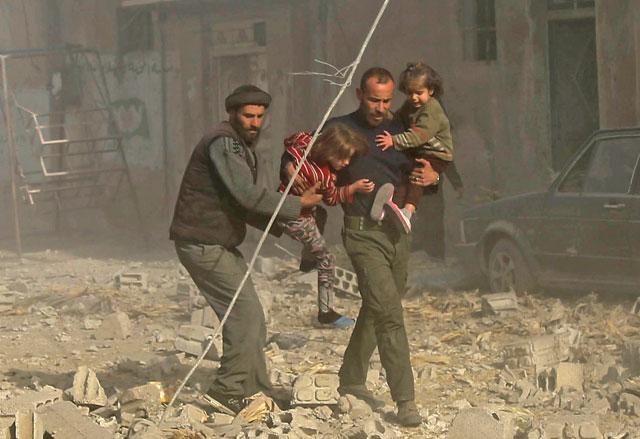 Dec 05,2017
AMMAN — Jets believed to be Syrian and Russian struck heavily crowded residential areas in a besieged rebel enclave near Damascus, killing a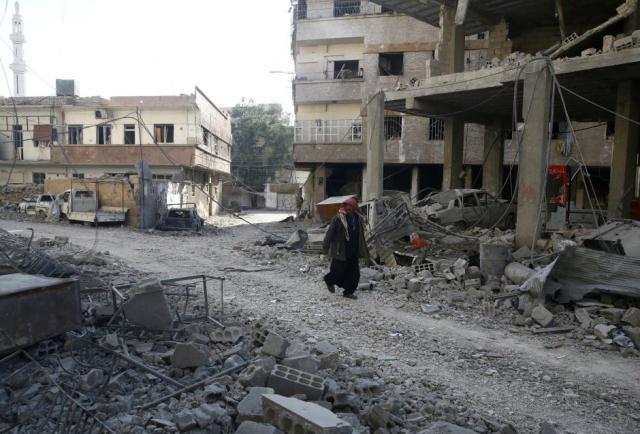 Mar 21,2018
AMMAN - A Russian-brokered deal has been reached to evacuate a Syrian rebel group from a town in Eastern Ghouta to opposition-held nor
Nov 20,2017
DOUMA, Syria — Entire families have been buried under the rubble in a rebel-held enclave near Syria's capital, as government forces pursue a
Newsletter
Get top stories and blog posts emailed to you each day.