You are here
'Syrian-Iranian grip' on Lebanon will tighten after Aleppo — Jumblatt
By Reuters - Dec 08,2016 - Last updated at Dec 08,2016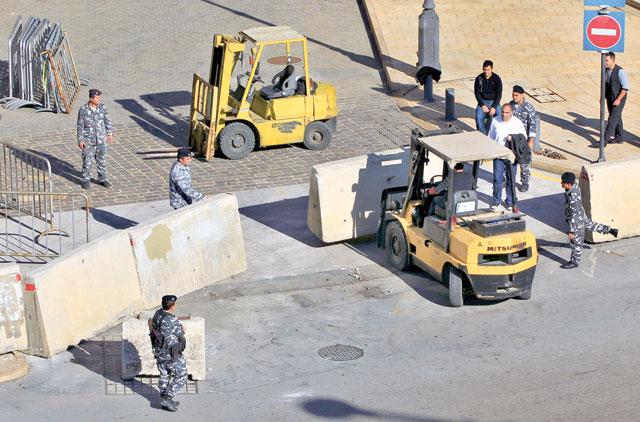 Lebanese policemen remove concrete barriers to open a road leading to the parliament building in downtown Beirut, Lebanon, on Wednesday. The road had been closed since numerous anti-corruption demonstrations in 2015 (AP photo)
BEIRUT — Syrian President Bashar Assad's imminent victory in Aleppo will increase Syrian and Iranian influence in Lebanon, the leading Lebanese Druze politician said on Thursday, as Assad said Lebanon could not remain unscathed by regional conflicts.
The Syrian army and allied forces have made rapid gains against anti-Assad rebels' main urban stronghold in Aleppo in the past two weeks, and look closer than ever to taking the city at the heart of a conflict now in its sixth year.
"Assad will win in Aleppo, benefiting from the fact that most of the international community has given up on the Syrian people. Then he will destroy Idlib," said Walid Jumblatt, the main political leader of the minority Druze community in Lebanon and head of the Progressive Socialist Party (PSP).
Idlib province is the rebels' largest remaining patch of territory in heavily populated western Syria.
"This means that [Assad's] influence in Lebanon will increase, and the Iranian-Syrian grip on [Lebanon] will strengthen," he told As Safir, a Lebanese daily close to the Iran-backed Lebanese Shiite Muslim group Hizbollah, which is fighting on Assad's side in neighbouring Syria.
Syria dominated Lebanese government and politics for years and had a military presence in the country until 2005, when it withdrew following the assassination of former prime minister Rafik Al Hariri and months of anti-Syria protests.
Jumblatt is seen as a weathervane of Middle Eastern politics and his stance towards Syria has shifted more than once in recent years. He was a leading voice in the anti-Syrian movement but then moderated his attitude after a rapprochement with Syria's allies in Lebanon, including Hizbollah.
Early in the Syrian conflict, Jumblatt called for Assad to be removed from power. But he told As Safir he has no plans to mend relations with the Syrian leader. "I will not end my political life repairing a relationship with Assad... Even if the regime achieves total victory," he said.
Lebanon, which suffered its own 15-year civil war, is caught up in regional rivalry between Saudi Arabia and Iran.
Despite a 2012 declaration that Lebanon would disassociate itself from regional and international conflicts, the regional tensions have paralysed internal decision making and raised fears for Lebanon's stability.
After a 2-1/2 year presidential vacuum, former army commander and Hizbollah ally Michel Aoun was elected in October.
In an interview published on Thursday in Syria's Al Watan newspaper, Assad said Aoun's election was a victory for Lebanon and Syria, and that Lebanon could not disassociate itself from Syria.
"When the person [elected] is somebody like General Michel Aoun, who knows the danger terrorism around Lebanon poses for the Lebanese, this will also be a victory for both Lebanon and Syria," Assad said. "Especially when the president knows Lebanon cannot remain unscathed by the fires raging around it."
Assad added that Lebanon cannot continue with its "politics of no-policy", referencing the disassociation policy.
This week Aoun received Syria's Grand Mufti Ahmed Badr Al Din Al Hassoun, who congratulated him on his election.
Related Articles
Nov 26,2017
BEIRUT — Lebanese Prime Minister Saad Al Hariri said on Saturday that he would not accept Iran-backed Hizbollah's positions that "affect our
Oct 30,2016
BEIRUT — Twenty-six years after being forced from Lebanon's presidential palace and into exile by the Syrian army, Michel Aoun is set to be
Nov 04,2017
BEIRUT — Lebanon's prime minister, Saad Al Hariri, resigned on Saturday, saying he believed there was an assassination plot against him and
Newsletter
Get top stories and blog posts emailed to you each day.